You are here
Fares Saeed crowned in 2nd round of 4x4 Jordan Championship
By Roufan Nahhas - Apr 22,2017 - Last updated at Apr 22,2017
Fares Saeed in action during the 2nd round of 4x4 Jordan Championship at Ghamadan Park (Forest of the King of Bahrain) on Friday (Photo by Amjad Ghsoun)
AMMAN — Palestinian Fares Saeed on Friday was crowned champion of the second round of the 4x4 Jordan Championship with the participation of 36 drivers from Jordan and eight from Palestine at Ghamadan Park (Forest of the King of Bahrain).
Saeed, in his Kan M Maverick, clocked 3m 06.71s followed by Jordan's Hesham Ibrahim with 4m 01.78s in his Jeep Wrangler and Palestinian Basheer Mattar settled in the third place in his Jeep Wrangler with 4m 37.20s.
Drivers had to face a 1km track and a host of obstacles that will test the skill of both the driver and machine and will compete in two heats for the best 13 drivers heat.
Jordanian Fares Nafash won the first round of this year's championship, which took place in early March and saw the participation of 47 drivers from Jordan, Palestine and Saudi Arabia, and attracted more than 600 fans.
Nafash and co-driver Omar Sharkasi in their Jeep Cherokee ended the harsh and challenging track with 2m57s
In the first round, Drivers also faced a 1km track filled with various rocky, sandy and clay obstacles and terrain using their off road and modified vehicles against time in accordance to FIA regulations.
Othman Nassef, Jordan Motorsport CEO, said after the first round that the event proved to be a challenge and popular event which will attract more fans to this season's calendar.
"We are happy that the event was able to attract such a huge number of fans who cheered their favourite driver especially against the muddy tip and the challenging rocky hill, which stopped the best drivers from moving due to its natural obstacle that needed special cars," Nassef said.
Related Articles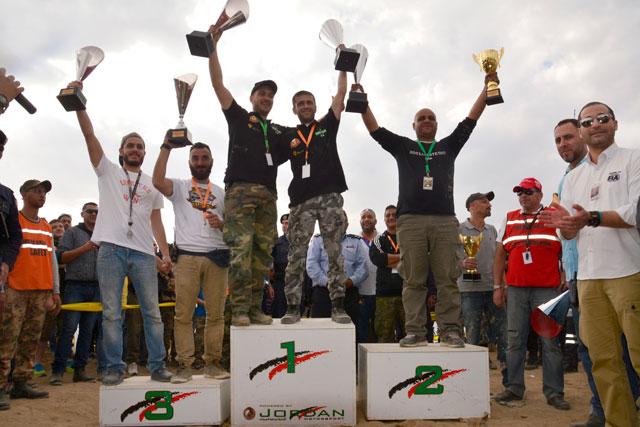 Mar 04,2017
DEAD SEA — Fares Nafash on Friday was crowned champion of the first round of the 4x4 Jordan Championship, held with the participation of 47
Apr 20,2017
AMMAN — The second round of the 4x4 Jordan Championship will be held on Friday at Ghamadan Park with the participation of 44 drivers from Jo
Mar 03,2018
AMMAN — Khalid Quraan won the first round of the 4x4 Jordan Championship on Friday in Al Kafrain area at the Dead Sea.
Newsletter
Get top stories and blog posts emailed to you each day.