You are here
Drivers ready for 2nd round of 4x4 Jordan Championship
By Roufan Nahhas - Apr 20,2017 - Last updated at Apr 20,2017
AMMAN — The second round of the 4x4 Jordan Championship will be held on Friday at Ghamadan Park with the participation of 44 drivers from Jordan and Palestine.
Drivers will face a 1km track and a host of obstacles that will test the skill of both the drivers and their machines.
Drivers will compete in two heats for the best 13 drivers' heat.
Fares Nafash and co-driver Omar Sharkasi were crowned champions of the first round of the 4x4 Jordan Championship after clocking 2m57s in their Jeep Cherokee, followed by Hassan Najjar and co-driver Malek Najjar, in their Jeep, who after clocking 3m05s took second place.
Ahmad Khattab and co-driver Mohammed Zou'bi in their Jeep Cherokee clocked 3m06s for third place.
Othman Nasseef, Jordan Motorsport CEO told The Jordan Times that the event will be another success.
"We saw more than 6,000 fans at the first 4x4 event and that is a great number, which means that there are many fans for such competitions. We hope to continue on the same path and attract more people to the second round," he said.
"This time we have eight drivers from Palestine and the rest from Jordan and I believe this event will be crucial as most of the drivers know the challenges they will face and it will be a great event," he added.
Meanwhile, Nasseef said that Jordan is ready to host the second round of the Middle East Rally Championship May 4-6.
"We are placing the final touches for the event in which drivers will have to cover a total distance of 625.62km with 240.44km special stages. We had to change the number of stages from 19 to 17 and replace the Rawda and Karameh stages with Jordan River stage," he said.
Qatar's Rashed Nuaimi is currently leading the MERC standings with 37 points followed by Kuwait's Mashari Tafiri with 28 points and Qatar's Nasser Attiyah with only seven points.
Related Articles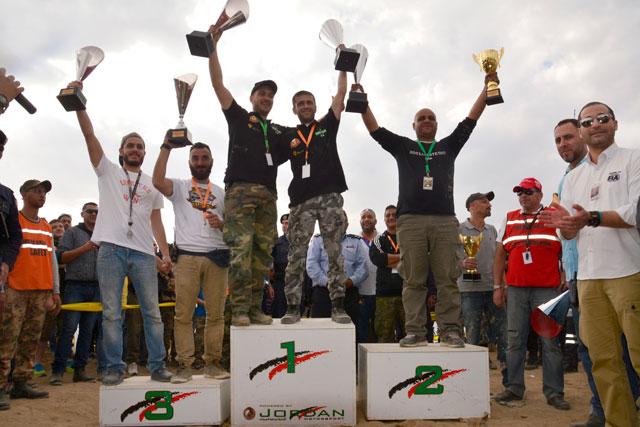 Mar 04,2017
DEAD SEA — Fares Nafash on Friday was crowned champion of the first round of the 4x4 Jordan Championship, held with the participation of 47
Apr 22,2017
AMMAN — Palestinian Fares Saeed on Friday was crowned champion of the second round of the 4x4 Jordan Championship with the participation of
Apr 01,2015
Drivers are eager to take on the first round of the National Rally Championship for the 2015 season that kicks off on Friday with the participation of 13 drivers from Jordan and Lebanon.
Newsletter
Get top stories and blog posts emailed to you each day.