You are here
What's On
Exhibitions 
Imprints — Exhibition of works by Hamad Sharif at Jacaranda Images. Through June 30. Tel: 4644050
Biomorphic Designs, Arabic Calligraphy and Stained Glass — Group exhibition of works at Gallery 14. Through July 15. Tel: 4647858
After Earth, Everything — Exhibition of works by Xavier Mascaró at the Jordan National Gallery of Fine Arts — Building 2. Starting July 5 at 6 pm. Through August 6. Tel: 4630128
Desert Soundscapes — Exhibition of works by Ammar Khammash at Darat Al Funun. Through September 24. Tel: 4643251
Photo exhibition of works by Karima Abboud at Darat Al Funun. Through September 24. 
Tel: 4643251
Concerts
Faia In Amman — Concert by Faia Younan at the Roman Amphitheatre Amman on June 30 at 8pm. Tickets JD10-20
Salt and Water: Four Hands Piano Concert — Piano concert by Zina Asfour and Pierre Morabia at the Archaeological Site — Darat Al Funun on July 2 at 7:30pm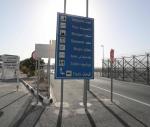 Newsletter
Get top stories and blog posts emailed to you each day.