You are here
US-backed Syria force says Daesh fightback slowing Raqqa battle
By AFP - Aug 09,2017 - Last updated at Aug 09,2017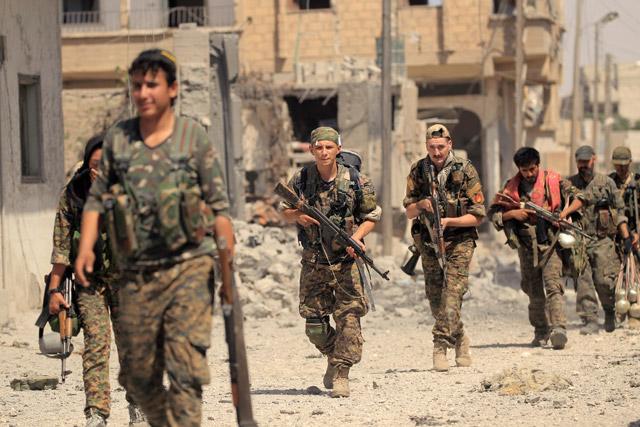 Members of the Syrian Democratic Forces advance towards the Daesh group positions in Seif Al Dawla district of Raqqa, Syria, on Wednesday (Reuters photo)
AIN ISSA, Syria — US-backed fighters battling to capture Syria's Raqqa are being slowed by fierce resistance from the Daesh terror group, which has heavily mined the city, a militia spokeswoman has told AFP.
The Syrian Democratic Forces (SDF), a Kurdish-Arab alliance backed by an international coalition battling Daesh, entered Raqqa city two months ago.
SDF fighters have now captured more than half of the one-time extremist bastion, Jihan Sheikh Ahmed, spokeswoman for the Wrath of the Euphrates operation to capture the city, told AFP on Tuesday.
But the force's progress has been hindered by Daesh which is fighting hard to hang on to the de facto Syrian capital of its self-proclaimed "caliphate".
"Our forces are continuing to advance inside Raqqa, but slowly," Sheikh Ahmed said.
She said SDF forces had seized nine districts in the city's west and east, while Daesh was putting up a fierce defence of the seven remaining neighbourhoods.
"After being besieged from four sides, Daesh has no option but to surrender or die," she said.
"That is what has made its reaction fiercer."
She said the extremists had laid explosives "in every centimetre" of the city, slowing the SDF's progress.
"Our goal is not simply to liberate territory geographically, but to liberate the civilians in the city," she said.
The fight for Raqqa has prompted tens of thousands of civilians to flee, with many wounded by crossfire or Daesh-planted explosive devices during their escape.
The United Nations has estimated between 20,000 and 50,000 people remain in the city, though others have given lower estimates.
Sheikh Ahmed said SDF forces were also facing Daesh snipers and weaponised drones, tactics the terrorists group has employed to defend its territories.
She said the extremists had even staged commando-style attacks within territory recently captured by the SDF.
"Sometimes they infiltrate from behind [the front lines] through tunnels," she said.
But she said the campaign was progressing "with steady steps, no matter how slow".
The SDF is backed by the US-led coalition battling Daesh in Iraq and Syria, which has supplied weapons, air cover and a limited number of troops.
Sheikh Ahmed praised that support, which she said was growing as the SDF pushed deeper inside Raqqa.
The US envoy to the coalition, Brett McGurk, said last week that SDF fighters hold 45 per cent of Raqqa, and estimated about 2,000 Daesh extremists remained in the city.
Related Articles
Apr 13,2017
BEIRUT — US-backed forces fighting the Daesh terror group in Syria launched a new phase of their offensive on Thursday, a statement said, bu
Apr 18,2017
BEIRUT — The US-backed Kurdish-Arab force leading the fight for the Daesh terror group's Syrian bastion Raqqa announced Tuesday the creation
Jun 03,2017
BEIRUT — A US-backed operation by Syrian forces to capture the Daesh terror group's Syrian "capital" of Raqqa will start in the next "few da
Newsletter
Get top stories and blog posts emailed to you each day.