You are here
Palestinian child's leg amputated after he was shot by Israeli sniper
By AFP - Apr 24,2018 - Last updated at Apr 24,2018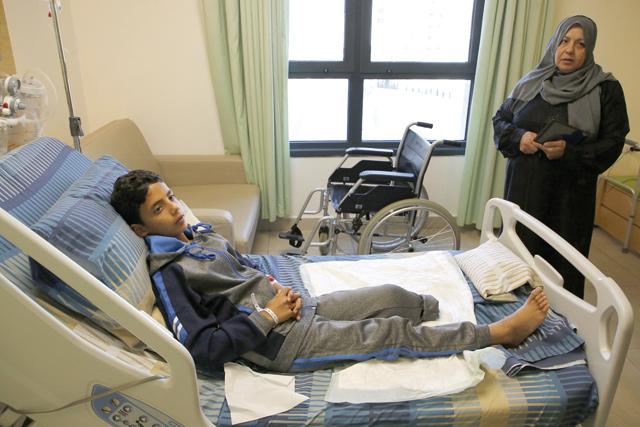 Abdel Rahman Nawfal, 12, sits next to his grandmother in a hospital in the West Bank city of Ramallah on Monday after his leg was amputated. Nawfal was shot by Israeli occupation forces near the Gaza-Israel border during ongoing protests (AFP photo)
RAMALLAH, Palestinian Territories — Doctors have amputated the leg of a Palestinian boy whose image went viral after he was shot by Israeli occupation forces during demonstrations on the Gaza border with Israel.
A picture of 12-year-old Abdel Rahman Nawfal screaming in pain was widely shared on Palestinian and Arabic social media last week after he was shot near the border fence.
The shooting occurred on Tuesday during protests along the frontier east of Al Bureij in central Gaza.
He was later taken from Gaza to the West Bank for treatment, but doctors were unable to save the leg.
Attempting to smile as he lay on his hospital bed in Ramallah, Nawfal said he had been throwing stones at Israeli occupation forces close to the border when he was shot.
"My friends went to throw stones at the army near Al Bureij camp. I went with them and started to throw stones," he told AFP. "Soon after I felt the injury."
He said he dreamed of becoming a doctor and would still like to realise that dream.
To leave Gaza for treatment in the West Bank, Palestinians have to get permits from Israel, which critics say are difficult to obtain.
On Friday, Gaza teenager Mohammed Ayoub was killed by Israeli occupation forces' gunfire during border protests.
The 15-year-old's death, and the wounding of other youths brought a scathing response from a senior United Nations official.
"It is OUTRAGEOUS to shoot at children... #Children must be protected from #violence, not exposed to it," UN special coordinator for the Middle East peace process Nikolay Mladenov wrote on Twitter.
Israel said on Saturday that it was opening an investigation into the incident, in accordance with standard procedure.
Forty Palestinians in Gaza have been killed by Israeli occupation forces since wide-scale protests broke out on March 30.
Israel says its forces only open fire in self-defence or to stop protesters attempting to breach the barrier separating the territory from Israel.
Israel has for a decade maintained a blockade of Gaza it says is necessary to isolate the strip's Islamist resistance leaders Hamas.
Critics say it amounts to collective punishment of the two million residents.
Related Articles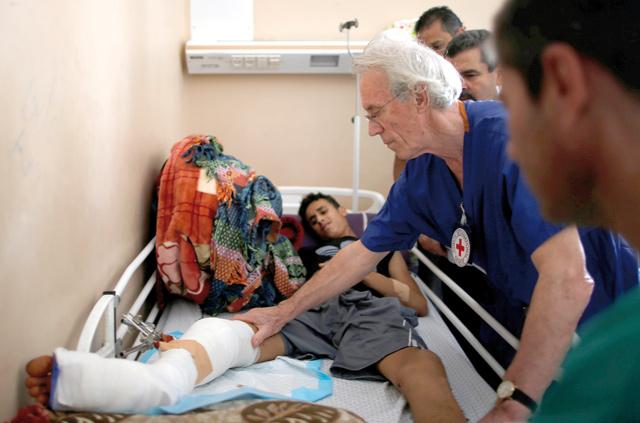 Apr 28,2018
GAZA CITY, Palestinian Territories — When Palestinian Mohammed Al Mughari was shot by an Israeli occupation sniper on the Gaza border, it le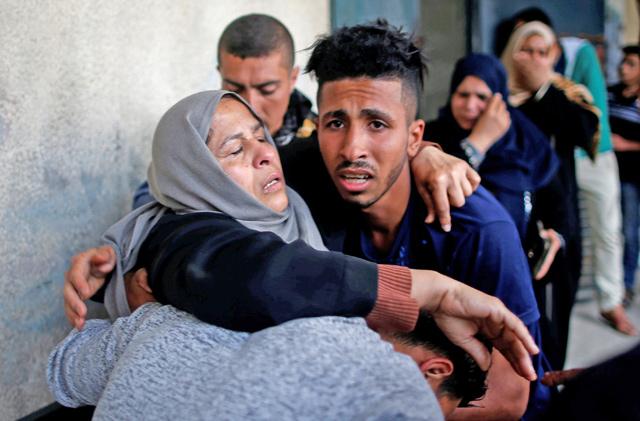 Apr 04,2018
GAZA CITY, Palestinian Territories — A Palestinian was shot dead by Israeli occupation forces on the Gaza border on Tuesday, the health mini
Apr 02,2018
GAZA CITY, Palestinian Territories — Palestinian teen Bassel Al Helo winced in pain as he rolled over in a hospital bed Sunday, after having
Newsletter
Get top stories and blog posts emailed to you each day.