You are here
In Gaza, pain but few regrets after deadliest day in years
'I went to see and show solidarity. I didn't expect to be shot'— protester
By AFP - Apr 02,2018 - Last updated at Apr 02,2018
GAZA CITY, Palestinian Territories — Palestinian teen Bassel Al Helo winced in pain as he rolled over in a hospital bed Sunday, after having been shot by Israeli occupation forces during a protest on the Gaza-Israel border.
It could take years for the 16-year-old to recover from the deep leg wound sustained at Friday's demonstration, but he says he would do the same again.
"I don't regret it," he said, as his mother beside him buried her head in her hands with a resigned smile.
Throughout Shifa Hospital in Gaza City, young Palestinians lay wounded, surrounded by doting relatives handing out chocolates.
Seventeen Palestinians were killed and hundreds wounded when Israeli occupation forces opened fire on a protest near the border, according to Gaza's health ministry, in the deadliest single day in the territory since a 2014 war with Israel.
It said a total of more than 800 Gazans had been shot by Israeli occupation forces since Friday.
Israel's military says it only fired at those who were throwing stones and firebombs or rolling burning tyres.
It also alleges there were efforts to damage the fortified fence cutting off the blockaded Gaza Strip and to infiltrate Israel.
No casualties were reported among Israelis.
Palestinians say protesters were shot while posing no danger to soldiers, while rights groups have condemned Israel's use of live fire.
Some of the injured told AFP that they were at the front throwing only stones at heavily armed soldiers, while others said they were struck seemingly at random.
They felt they had little to lose because of dire poverty in Gaza and that they would return to protest once they had recovered.
"I was a little way from the border. Suddenly, random and intense shooting broke out and people began to fall in front of me, including a friend," Helo said.
"As I went to help him, I was shot."
The bullet struck his right leg, shattering and leaving shrapnel lodged under the skin. Metal rods now stick out of the leg on which he was operated.
"I went to see and show solidarity. I didn't expect to be shot," said the teenager, who was wounded east of Gaza City and insisted he was not throwing stones.
'Used to this'
The European Union and UN chief Antonio Guterres have called for an independent investigation into the violence, but Israel has rejected any such probe.
Israel has said it "carefully targeted" primary instigators and claims more than half of the 17 killed were "members of radical groups".
Israel also argues that the protest's demand for the return of Palestinian refugees to the homeland from, which they were expelled amounted to calling for Israel to cease to exist.
Further down the hall, 15-year-old Ali Zeer slept as blood slowly dripped through a tube connected to his body near the bullet wound in his chest.
His mother, 39, said all nine of her children took part in the main protest — attended by tens of thousands — but Ali chose to go closer to the fence than the rest.
"This was a peaceful protest. He didn't throw any stones," she said.
Another man stood over his cousin Shadi, who he said was shot around 70 metres from Israeli occupation forces as he tried to move a Palestinian flag forward.
Related Articles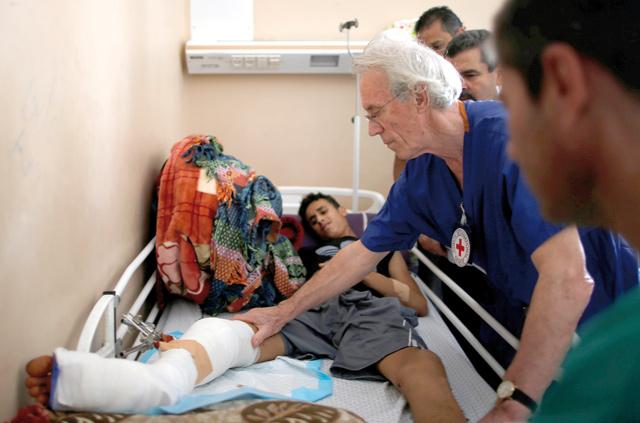 Apr 28,2018
GAZA CITY, Palestinian Territories — When Palestinian Mohammed Al Mughari was shot by an Israeli occupation sniper on the Gaza border, it le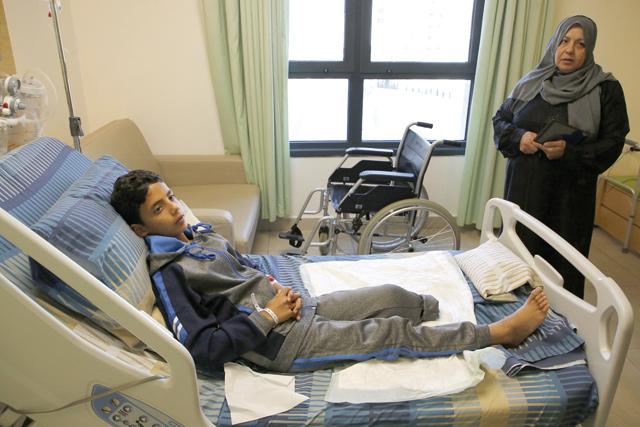 Apr 24,2018
RAMALLAH, Palestinian Territories — Doctors have amputated the leg of a Palestinian boy whose image went viral after he was shot by Israeli
May 15,2018
GAZA, Palestinian Territories — Worried families crowded the halls and spilled out of rooms in Gaza's hospitals on Tuesday, as patients woun
Newsletter
Get top stories and blog posts emailed to you each day.