You are here
Vulnerable Syrians brace for new life in US as Obama's promise kept
By Mohammad Ghazal - Aug 28,2016 - Last updated at Aug 28,2016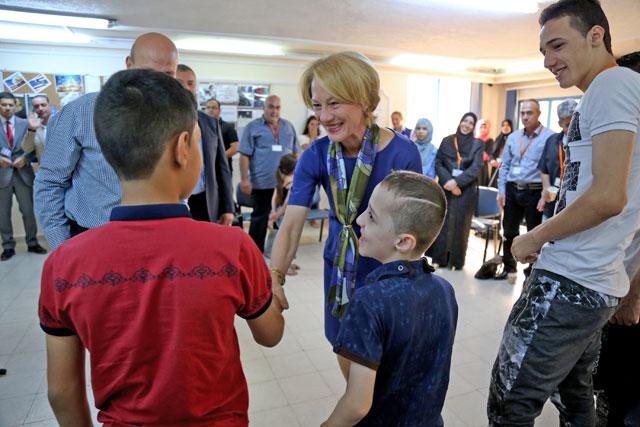 In this photo taken Sunday, US Ambassador to Jordan Alice G. Wells shakes hands with Syrian refugee Hamzeh Jouriyeh, 12, ahead of his departure to the United States (AP photo by Raad Adayleh)
AMMAN — As Khaled Alibrahim's family was preparing to leave Jordan for California's San Diego, the Syrian refugees said they were "impatiently" waiting to start afresh and live the dream of a better life with dignity.
But they said they were aware that the new life will not be an easy one and that it requires patience and hard work.
The family of six is one of around 216 Syrian refugees that are leaving Jordan and several neighbouring countries on Sunday and Monday bound for the US.
By the end of Monday, the overall number of Syrians resettled in the US will reach 10,000, thus meeting a goal by US President Barack Obama to hit the figure by the end of September. Eighty per cent of the total refugees resettled in the US are Syrians living in Jordan.
Being selected for the programme was an "unexpected surprise that left us in excitement, overwhelming joy and some concerns", the family described the experience.
"Although I am a father of four who has left everything behind in Syria, I believe I am starting a new life, where there will be more responsibilities… Me and my wife and kids are eagerly waiting to arrive in the US to start a new chapter in our life and hopefully a better one," Alibrahim told The Jordan Times following a meeting with US Ambassador in Amman Alice G. Wells and the International Organisation for Migration Chief of Mission Enrico Ponziani, who gathered for a farewell.
Alibrahim said his family had no choice but to leave their life and house in Syria's Qunaitera into Jordan in 2014 after the Syrian army ordered recruitment of his two eldest boys in the army to fight opposition groups.
"I did not want my children to be part of the horrible violence that is happening in Syria… We left all behind us and came to Jordan," said Alibrahim.
"We are thankful and grateful to Jordan and we fly to the US with hopes of a better life, where my children can continue their education and live with no fear. We simply want a better life," Alibrahim added.
His wife, Um Mohammad, said: "We do not know much about the US, but we already know that the US has given us a choice to live a decent life… As a mother, I know it will not be an easy life at the beginning, but I am leaving while having in mind that my family needs to adapt to the new situation".
"Our children's future is what concerns us all the time. As parents, we want them to have the best life possible and education and we are ready to work hard for that," the mother said.
Her son Mazen said he has always been dreaming of going to the US when he was in Syria.
Mazen, 19, said he is a big fan of Mykel Shannon Jenkins who starred in the "Undisputed 3: Redemption" movie and many other American movie stars.
"The first thing I will do when in the US is to learn English to better communicate with people there and adapt to their culture. I want to continue my education and hopefully work as an actor in the future…Maybe I can do something about what I believe happened to Syria through movies and tell my story," said Mazen.
His eldest brother Mohammad, 21, said he was still in a "shock".
"I cannot believe we will finally live in peace… I want to find any job to help my family and study… I know it will not be easy at the beginning, but as time goes on, I will make it and I am determined to because I have no hope of returning to Syria where the terrorists have left nothing intact," said Mohammad.
Meeting the goal of resettling 10,000 Syrian refugees did not come at the cost of America's comprehensive and robust security screening, the US ambassador said at the meeting on Sunday.
"Refugees are the most thoroughly screened category of travellers to the United States, and Syrian refugees are subject to even greater scrutiny," said the ambassador, stressing that the US is deeply committed to safeguarding the American public, "just as we are committed to providing refuge to some of the world's most vulnerable people. We do not believe these goals are mutually exclusive".
"While the United States has always been a leader in resettlement — consistently resettling more refugees from around the world than all other nations combined — we also acknowledge that resettlement is an important but limited aspect of the solution to the many crises around the world that cause displacement," she said.
"Our emphasis is on admitting the most vulnerable from around the world. In the case of Syrians, we focus on admitting survivors of violence and torture, those with severe medical conditions, and women and children in a manner that is consistent with US national security," added the US diplomat.
The ambassador voiced support to Jordan and appreciation of the Kingdom's efforts in hosting Syrian refugees.
She said the US has made a large commitment to humanitarian assistance in Syria and the region — nearly $5.6 billion so far, including nearly $795 million for Jordan since fiscal year 2012 — helping the millions of Syrian refugees and internally-displaced peoples in the countries to which they have fled.
"The United States is the largest single donor to the Syrian crisis response. Through this humanitarian funding, the United States provides food, shelter, water, medical care, humanitarian protection and other urgent relief to millions of people suffering inside Syria and 4.6 million of Syria's refugees in the region," said Wells.
The US humanitarian assistance supports the operations of the United Nations, other international organisations, and non-governmental organisations. Through these organisations, the United States is able to provide assistance in all 14 governorates of Syria, helping the people who need it most — and ultimately saving lives and alleviating suffering amid daily threats of violence and deprivation, she said.
"And that is why we are committed to broader international leadership on this issue, working with more countries across the globe to broaden and deepen their humanitarian commitments. That is also why President Obama, together with Jordan and other nations, will co-host the Leaders' Summit on Refugees on the margins of the 71st session of the UN General Assembly," said the ambassador.
Related Articles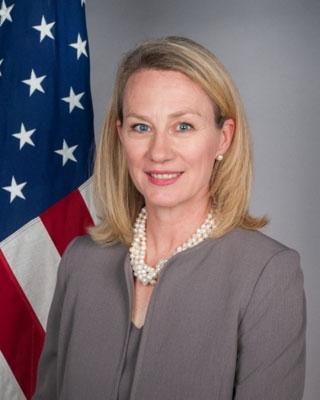 Sep 18,2016
AMMAN—Tuesday's Leaders' Summit in New York will build on international efforts to address the refugee crisis and keep the momentum mo
Jun 08,2018
AMMAN — Some 300 quota refugees this week were received by Swedish Ambassador to Jordan Erik Ullenhag, who welcomed them at his residence to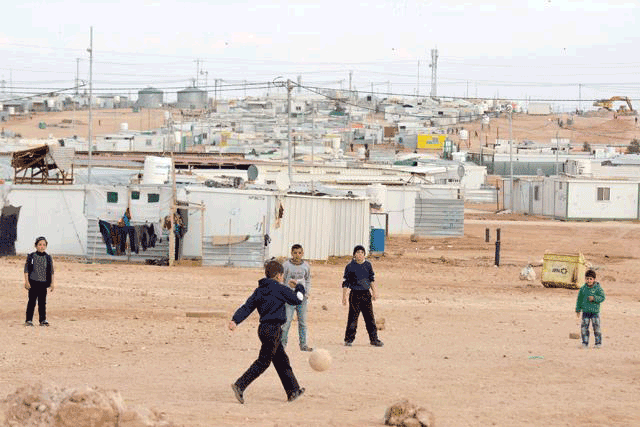 Jan 29,2023
AMMAN — The number of Syrian refugees who left Jordan in 2022 — those who either returned to Syria or resettled in a third country — reached