You are here
Jordanian students honoured at world pre-college science competition
By Ana V. Ibáñez Prieto - May 20,2018 - Last updated at May 20,2018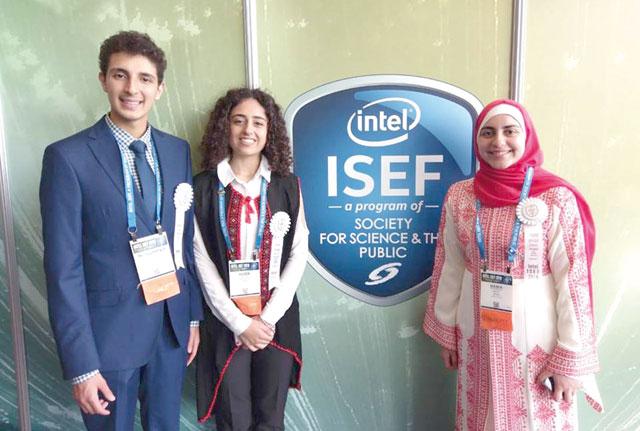 Grand Prize Winners Mohammad Al Masri, Hoor Al Amawi and Dania Almubiden (left to right) pose for a group photo in Pittsburgh, Pennsylvania recently (Photo courtesy of Abdul Hameed Shoman Foundation)
nian students on Thursday were listed among the Grand Awards winners of the International Science and Engineering Fair (ISEF) 2018, held by the American non-profit Society for Science and the Public (SSP).
Organised in cooperation with the Intel Foundation, ISEF is the world's largest international pre-college science competition, with over 1,800 high school students from more than 75 countries participating each year to showcase their independent research, according to a statement by SSP.
Modern Systems School student Dania Al Mubiden achieved the third place in the Behavioural and Social Sciences category with her "Drawit" project, while students Hoor Al Amawi and Mohammad Al Masri of Jubilee School tied up with Almubiden in the same category with their research on a device that regulates auditory hypersensitivity using specialised sounds.
Mubiden, Amawi and Masri were not the only Jordanian students laureated in the accolade, as student Shatha Salah Al Thyabat of King Abdullah II School for Excellence was granted the first award from the Qatar Foundation for Research and Development for the development of a remote controlled hydroponic system by solar energy.
In addition, Jubilee School students Saba Khaldoun and Saleh Mahmoud were granted a $20,000 scholarship for the development of creative therapeutic strategies in medical applications, after the presentation of their research on dysplidemia screening by detecting corneal arcus through corneal imaging.
In Jordan, students wishing to participate at the ISEF global competition are supported by the Abdul Hameed Shoman Foundation, which is responsible for the organisation of local and national exhibitions aimed at identifying and supporting qualified students across the Kingdom.
Millions of students in grades 9-12 or equivalent worldwide compete each year in local and school-sponsored science fairs, with the winners of these events going on to participate in 420 society-affiliated regional and state fairs. The best then win the opportunity to attend Intel ISEF.
Intel ISEF alumni have gone on to receive some of the world's most esteemed academic honours, including one Nobel Prize, one Breakthrough Prize, three National Medals of Science and six MacArthur Foundation Fellowships, according to SSP sources.
Related Articles
May 15,2016
AMMAN — Jordanian student Yara Mirie ranked fourth in the Intel International Science and Engineering Fair (Intel ISEF) in the environmental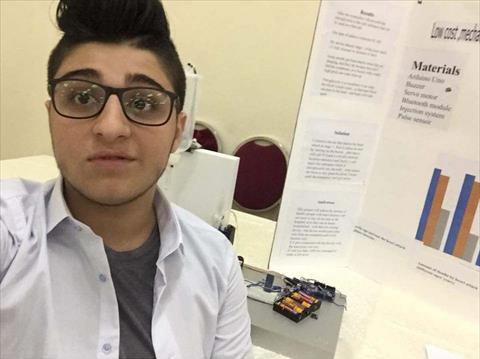 Mar 05,2018
AMMAN — Tenth grade student Aws Omari will represent Jordan at the US Intel International Science and Engineering Fair (Intel ISEF) in April
May 09,2017
AMMAN — Eighteen young participants from Jordan showcased their science projects on Sunday, which qualified them for the Intel International
Newsletter
Get top stories and blog posts emailed to you each day.