You are here
Cabbies protest against ride-sharing apps, rising costs
By Jassar Al Tahat - Jan 03,2017 - Last updated at Jan 03,2017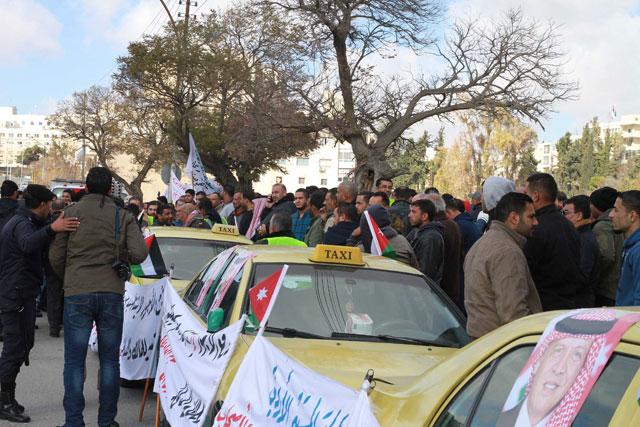 Taxi drivers hold a sit-in outside Parliament in Amman's Abdali neighbourhood on Tuesday (Photo by Hassan Tamimi)
AMMAN — Dozens of taxi drivers picketed Parliament on Tuesday to protest what they said was the effects of ride-sharing apps and the rising operating costs on Amman's yellow cabs.
Picketers demanded the resignation of Transport Minister Hussein Al Souob.
They also held banners that read: "No one is above the rule of law" and "Uber and Careem are fighting us over our living", referring to the two app services which have become a focus for yellow cab drivers' anger.
Among the protesters' demands were the ban of "criminal applications" and a review of taxis' waiting and running fares.
"We are protesting against Uber and Careem because they are using unlicensed cars, which is against the law," taxi driver Hani Abbas told The Jordan Times.
"Yellow cab fares need to be reviewed by officials as they really don't cover our running costs," he added.
Land Transport Regulatory Commission Director General Salah Lozi said late last year that public transport fares will be hiked by 10 per cent as of January 5.
The decision covers medium and heavy transport buses and all taxis, Lozi said at the time, noting that the increase is based on inflation and the prices of fuel.
The protesters, however, claimed that the increase is "not enough" to cover the mounting costs.
Mohammad Al Hija, another protester, said taxi fares should be increased in order to cover "expensive living conditions" and "to maintain our dignity".
He said that promises to address these issues were made in December, but that taxi drivers now "suspect the corruption of many of the stakeholders".
Saed Abul Ghanam, another cabby, explained the situation of many taxi drivers in the capital.
"Drivers who do not own taxis have to pay at least JD25 to the owner," he said.
"Add to that the increasing price of gas, and the time and money lost to traffic, and we barely make a living for our children," Abul Ghanam added.
MP Khaled Abdullah (Irbid, 2nd District) addressed the crowd and urged them to be patient, promising them that action will be taken within a week.
Related Articles
Jan 05,2017
AMMAN — Cabs, service taxies and public buses began to charge new fares from Thursday, despite their "dissatisfaction" with the new tariffs.
Mar 07,2017
Amman — Ride-hailing app Careem on Tuesday announced the start of bringing yellow taxis under its wings, helping put an end to a month-long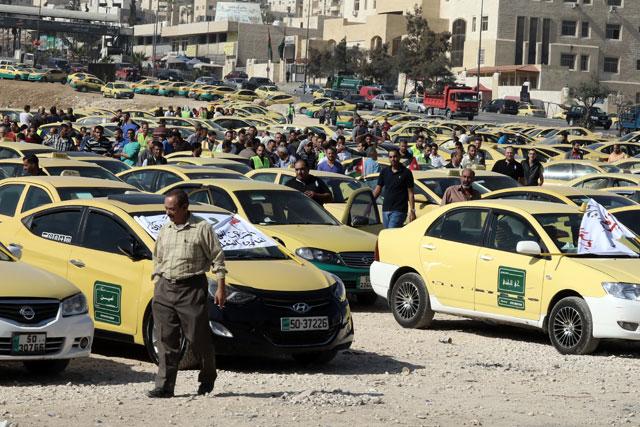 Nov 15,2016
AMMAN — Taxi drivers in Jordan protested on Tuesday against what they called "unfair" competition from ride hailing apps such as Uber and Ca