You are here
Taxi drivers protest 'unfair' competition by ride hailing apps
Cabbies claim business is down 80% due to spread of services like Careem, Uber
By Mohammad Ghazal , Sawsan Tabazah - Nov 15,2016 - Last updated at Nov 15,2016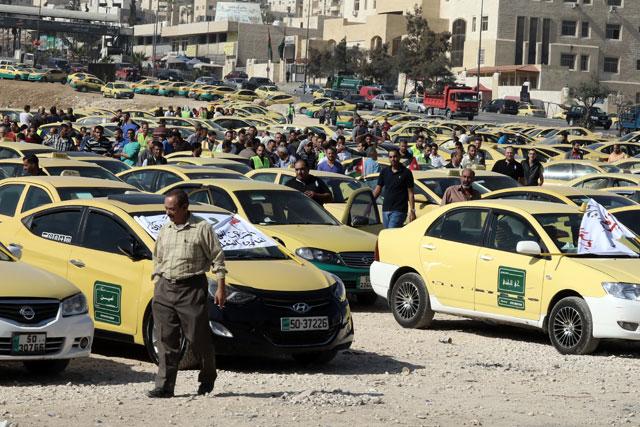 Taxi drivers hold a protest in Amman's Dahiyet Al Aqsa on Tuesday (Photo by Osama Aqarbeh)
AMMAN — Taxi drivers in Jordan protested on Tuesday against what they called "unfair" competition from ride hailing apps such as Uber and Careem, calling for banning private car drivers from "destroying their livelihoods".
Taxi drivers, taking part in the protest in Dahiyet Al Aqsa area in Amman, said their business "declined by 80 per cent" since Uber and Careem drivers started ferrying passengers, although in Jordan it is not allowed for private cars to provide services under Uber and Careem, and many drivers have been detained and their cars impounded.
A representative of Careem said taxi drivers' demands for higher fares, better working conditions and regulations are legitimate, but stressed that apps such as Careem have created many jobs and provided much-needed services to passengers.
"We are here today to protest the government's negligence of our demands," Mohammad Al Zeir, president of the Independent Taxi Drivers Association (ITDA), told The Jordan Times during the protest, which gathered more than 1,200 cab drivers.
"We want drivers of Uber and Careem to be banned…We want the government to increase the fares for yellow taxis and then they can stop saying no to passengers," he said.
"If our drivers are stuck in traffic jams, they are not making any money," Zeir said, adding that many drivers do not own the taxis and pay JD20 to JD25 to their owners a day, and with the "illegal" competition from Careem and Uber, their livelihood is at a stake.
"The fare is not enough, and we do not have health insurance and social security subscriptions," said Ahmad, a taxi driver who was taking part in the protest.
A Careem driver would charge JD6 for each hour if stuck in traffic, while the fare of a yellow taxi if stuck in a traffic jam for one hour would be JD1.25, Sabri Hakeem, a representative of Careem in the Middle East, told The Jordan Times.
"Their demands for higher fares and better working conditions are legitimate," said Hakeem.
Drivers of Careem do not represent competition to the yellow taxis, but they complement the sector and provide passengers with services they need, he added.
In four years, the number of Careem drivers in the Arab world reached 100,000 and "we have been asking the government to license [us]… but we are still waiting for their response".
Khaled Khazaleh, ITDA vice president, claimed that taxi drivers' income "dropped by about 80 per cent" after services like Careem and Uber started to operate in Jordan.
"We pay more for a licence to drive a taxi. We pay more than a private car for insurance. This is unfair," said Khaled Al Najjar, one of the protesters.
"It is as if we are driving people for free. No profit at all," he said.
A Transport Ministry official recently told The Jordan Times on condition of anonymity that using ride hailing apps such as Uber and Careem in Jordan will be restricted to licensed cabs and hotel taxis under new regulations to be issued soon.
Once endorsed, licensed taxis which wish to use these apps have to submit applications to the transport authorities to get special permits in order not to face any fines.
According to the 2010 Public Transport Law, it is mandatory to obtain a special licence to operate a public transport vehicle.
Related Articles
Sep 26,2017
AMMAN — Drivers of yellow taxis on Tuesday held protests across Amman, demanding an increase in fares and to reserve the use of ride-hailing
Mar 07,2017
Amman — Ride-hailing app Careem on Tuesday announced the start of bringing yellow taxis under its wings, helping put an end to a month-long
Nov 03,2016
AMMAN — Using ride hailing apps such as Uber and Careem in Jordan will be restricted to licensed cabs and hotel taxis under new regulations
Newsletter
Get top stories and blog posts emailed to you each day.