You are here
Toronto film fest opens with Miyazaki's likely swan song
By AFP - Sep 09,2023 - Last updated at Sep 09,2023
Trent Luckinbill, Molly Smith, and Thad Luckinbill attend the 'Reptile' premiere during the 2023 Toronto International Film Festival at Princess of Wales Theatre on Friday in Toronto, Ontario (AFP photo)
TORONTO, Canada — The biggest film festival in North America opens on Thursday in Toronto with the international launch of Oscar-winning Japanese animation master Hayao Miyazaki's likely last movie, as the twin Hollywood strikes drag on.
Organisers of the event, a launchpad for numerous Academy Award-winning films, were finalising a stacked lineup of premieres, red carpet galas and prestige TV launches featuring work from dozens of countries when Tinseltown's actors staged a walkout.
But festival CEO Cameron Bailey says the global reach of the programming, and the ability of filmmakers and actors to promote independent fare even amid the strikes, speaks to the "strength of cinema right now".
"It took some weeks to really figure out the specifics and the details of how you would navigate a strike-affected festival, but it turns out that we're going to have lots of red carpet talent," Bailey told AFP.
Among those expected in Canada's largest city during the 10-day movie extravaganza are A-listers Patricia Arquette, Taika Waititi, Anna Kendrick and Ethan Hawke, who all moved behind the camera to direct their latest films.
French filmmaker Ladj Ly will debut "Les Indesirables", a follow-up look at marginalised communities in the suburbs of Paris four years after his Oscar-nominated debut feature "Les Miserables".
Also on tap is the international premiere of awards hopeful "The Holdovers" from director Alexander Payne ("Sideways") about a teacher (Paul Giamatti) tasked with supervising students at a boarding school who cannot go home for Christmas break.
And pop star Lil Nas X will bring some flair to the red carpet for the opening of his documentary "Lil Nas X: Long Live Montero" — just one of several music films on tap including a world premiere of "In Restless Dreams: The Music of Paul Simon".
But the first marquee screening on Thursday evening is "The Boy and the Heron", Miyazaki's first feature-length film in a decade — and likely his last for the storied Studio Ghibli, at age 82.
The semi-autobiographical film, which opened in Japan in July, follows young Mahito as he navigates the horrors of World War II and his mother's death. After meeting a talking heron, he enters a colourful fantasy world in search of her.
"That's one that we're especially thrilled to have. This is one of the greatest artists in cinema with what may be his final film," Bailey said.
"It's magnificent."
Also premiering on Thursday night: Arquette's "Gonzo Girl' and another directorial debut — "North Star" from Kristin Scott Thomas.
Arquette will receive the festival's Groundbreaker Award on Sunday; Bailey said in a statement that she "consistently challenges conventions and elevates the discourse on salary equity for women through her influential platform".
Oscars bellwether
The Toronto film fest is a key part of the fall festival lineup, along with Venice and Telluride, at which movies hoping to build early Oscars momentum typically hold premieres.
TIFF's annual People's Choice Award has become an increasingly accurate Oscars bellwether, predicting eventual best picture winners such as "Nomadland" and "Green Book".
Premiering on Friday will be "Dumb Money", starring Seth Rogen and Paul Dano, about the amateur investors who turned GameStop into a Wall Street phenomenon in 2021.
On Saturday, Robert De Niro stars in actor Tony Goldwyn's "Ezra", about a man (Bobby Cannavale) who moves back in with his father (De Niro) after blowing up his career and marriage.
Other world premieres include Waititi's sports comedy "Next Goal Wins" and Michael Keaton's "Knox Goes Away", starring Al Pacino.
The festival comes as Hollywood actors and writers strike in a battle with studios and streamers over pay and other work conditions — meaning that union members generally cannot promote films produced by companies involved in the dispute.
Waivers have been offered in some cases, while in others, the films screening in Toronto are not subject to the strikes because they were independently or internationally produced.
TIFF only returned to full strength in 2022, after two years of online or hybrid events staged amid the coronavirus pandemic.
The festival runs until September 17.
Related Articles
Sep 15,2023
TORONTO, Canada — When Ron Leshem, executive producer of the Emmy-winning television series "Euphoria", was deciding where to premiere
Sep 21,2021
OTTAWA — "Belfast," Kenneth Branagh's black-and-white homage to the hometown he fled as a child, raised its profile as an early Oscar frontr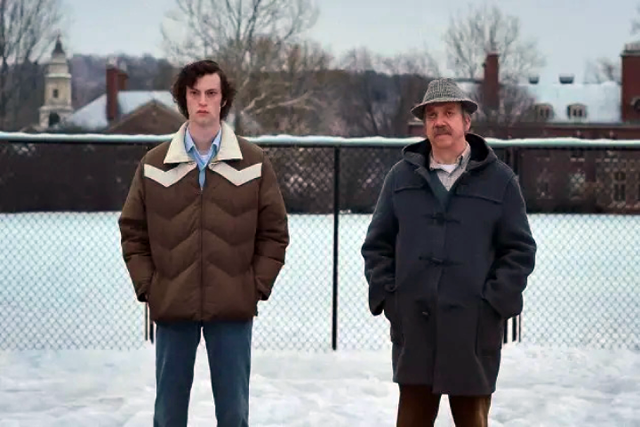 Sep 12,2023
TORONTO, Canada — Director Alexander Payne has entered the Oscars hunt with his new film "The Holdovers", a poignant 1970s-set dramedy about