You are here
At Toronto film festival, prestige TV also makes its mark
By AFP - Sep 15,2023 - Last updated at Sep 15,2023
'Bad Boy' creators Ron Leshem (centre left) and Hagar Ben-Asher (centre right) attend the Toronto premiere with the series' young stars Guy Menaster (far left) and Havtamo Farda (AFP photo)
TORONTO, Canada — When Ron Leshem, executive producer of the Emmy-winning television series "Euphoria", was deciding where to premiere his new project, gritty Israeli juvenile prison drama "Bad Boy", he set his sights on the Toronto film festival.
"Usually we would go to a TV festival. But with this, we felt that this is a cinematic creation and it needs a film festival," Leshem told AFP in an interview.
He and "Bad Boy" co-creator Hagar Ben-Asher were not alone: the Toronto International Film Festival (TIFF), which has served as a launchpad for numerous Oscar-winning movies, is now also a springboard for prestige television, with an A-list lineup in 2023.
Netflix unveiled the first episode of its hotly anticipated limited series "All the Light We Cannot See", a World War II epic based on the Pulitzer Prize-winning novel by Anthony Doerr and starring three-time Oscar nominee Mark Ruffalo.
Amazon's Prime Video also came to town with "Expats", a drama set in Hong Kong that explores the intertwined lives of rich and poor expatriates in the city, starring Academy Award winner Nicole Kidman.
For TIFF CEO Cameron Bailey, the festival's expanded prime-time programming is the result of "the growth of series and the real integration between the people who are making series and the people who are making theatrical films".
"They're often the same writers, directors, producers, actors. It just makes sense to dig deeper into that world," Bailey told AFP.
TV shows 'travel easily'
"Bad Boy", which is on the market in Toronto, delves into the surreal true story of Israeli standup comedian Daniel Chen who, as a child, was incarcerated in a grim juvenile detention center.
Twenty years on, the series — shot in Hebrew — shows that the secrets of his past are a constant burden and threat.
As Leshem and Ben-Asher explain, the teen — then known as Dean — learned to use humor behind bars to survive.
"It's not a dark story — it's a story about a guy who found his talent in a very, very harsh place," Ben-Asher, who is 44, told AFP.
Leshem, 46, had embedded himself in a juvenile detention centre as a young journalist to report on the fate of children born to inmate mothers.
But he could never find a way to tell the story — unless news of Chen's past came to light.
Leshem — co-creator of the Israeli series "Euphoria" on which the HBO show starring Zendaya is based — says they rejected an offer from a US studio to do "Bad Boy" in English from the outset.
"We wanted the freedom to do it as authentically as possible," he said.
Subtitles are no longer the death knell for television series: the worldwide success of shows like "Narcos" and "Squid Game" is testament to the fact that audiences are not afraid to consume content in languages other than their own.
"That's the power of TV nowadays. Different stories can travel easily," said Ben-Asher.
'More to come'
"All the Light We Cannot See," which hits Netflix on November 2, tells the story of a blind French girl and a young German soldier whose lives collide in the occupied French city of Saint-Malo as bombs rain down.
Ruffalo plays the girl's father, who one Nazi officer believes has left a valuable gem with his daughter, while Hugh Laurie rounds out the cast as her uncle Etienne.
Canadian creator Shawn Levy ("Night at the Museum," "Stranger Things") told the audience after its premiere that it was a "huge luxury to share it, to watch it with everyone on a big screen with big sound... it was like director heaven today".
Wang — known for 2019's "The Farewell" starring Awkwafina — chose to unveil the feature-length penultimate episode of "Expats" rather than the first, saying she believed there were "multiple doors into any story".
"It was always my dream that a smaller festival audience would enter through a different door and have a different lens into this world," she told reporters at a press screening.
Kidman — part of a huge ensemble cast — plays an American mother who experiences a family tragedy in the series, which is based on the novel "The Expatriates" by Janice Y.K. Lee.
"Expats" is set for release on Prime Video in 2024.
Kidman and Ruffalo did not attend the premieres, as Hollywood's actors and writers remain on strike.
TIFF's Bailey said organisers were thrilled to have more series on the festival program, and plan to keep expanding the offerings in future years.
"This is one step up and we hope there'll be more to come," he said.
Related Articles
Sep 09,2023
TORONTO, Canada — The biggest film festival in North America opens on Thursday in Toronto with the international launch of Oscar-winning Jap
Sep 12,2020
LOS ANGELES/OTTAWA — Spike Lee kicked off a unique Toronto film festival on Thursday with a tribute to black victims of police violenc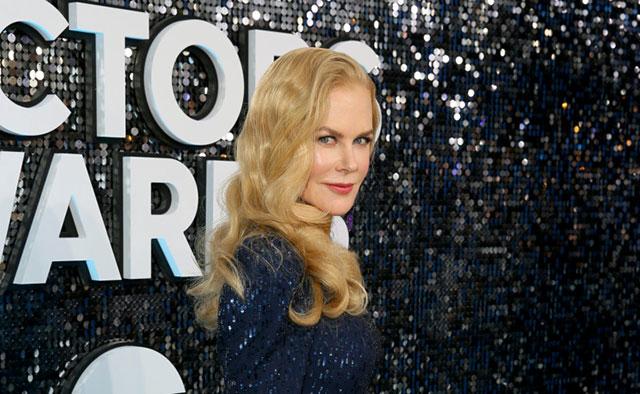 Aug 19,2021
HONG KONG — Hong Kong's decision to grant Hollywood star Nicole Kidman a quarantine exemption as she films an Amazon-funded series about the