You are here
Alexander Payne brings Oscars hopeful 'The Holdovers' to Toronto
By AFP - Sep 12,2023 - Last updated at Sep 12,2023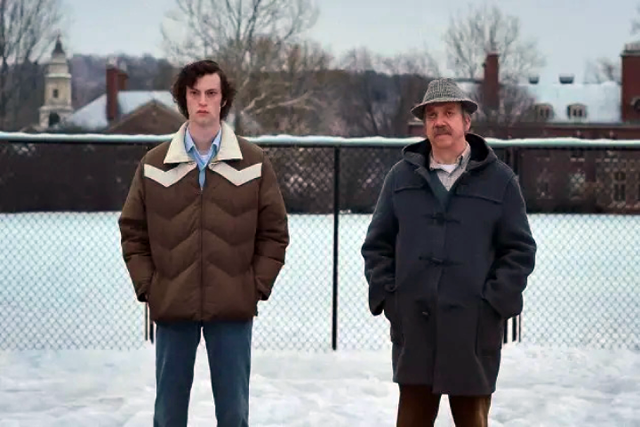 US director Alexander Payne directed the movie that looks like a sure Oscars contender (AFP photo)
TORONTO, Canada — Director Alexander Payne has entered the Oscars hunt with his new film "The Holdovers", a poignant 1970s-set dramedy about a cantankerous prep school teacher and a troubled student that screened on Monday at the Toronto film festival.
The film reunites Payne with his "Sideways" star Paul Giamatti, who plays the surly Paul Hunham, who grumbles through his lessons on ancient civilizations and has no qualms about failing students who think their wealth should be able to buy good grades.
Hunham is forced to remain at the New England school over the Christmas break to supervise a handful of students who cannot go home. Eventually, he is left with just one "holdover": Angus (newcomer Dominic Sessa), who is navigating family issues.
The pair — along with cafeteria manager Mary (Da'Vine Joy Randolph), whose son was killed in Vietnam — build their own unlikely family over the course of the school holiday.
Payne lamented that his stars and writer David Hemingson could not be at the Toronto screening, which followed the film's world premiere at the Telluride festival 10 days ago in Colorado, because of the ongoing double strike in Hollywood.
"Unlike musicians and stage actors, in film, we don't get to have that immediacy of communication between us and the audience," Payne told spectators at the Princess of Wales theater in Toronto.
"The only place we can kind of get close to that is at a fresh festival audience, and they're sadly being deprived of that."
Payne reserved particular praise for Sessa, who was recruited at Deerfield Academy, one of the boarding schools in Massachusetts where the film was shot.
Though Sessa was the star of the drama club, "he'd never been in front of a camera," Payne told filmgoers in the post-screening question and answer session.
"To go toe-to-toe, head-to-head with Paul Giamatti in his first-ever film is really something to watch."
The Toronto International Film Festival (TIFF) is a key part of the fall festival lineup, along with Venice and Telluride.
Movies hoping to build early Oscars momentum typically hold premieres at one or several of the major industry events.
TIFF's annual People's Choice Award has become an increasingly accurate Academy Awards bellwether, predicting eventual best picture winners such as "Nomadland" and "Green Book".
But the festival in Toronto, the biggest in North America, is unfolding against the backdrop of the twin strikes by Hollywood actors and writers, meaning many of them cannot promote their work if it was produced under the auspices of a major studio.
The actors and writers are striking over pay, the threat posed by artificial intelligence and other work conditions.
Awards prediction site Gold Derby lists "The Holdovers" among the early top contenders for best picture, best director and best original screenplay, as well as best actor for Giamatti and best supporting actress for Randolph.
The 62-year-old Payne is a seven-time Oscar nominee, and has won twice — both times for best adapted screenplay, for "Sideways" and "The Descendants."
"The Holdovers" opens in US theaters in November.
TIFF runs through September 17.
Related Articles
Sep 09,2023
TORONTO, Canada — The biggest film festival in North America opens on Thursday in Toronto with the international launch of Oscar-winning Jap
Sep 21,2021
OTTAWA — "Belfast," Kenneth Branagh's black-and-white homage to the hometown he fled as a child, raised its profile as an early Oscar frontr
Aug 30,2017
VENICE — The 74th Venice film festival kicked off on Wednesday with "Downsizing", a sci-fi drama starring a miniaturised Matt Damon, opening