You are here
Hundreds of Rohingya refugees reach western Indonesia by boat
By AFP - Nov 17,2023 - Last updated at Nov 17,2023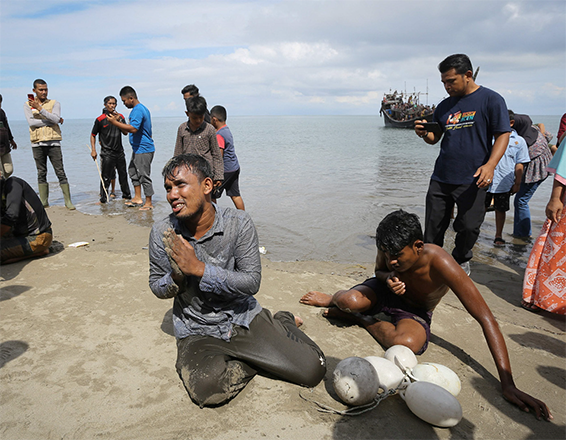 Newly arrived Rohingya refugees react after reaching the beach by swimming as others are stranded on a boat after the nearby community decided not to allow them to land but gave them water and food in Pineung, Aceh province, on Thursday (AFP photo)
BIREUEUN, INDONESIA — A boat carrying 250 Rohingya refugees landed in Indonesia from Bangladesh on Thursday, a local official told AFP, bringing the number of such arrivals over the past week to nearly 600.
The mostly Muslim Rohingya are heavily persecuted in Myanmar and thousands risk their lives each year on long and expensive sea journeys, often in flimsy boats, to try to reach Malaysia or Indonesia.
Thursday's arrivals were waiting in the water about 100 metres from a beach in the country's westernmost province of Aceh, according to Mukhtaruddin, village head of Pulo Pineung Meunasah.
Some villagers were preventing the refugees from getting off the boat, said the official, who like many Indonesians goes by one name.
Rohingya refugee Manzur Alam told AFP the boat had departed from Cox's Bazar in Bangladesh — home to almost a million Rohingya refugees — 20 days ago with 249 people on board, including 54 infants and children, 79 men and 108 women.
"There are many babies, little children [on the boat], please protect them, they are very hungry because they didn't get anything," the 23-year-old said.
The latest boat brings the total number of Rohingya arrivals in Indonesia over the past 72 hours to nearly 600, according to figures provided by local officials.
Bangladesh is home to at least 960,000 Rohingya refugees, according to UN figures, most of whom fled a violent 2017 crackdown by the Myanmar military that is now subject to a UN genocide probe.
The stateless and persecuted minority live in overcrowded, dangerous and under-resourced relief camps, and several previous attempts to broker their return home have failed due to reluctance from Myanmar and the refugees themselves.
On Wednesday, another boat carrying 147 arrived in Aceh's Pidie region, local government official Ihsan said in a statement.
The day before, a group of 196 landed in the same region, according to local navy commander Andi Susanto.
In March, 184 Rohingya refugees arrived in the eastern Aceh town of Peureulak after they were dropped at sea by boat and made to swim ashore.
The UN's refugee agency was coordinating with local authorities to help the latest Rohingya arrivals, Mitra Salima Suryono, the agency's Indonesia spokeswoman, told AFP.
"UNHCR's priority is to protect the safety and health of the Rohingya refugees, many of them are women and children who are vulnerable and need protection, as well as emergency aid," she said.
"We hope the authorities and the local people can continue to open the space for the refugees and allow them to land."
More than 2,000 Rohingya are believed to have attempted the risky journey to Southeast Asian countries in 2022, according to UNHCR.
Nearly 200 Rohingya died or went missing last year while attempting hazardous sea crossings, the agency has estimated.
Related Articles
Dec 04,2018
IDI RAYEUK, Indonesia — A boat carrying 20 Rohingya men landed in Indonesia on Tuesday, authorities said, the latest group of the vulnerable
Mar 06,2022
BIREUN, Indonesia — A boat carrying more than one hundred Rohingya refugees, including dozens of children, landed on the coast of Indonesia'
May 19,2015
At least 2,000 migrants stalked by hunger and violence have been trapped for weeks on boats off Myanmar, the UN said Tuesday, as Indonesia called for a regional effort to tackle the crisis.