You are here
Rohingya migrant boat lands in Indonesia
By AFP - Dec 04,2018 - Last updated at Dec 04,2018
Suspected Rohingya people arrive in Idi Rayeuk, East Aceh, on Tuesday (AFP photo)
IDI RAYEUK, Indonesia — A boat carrying 20 Rohingya men landed in Indonesia on Tuesday, authorities said, the latest group of the vulnerable Myanmar minority to reach the world's biggest Muslim-majority nation.
They arrived in Indonesia's western Aceh province on Sumatra Island in a rickety wooden boat, according to a local official.
Most of the men ranged in age from 14 to 28, with one of them aged 50.
"They are Rohingya from Myanmar. We asked them where they were heading and they said they were going to Malaysia," said Idi Rayeuk district navy Commander Razali, who like many Indonesians goes by one name.
"Maybe it's because of the currents that they've landed here instead."
The group were all in good condition and authorities are trying to find them a shelter, Razali added.
In recent weeks authorities in both Myanmar and Bangladesh, where around a million of the Muslim refugees are living in camps, have stopped boats filled with fleeing Rohingya migrants headed mainly for Malaysia.
It has been rare for Rohingya to attempt the sea routes south since Thai authorities clamped down on regional trafficking networks in 2015, sparking a crisis across Southeast Asia as large numbers were abandoned at sea.
That year, hundreds of Rohingya came ashore in Aceh, where they were welcomed in the staunchly conservative Islamic province.
But there have been concerns the desperate community might start taking to the high seas again after mainly Buddhist Myanmar launched a new military crackdown last year that forced about 700,000 members of the Muslim minority to flee to Bangladesh.
In April, about 80 Rohingya in a wooden boat landed in Aceh, just weeks after dozens more arrived in neighbouring Malaysia.
Indonesia tends to accept asylum seekers but they are usually barred from working and often spend years in immigration centres.
Related Articles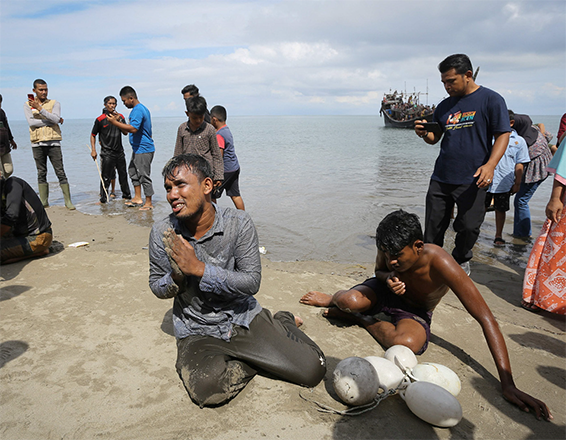 Nov 17,2023
BIREUEUN, INDONESIA — A boat carrying 250 Rohingya refugees landed in Indonesia from Bangladesh on Thursday, a local official told AFP, brin
May 20,2015
In a major diplomatic breakthrough that could ease Southeast Asia's migrant crisis, Indonesia and Malaysia offered Wednesday to temporarily take in thousands of people who have been stranded at sea but appealed for international help, saying the crisis is a global, not regional, problem.
Mar 06,2022
BIREUN, Indonesia — A boat carrying more than one hundred Rohingya refugees, including dozens of children, landed on the coast of Indonesia'