You are here
By whatever name, it is death
Mar 29,2017 - Last updated at Mar 29,2017
According to the UN, some 300,000 to 400,000 Iraqi civilians remain trapped in the Daesh-held Old City of Mosul.
Caught in the crossfire between Daesh defenders and Iraqi government attackers, trapped families lack food, water and medical supplies.
Hundreds have been killed and wounded; many buried under the rubble of their bombed and shelled homes have not been rescued.
When the operation to retake Mosul began, the government in Baghdad told residents to stay in their homes, fearing a flood of refugees the authorities and UN agencies could not handle.
After the fall of the eastern sector of the city and the Iraqi army's push into the Daesh-held western sector, 220,000 civilians reached refugee reception centres on the outskirts of the city; 8,000 to 12,000 are fleeing under cover of darkness on nightly basis.
An estimated 2,000 Daesh fighters are holding captive civilians hostages. Up to 240 people died when their houses collapsed, reportedly due to bombs dropped on March 17 by US warplanes.
The strikes took place during an offensive by the Iraqi army in the west Mosul neighbourhoods held by Daesh.
It was reported that the bombing campaign and the army offensive were suspended, but BBC correspondent Jeremy Bowen, who was in the area, said fighting continued.
In an attempt to clear the US of blame, the Iraqi army said the buildings had been brought down by Daesh mines and booby traps.
The US military is "investigating", presumably in much the same way the Israeli army "investigates" such incidents, ultimately clearing its troops of responsibility.
Amnesty International charged the US and its coalition partners of failing to take adequate precautions to protect civilians in Mosul, and said houses were destroyed with "entire families inside".
US Defence Secretary James Mattis responded by saying: "There is no military force in the world that has proven more sensitive to civilian casualties" than the US military, although the tally of dead and wounded from two previous US wars in Iraq prove otherwise.
Meanwhile, the US has stepped up air strikes on Daesh targets in Syria in an effort to degrade Daesh on multiple fronts.
Civilians have also been killed in the Aleppo province by US bombs meant for a meeting of Al Qaeda commanders.
Airwars, a non-profit organisation that tracks civilian deaths from coalition air action in Syria and Iraq, reported that the 1,058 deaths in March are more than double the December toll of 465.
Since taking office on January 20, US President Donald Trump has reportedly loosened the relatively tight "rules of engagement" observed by the Obama administration and gave regional and local commanders more freedom to order strikes.
The Iraqi Observatory for Human Rights reported 500 fatalities from air strikes in western Mosul.
The New York Times quoted Pentagon spokesman Jeff Davis as refuting the contention.
"There's been no loosening of the rules of engagement. There are three major offensives going on right now" — Mosul in Iraq and Raqqa, Daesh's capital, and the Tabqa Dam in Syria."
The US and its Iraqi partner are determined to shift blame in order to avoid comparison with the campaigns against Daesh, Al Qaeda, and other insurgents mounted by the Syrian army and its allies, Russia and Iran.
They have been routinely accused of targeting schools, hospitals and other civilian facilities during their war on anti-Syrian government forces.
"Barrel bombs" dropped by the Syrian airforce are portrayed as "terror weapons" rather than makeshift devices deployed because Syria does not have an arsenal of high-tech weaponry. 
Laser-guided bombs fired by the US and its allies that kill civilians are, by contrast, said to have gone off course or failed to hit intended targets, causing "collateral" damage — not victims.
War is war, and war in urban settings is destructive and deadly whoever is waging it.
The Syrian offensive largely against Al Qaeda-aligned takfiri fighters in eastern Aleppo has been widely condemned as a war crime, while the equally deadly and destructive campaigns mounted by the Iraqi army and its Shiite militia allies against Ramadi, Tikrit, Fallujah and now Mosul are justified due to the seizure of these cities by Daesh.
In both Syria and Iraq there would have been no urban warfare if gunmen had stayed out of the cities and towns. They moved in with the intention of using civilians as human shields.
The UN, the international community, and even Syrian President Bashar Assad estimated that there were 250,000 people in insurgent-held eastern Aleppo during the siege and conquest, but when residents fled or were evacuated the number came down to, at most, 90,000, including several thousand fighters and their families.
During a visit to east Aleppo earlier this month, this correspondent was told that about a quarter of former inhabitants had returned — but no number was given for the total number of those who had left during the months up to the collapse of the insurgents at the end of last December.
Once Mosul is liberated from Daesh, it is likely that the number of residents who remain until the bitter end could be lower than the hundreds of thousands estimated because tens of thousands left either before the campaign against Daesh was launched last October or during lulls in the fighting.
Nevertheless, casualties are mounting.
Mosul Eye, a blog founded by Muslawis to inform outsiders of what is happening in their city, has launched an urgent plea for an end to air strikes, artillery shelling and the use of heavy weapons against civilian areas in western Mosul.
Mosul Eye claims the main purpose of the battle for Mosul is to "protect civilians", a claim not borne out by the actions of the attackers.
The goal of the battle is to rout Daesh whatever the cost in life, limb and property.
Earlier anti-Daesh campaigns  demonstrated the truth of this assessment.
To make matters worse, Baghdad has failed to deal with the aftermath of warfare by helping displaced Sunnis to return home by demining their cities and providing essential services and grants to rebuild.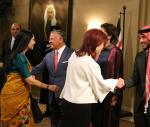 Newsletter
Get top stories and blog posts emailed to you each day.