You are here
Why now?
Mar 09,2017 - Last updated at Mar 09,2017
In yet another provocative move that is bound to inflame Palestinian, and Muslim, in general, public opinion, the Israeli Knesset on Wednesday gave preliminary approval for a law that silences calls to prayers over loudspeakers in the occupied territories, including East Jerusalem, and in Israel, and that Arab legislators denounced as racist.
Two versions of the controversial bill won initial approval; they will be further discussed by a committee before a final vote is given in parliament.
The proponents of the law in the Israeli parliament claim to want to improve the quality of life of people living near mosques, who would not have their sleep "disturbed".
Opponents say the law impinges on the religious freedom of Israel's Muslim minority, 20 per cent of the population who have long complained of discrimination.
While Israeli lawmakers seek to ensure Israelis have eight hours of  uninterrupted sleep, they may deprive of sleep the entire Israel if they insist on interfering with a centuries-old religious tradition.
Jordan immediately condemned the Knesset's approval of the bill that it sees as violating international human rights laws and conventions.
The minister of state for media affairs and government spokesperson said any such Israeli move would be a breach of international and humanitarian law, which applies to East Jerusalem and which stipulates that Jerusalem's awqaf alone has the authority to manage the affairs of the mosques, especially Al Aqsa Mosque/Al Haram Al Sharif.
The move would also violate Article 9 (paragraph two) of the Jordanian-Israeli peace treaty, according to which Israel undertakes to respect Jordan's role in Islamic sanctuaries in Jerusalem.
The timing of this ill-conceived step by Israel is baffling.
With religious fervour at its highest in the Middle East and beyond,  and with tensions and wars in the region for the most part along sectarian lines, one wonders what possessed Israeli lawmakers to decide now, after decades of living with it, to ban the muezzins from calling to prayer over loudspeakers.
There is still time for the Israeli legislators to quash this initial law.
The international community, especially Israel's friends and allies, should intervene and make it change this religiously charged policy before it  "spreads hate and ignites tensions" between Muslims and Jews, as Tzipi Livni from the centre-left Zionist Union Party, and former foreign minister, said.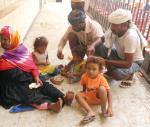 Newsletter
Get top stories and blog posts emailed to you each day.