You are here
A fine day at the civil service
Mar 05,2017 - Last updated at Mar 05,2017
"You need to fill and sign this form, then go verify your signature at the bank, then the Ministry of Industry and Trade to certify that your firm's affairs are in order, and the Income and Sales Tax Department to verify that you do not owe unpaid taxes, and then come back here to process your application," the bureaucrat said as he sat under the no smoking sign puffing at his cigarette.
"But this will take days travelling from one office to another collecting rubber stamps!" I protested.
"We are implementing the law, sir, and we refuse to be rebuked for it," the bureaucrat answered defensively. 
I could see his exasperation, but I stuck to my point that procedures should be completed without disrupting citizens' lives by forcing them to leave their livelihood and spend days chasing a paper trail.
But my interlocutor was not interested. He merely said dismissively: "You can discuss this with the manager."
The manager took a long look at my papers and said: "You should also go to the Civil Status Department because we need a death certificate."
By then I had lost any capacity to be surprised, so I explained matter-of-factly that Civil Status officers may refuse to issue me a death certificate on the grounds that I am still alive unless he kindly gave me an official request for them to issue the required document.
"Of course they would not. The death certificate is not for you," he said, surprised at my folly.
"Whose death certificate do you want then? I am the only person involved in this application," I asked.
"Fine," he said with finality, returning the wad of documents to me.
"Forget about the death certificate, but you must get all the other documents and verifications."
This conversation actually happened and, of course, it ended inconclusively. But the incident raises a valid point.
Verifications are needed, but they can be made smoothly through electronic links between government departments, which would allow cross-referencing and corroborations to be made in seconds instead of days.
The practice is not unknown in Jordan, but it is done mainly by offices that collect money.
The Traffic Department, for instance, can tell you instantly how much money you need to pay in fines.
The Income and Sales Tax Department can tell you at the push of a button all about income which you have not even earned but for which you need to pay tax.
So why not extend the fruits of the much-touted e-government to providing services?
Seriously, experience everywhere in the world shows that nobody likes to pay taxes or fees, but they accept to do so when they feel that they get something in return for their money.
In Jordan, given the chronic budget deficit problem, it is understandable that civil service reform and e-government should have focused primarily on collecting money, but it is about time that these improvements extended to providing services to citizens.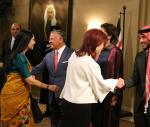 Newsletter
Get top stories and blog posts emailed to you each day.