You are here
Civility and civil status
Jun 19,2017 - Last updated at Jun 19,2017
When the Civil Status Department started to replace the old ID cards with new smart cards a year ago, it was for a good reason. The old cards, last updated in 1996, had outlived their expiry date.
Whether the choice of new cards was the best is a matter open for debate. My main misgiving about it is the photo. A policeman stationed at a roundabout on a rainy night may not have taken the precaution of lugging a scanner on his person to verify iris and finger prints.
His only means to ascertain whether the bearer of the card is the person to whom it was issued is his naked eye.
In the case of my card, this policeman would have trouble believing that the card was not issued to an extra terrestrial but to yours truly.
Still, the problem arose because the Civil Status Department, which merits praise for issuing the old cards and all other documents within half an hour, decided to replace all the old cards in one year.
The result was huge queues, much scuffling and a day or two wasted to complete a process that essentially requires only 30 minutes.
To get my new card, I was advised to go early to the office that opens at 8am to ensure that I get a turn.
I arrived at 6:20 to be given the number 48. When finally the doors opened, everyone ignored their number and stampeded to the booth that issued official numbers to citizens allocating them their turn.
After considerable pushing and shoving, accompanied by loud protestations, I was allocated the number 76, meaning that around 20 people jumped the queue and that the hapless employee allocated numbers on a first jostle first serve basis.
From then on I read a book until I was called, at 11am, to be processed by polite and helpful employees in less than 10 minutes.
I then went away and came back to receive my card at 3pm.
In some offices, the difficulty is compounded by the request that citizens come the following day early, to be issued another unofficial number, have another scuffle to be issued an official number, and then have a second scuffle to be issued their ID cards.
Certainly, the processes of the Civil Status Department can be improved.
But the fundamental failure of the system is that Jordanians ignore it and rush to jump the queue.
This can be seen not only at the Civil Status Department, but in every office and at every traffic light or intersection.
If people formed a queue and waited for their turn, the process would be completed with much less heartache and more quickly because more people would be processed in the same period of time.
Any improvement on this or any other system in Jordan, including traffic and transportation, would need to start with the question how to make Jordanians stand civilly in line instead of stampeding to jump the queue.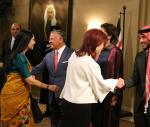 Newsletter
Get top stories and blog posts emailed to you each day.