You are here
Wihdat and Faisali trail Jazira as Leg 1 nears end
By Aline Bannayan - Jan 12,2017 - Last updated at Jan 12,2017
AMMAN — Wihdat and Faisali have narrowed Jazira's lead in the Jordan Professional Football League as teams head into the final week of Leg 1 of the country's leading competition.
Jazira went down 3-0 to Manshieh after a 1-1 draw with Ramtha last week cut their lead to one point as Faisali beat Baqa'a 3-0 and Wihdat scored a 4-0 win over Sarih.
Jazira will play Ahli this week. The latter is now down to 6th after they were held 0-0 by Sahab. Faisali will play Sahab while Wihdat take on Hussein who beat Shabab Urdun 1-0 to climb to 5th.
Manshieh next play Ramtha, who are 7th after they beat That Ras 1-0. Sarih next play That Ras, who are 11th, while Baqa'a have disappointed fans this year and are now bottom of the table and next play former titleholders Shabab Urdun.
Jazira's Syrian pro Mardig Mardigian still leads the top scorers list with seven goals.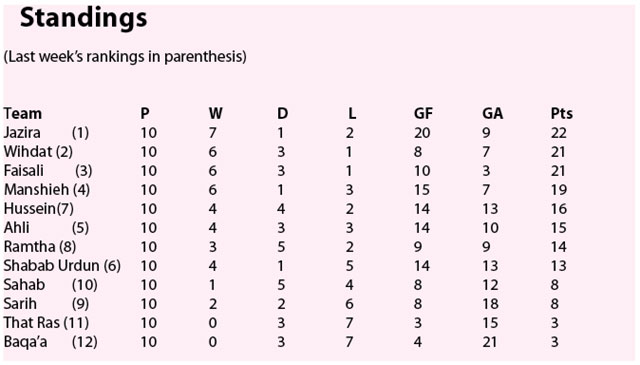 Manshieh, who joined the league this season with Sahab, have tipped the balance and are now in fourth place with teams like Ramtha, Ahli and Shabab Urdun further down the standings with inconsistent results.
Ahli won the first major competition on the 2016/17 football calendar, making history when they beat reigning league champs Wihdat 2-1 to win the 34th Super Cup. In the Jordan Football Association Shield — back on the calendar after four years — Shabab Urdun scored a major 5-1 win over Faisali. It was Shabab Urdun's second Shield title after they first won in 2007.
Last season, Wihdat retained the title with Faisali, Ahli, Jazira and Shabab Urdun in top five spots. It was Wihdat's third consecutive and 15th league title since they moved up to the Professional League in 1975. Faisali beat Wihdat to clinch the Super Cup while it was Ahli, who after years in the backstage, beat Shabab Urdun to win their first Jordan Cup final.
Related Articles
Dec 29,2016
AMMAN — Jazira maintained their leading heading into the final week of 2016 as Week 9 of the Jordan Professional Football League kicks off F
Mar 08,2017
AMMAN — Teams hope that the upcoming Week 16 will help shape standings in the Jordan Professional Football League kicking off on Thurs
Sep 27,2017
AMMAN — Week 4 of the Jordan Professional Football League kicks off on Thursday after major changes in standings during the past week.
Newsletter
Get top stories and blog posts emailed to you each day.