You are here
Ramtha, Wihdat, Shabab Urdun seek to build on impressive wins
By Aline Bannayan - Sep 27,2017 - Last updated at Sep 27,2017
AMMAN — Week 4 of the Jordan Professional Football League kicks off on Thursday after major changes in standings during the past week.
While Ramtha took over the top spot after a 5-0 drubbing of Yarmouk, Shabab Urdun jumped to second after a 2-1 win over That Ras and Wihdat moved up to 3rd after a 2-0 win over Faisali, who dropped to 6th.
Aqaba beat Baqa'a 2-1 to jump to fourth, as Jazira beat Hussein to improve to 5th as the latter dropped to last and Ahli were held 1-1 with Manshieh and dropped to 7th.
Wihdat's two draws with That Ras and Shabab Urdun earlier in the competition had pushed them down the standings, but thanks to their win over Faisali they rebounded and the upcoming match with Hussein should be a chance to retake the top spot.
In upcoming matches, Jazira, who lost to Shabab Urdun and drew with Faisali before their latest win, will come head-to-head with Ramtha, Aqaba will play Ahli, Shabab Urdun will take on Faisali, That Ras will meet Manshieh, and newcomers Yarmouk will play Baqa'a, who are now 9th.
So far this season, reigning league and Jordan Cup champs Faisali beat Jazira to win the 35th Jordan Super Cup. Wihdat beat Jazira to win the Jordan Football Association Shield.
Last year, Faisali won their 33rd league title after a four-year break and combined it with the Jordan Cup. Ahli beat reigning league champs Wihdat to win the Super Cup, Shabab Urdun beat Faisali to win their second Shield title after they first won it in 2007. Sarih and Sahab were relegated and replaced by Aqaba and Yarmouk from the First Division.
Related Articles
Dec 14,2017
AMMAN — Shabab Urdun play Wihdat on Friday while Faisali play Jazira on Saturday in the return leg of the Jordan Cup semis — the third major
Dec 05,2017
AMMAN — Wihdat and Ramtha ended Leg 1 atop the Jordan Professional Football League standings with the former champs leading on goal di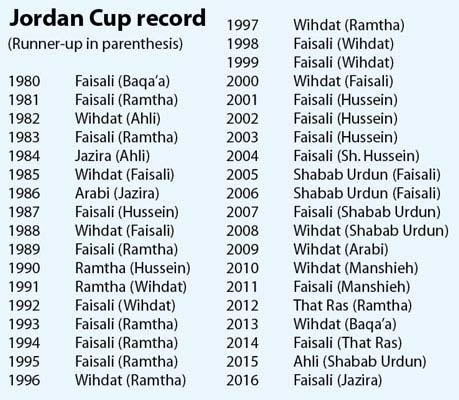 May 17,2018
AMMAN — Shabab Urdun play Jazira on Friday in the 38th Jordan Cup final, the last of the season's competitions with both teams looking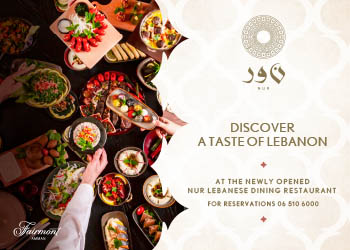 Newsletter
Get top stories and blog posts emailed to you each day.