You are here
US to top medal table; China, Russia next — Olympic forecast
By AP - Apr 27,2016 - Last updated at Apr 27,2016
RIO DE JANEIRO — If the Rio de Janeiro Olympics were held today, the US would win the most medals — and the most golds. And American swimmer Michael Phelps would collect five more gold medals and a bronze, bringing his overall total to 28 with a career gold-medal haul of 23.
Simon Gleave has been crunching the Olympic numbers for four years, putting them through a data-processing programme as the head of analysis for US-based Gracenote, a sports and entertainment data provider.
"In terms of medal-count and order, it's going to be close to what we have," said Gleave, who in 2012, using a less sophisticated programme, predicted within four medals the results of 16 of the top 20 teams.
Gleave will issue updates again in June, July and August, just days before the August 5 opening. He expects a few minor changes, but nothing major.
Gleave is picking the United States to top the table with 42 gold and 102 overall. China will be second with 31 gold and 78 overall, which is the same 1-2 order as London four years ago. The next teams in order of gold are: Russia (22), Australia (18), Britain (17), Germany (15), Japan (12), South Korea (12), France (10) and the host-country Brazil (9).
"You could look at this as if these are the stories before they happen," Gleave said in an interview with The Associated Press.
For years, Italian Luciano Barra has predicted the medal count, basing his results on world-championships results leading up to the games.
Gleave has gone several steps beyond. He tracks world championships, Grand Prix events, Grand Slams and even some continental championships — then gives more weight to the most recent events, and the most important events.
Although Gleave has Russia placing third in the gold-medal and overall standings, some Russian athletes could be banned from the games over a doping scandal.
"It's a bit difficult to know with Russia at the moment," Gleave said. "We don't know the sports they are going to be competing in with all the stuff that's been going on around Russia."
Gleave also has Phelps down for six more medals — five gold. He's picking him to win gold in the 100- and 200-metre butterfly and the 200-metre individual medley. He's had to guess on which relays Phelps will swim, but he picks him for gold in the 4x100 medley and 4x200 free-style. And he figures he'll get bronze in the 4x100 free-style.
"We are speculating to an extent on the relays," Gleave said. "But I don't think that it's a wild thing to guess."
Related Articles
Nov 20,2017
AMMAN — Jordan's Amro Al Wir has clinched gold in the 200m breaststroke at the Arab Swimming Age Group Championships taking place in Cairo,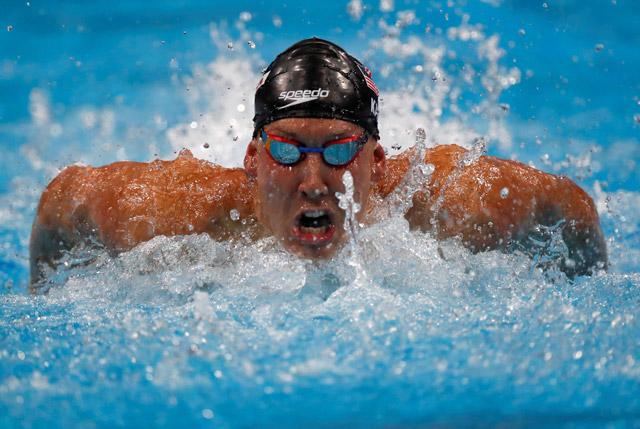 Jul 27,2017
BUDAPEST — Chase Kalisz continued America's dominance of the men's 200 metres individual medley as the United States enjoyed a memorable eve
Jul 22,2014
Olympic champions Usain Bolt and Mo Farah lead a cast of the world's leading athletes descending on Glasgow to compete in the Commonwealth Games starting in Scotland's biggest city on Wednesday.
Newsletter
Get top stories and blog posts emailed to you each day.