You are here
Speed Test events get new points system
By Roufan Nahhas - Dec 27,2016 - Last updated at Dec 27,2016
AMMAN — Jordan Motorsport, the sporting authority for all motorsport events held within the Kingdom, on Tuesday announced a new point system for the Speed Test events.
The 2017 season will have five Speed Test events, including one event to be held under the title Power Speed.
Othman Naseef, Jordan Motorsport CEO, told The Jordan Times that the new system is in favour of the driver.
"We have created new point system in which driver's points are calculated as one factor while in the Power Speed as 1.5 depending on a driver's results in the event," he said.
"Meanwhile, additional 10 points will be added to the general total of points of the Jordan Speed Test Championship when a driver also participates in the Rumman Hill Climb," he added.
In addition, 10 points will be added to the total when a driver participates on tarmac rallies whether as a driver or co-driver with the condition of finishing the rally. Two points will be added in the general standing of the Speed Championship to each driver who finishes in the 13th position and above.
According to Naseef, the points will be calculated to the driver and not the car and if a tie is reached the system will calculate the number of the first place wins by the driver taking into consideration the number of events and best positions.
"The new point system will give 25 points to first place, 22 to the second, 20 third, 14 fourth, 16 fifth, 14 sixth, 12 seventh, 10 eighth, 8 ninth, 6 tenth, 11 eleventh, 4 twelfth and 3 to the 13th," he said.
In 2016, Mohammed Tayseer captured the Speed Test Championship title after winning the fifth and final round held in Aqaba with the participation of 59 drivers from Palestine and Jordan.
Tayseer topped the standings with 98 points, followed by Ayman Najjar with 80 points and Ghaith Wraikat with 60 points. Ibrahim Al Bajeh from Palestine won the Palestinian participation cup and Sultan Shadeed from Aqaba won the city's participation cup.
In the final round, Tayseer clocked 1m02:35s in his Mitsubishi Evo 6, followed by Ayman Najjar with 1m03:37s in his Mitsubishi Evo Proto and Khatchik Shadian with 1m03:65s in his ALF3 Cosworth.
Related Articles
Mar 11,2017
AMMAN — Ayman Najjar on Friday won the second round of the Speed Test Championship at the Royal Automobile Club of Jordan racetrack with the
Sep 10,2016
AMMAN — Mohammed Tayseer on Friday was crowned champion of the fourth round of the Speed Test Championship held at the SOFEX Racetrack with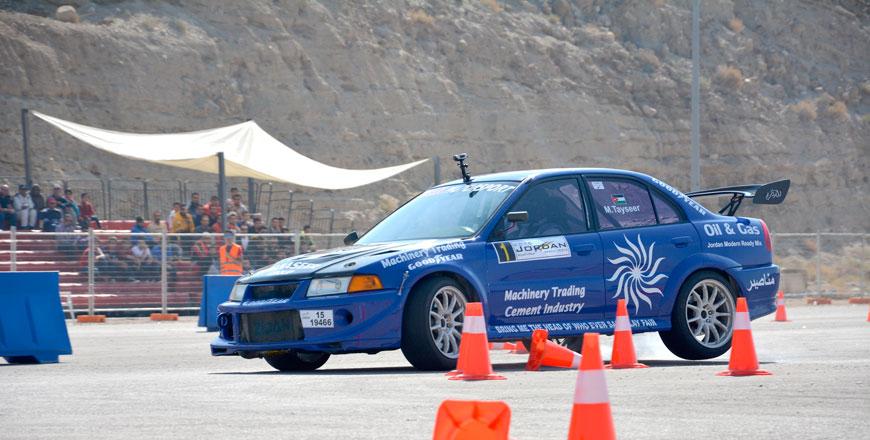 Mar 09,2017
AMMAN — The second round of the Speed Test Championship kicks off on Friday with the participation of 37 drivers from Jordan and Palestine a
Newsletter
Get top stories and blog posts emailed to you each day.