You are here
Jordan Paralympics legend Barghouti to retire
By Aline Bannayan - Feb 20,2017 - Last updated at Feb 20,2017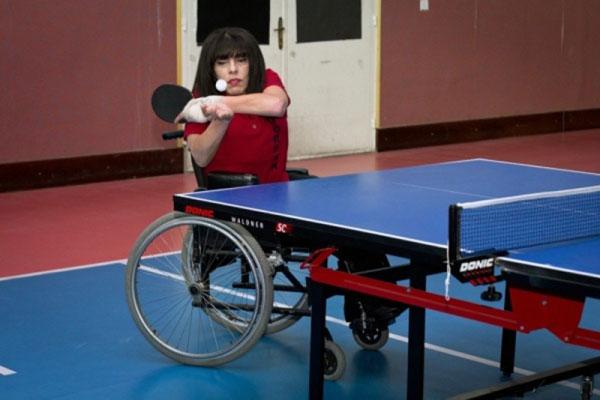 Maha Barghouti file photo (Photo courtesy of the Jordan Paralympic Committee)
AMMAN — Maha Barghouti, the first athlete to put Jordan on the International sporting map, a gold medallist at the 2000 Sydney Paralympics, has decided to end her sporting career after almost 30 years.
For Jordan and the sporting world Barghouti is a legend. She has qualified to and taken part in five Paralympic Games (Sydney 2000, Athens 2004, Beijing 2008, London 2012 and Rio 2016).
Maha Barghouti is a name no Jordanian can forget. The disabled athlete was the first to win a gold medal and hoist Jordan's flag, not on the Asian level, but at the highest sporting congregation — the Paralympics — organised in parallel with the Olympic Games.
In an exclusive interview with The Jordan Times, an emotional Barghouti discussed her sporting career. Often teary-eyed at the thought it would all be history soon, she underscored how sports had given her a life. "I proved I existed despite all the obstacles," she said, noting people's look had changed from 'pity' to 'help' to 'champ'. That's what sports did for me, and I will be forever grateful."
To underscore the significance of her achievements, it is worthy to note that ever since 1980 when Jordan first took part in the Olympic Games the Kingdom's national anthem was first played in Sydney 2000 when Barghouti won the gold medal at the Paralympics in wheelchair table tennis. That honour was repeated again only this past summer when Jordan won its first ever Olympic medal — an honour was made possible by Ahmad Abu Ghaush — a 20-year old who came in top spot in taekwondo's 68-kilogramme category.
With over 200 nations competing, making Olympic history by winning gold is no easy feat. However, Barghouti and her disabled teammates have always been competitive and won multiple medals in Europe and Asia.
A gold medal winner at the 1999 Pan-Arab Games, and winner of several world championships, her outstanding career and gold medal achievements did not go unrecognised. In January 2001, His Majesty King Abdullah bestowed Al Hussein Medal of the First Order on Barghouti. That year, she was named Arab Athlete of the Year and voted Jordan's top sports person of 2002 where she told the audience "I stand here tonight, though not on my feet, but by sheer determination, which has been the story of my life."
Barghouti said she always felt she had "to leave a mark, to make a difference. Maybe it's because people with disability always have a message to their families, community and governments: Allow us to participate and be productive citizens with rights and responsibilities".
Asked what drove her work so hard, for so many years, while suffering from a handicap, she explained:"My parents supported me all the way. I urge parents with disabled children to do so," she added.
Barghouti started her career in athletics from 1985-1996 where she scored a world record in the 200 metres. She then switched to wheelchair table tennis which she seemed to love more although in her Class 1 disability it was the most difficult and competitive.
Sydney 2000 was the most memorable moment in her sporting career. " I never imagined when is started playing sports at age 11 that I would have this achievement. That I would be the reason Jordan's national anthem was played… that I could stand on my feet and be independent."
Barghouti underlined HRH Prince Raad Bin Zeid's support to people with disabilities.
"He helped and supported us all the way. We will always all be grateful for his support, for our achievements and for helping raise Jordan's flag."
Disabled athletes have usually made up for the failure to achieve better results on the Olympic scene, where even qualifying to the world's premier sports gathering has been a daunting task, and since first participating in 1980, the Kingdom only won one Olympic medal in 2016.
When their peers at the Olympics, the majority of whom participate on a wild card aiming at having athletes from all corners of the globe, mostly return home empty handed or sometimes set personal bests, Jordan's Paralympians have always come back with several medals each time. Barghouti and observers note that has usually gets minimal coverage.
It is their achievements that speak for themselves as sports for the disabled has gained recognition for Jordan through impressive performances on the international scene. The first time Jordan's flag was hoisted during an Olympic event was at the 1996 Paralympics in Atlanta when Imad Gharbawi won a silver medal in the discus but the crowning achievement is still Barhouti's gold in Sydney. In Rio 2016, Jordan's Paralympians returned with three medals in power lifting for a combined total of 11 medals since Jordan first competed.
Barghouti underlined the vital role of media in helping change perceptions and that being voted Jordan's top sportsperson in 2002 demonstrated how "support helps a disabled person gain confidence and convince others that they are not a burden. "That's part of my mission and what I hope I can help achieve in my upcoming move."
Athletes with disabilities are grouped in classes defined by the degree of function presented by the disability. Traditionally there are athletes who belong to six different disability groups in the Paralympics Movement: amputee, cerebral palsy, visual impairment, spinal cord injuries, intellectual disability and a group which includes all those that do not fit into the aforementioned groups.
Her official retirement ceremony will be held on April 20 under Prince Raad's patronage.
Related Articles
Sep 24,2016
AMMAN — The biggest sporting gatherings in the world have come to an end as the Summer Olympic Games as well as the Paralympic Games conclud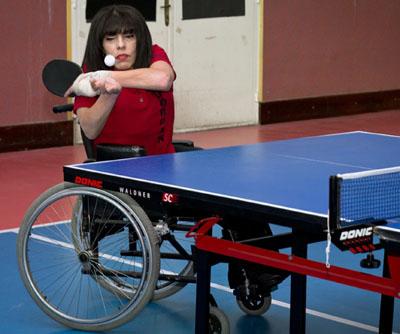 Jan 13,2015
Jordan's most decorated sportswoman made history by winning the first, and still the only, Jordanian gold at an Olympic or Paralympic Games and yet Maha Bargouthi astonishingly says that people still show her sympathy on a regular basis due to her life in a wheelchair, according to a statement from the Jordan Olympic Committee News Service.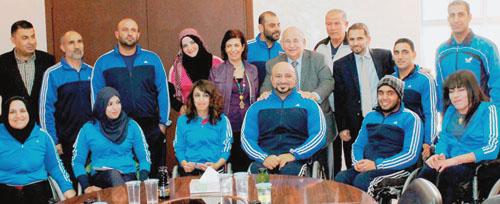 Dec 13,2014
The Jordan Olympic Committee (JOC) joined the Jordan Paralympic Federation in celebrating the incredible achievements of medal winners at the recent Asian Paralympic Games held in Incheon, South Korea, according to a statement from the JOC Media Centre.
Newsletter
Get top stories and blog posts emailed to you each day.