You are here
Jordan Paralympians return from Rio with 3 medals
By Aline Bannayan - Sep 24,2016 - Last updated at Sep 24,2016
Jordan Paralympic silver medal powerlifters Tharwat Al Hajjaj (left) and Omar Qaradah (centre) and bronze medal powerlifter Jamil Al Shibli arrive at the Queen Alia International Airport on Thursday night (Photo courtesy of JOC News Service)
AMMAN — The biggest sporting gatherings in the world have come to an end as the Summer Olympic Games as well as the Paralympic Games concluded in Rio de Janeiro, Brazil with athletes now awaiting the 2020 Games in Tokyo.
Soon after Ahmad Abu Ghaush won Jordan's first ever Olympic gold medal in taekwondo's 68kg category, Jordan's Paralympians returned home on the weekend with three medals in power lifting.
Jordan won two silvers by Tharwat Hajjaj in the 86kg category and Omar Karadeh in the 49kg category, while Jamil Shibli won bronze in the +107kg category. Shibli is a former silver medallist in shot put at the 2008 Beijing Games and the 2004 Athens Games.
The delegation also included the only athlete to ever win a Paralympic gold medal for Jordan — wheelchair table tennis ace Maha Barghouti who won gold in Sydney 2000, along with Khitam Abu Awad, a former bronze medallist, Osama Abu Jam'eh, a first time qualifier, Bilal Yousef, in athletics, and powerlifters former bronze medallist Mutaz Juneidi, Haidar Kawamleh and Abdul Karim Khattab.
Athletes with disabilities are grouped in classes defined by the degree of function presented by the disability. Traditionally there are athletes who belong to six different disability groups in the Paralympics movement: amputee, cerebral palsy, visual impairment, spinal cord injuries, intellectual disability and a group which includes all those that do not fit into the aforementioned groups.
Ever since first participating in the 1980 Olympics, Jordan's national anthem was played twice. The first was when Barghouti won a gold medal at the Sydney Paralympics in 2000 and this year for Abu Gaush in Rio 2016.
Sports for the disabled has gained recognition for Jordan through impressive performances on the international scene. The first time Jordan's flag was hoisted during an Olympic event was at the 1996 Paralympics in Atlanta when Imad Gharbawi won a silver medal in the discus. The crowning achievement was in Sydney 2000 when Barghouti won Jordan's first gold medal. Two medals were added in Athens 2004 when Jamil Shibli won silver in the shot put while the women's table tennis team (Khitam Abu Awad and Fatima Azzam) won bronze (Abu Awad later on won silver at the 2006 World Championship).
In 2008, Jordan's athletes competed in table tennis, powerlifting and athletics and ended competition with a record four medals, two silvers and two bronze. Mohammad Qaradeh took silver in power lifting; Shibli, a silver medallist in Athens 2004, added a second silver with a new Paralympic world record in the shot put, Juneidi won a bronze medal in power-lifting and the women's wheelchair table tennis team won bronze when Fatima Azzam and Khitam Abu Awad repeated their bronze medal win in Athens 2004.
The 2012 Paralympics was the most disappointing participation after the usual winners in table tennis failed to advance past the round of 16 while power lifters were embroiled in controversy amid assault complaints and were returned home.
Sports for the disabled has always been competitive and won multiple medals in Europe and Asia and Barghouti is a name no Jordanian can forget. Her outstanding career and gold medal achievement did not go unrecognised. In January 2001, His Majesty King Abdullah bestowed Al Hussein Medal of the First Order on Barghouti. That year, she was named Arab Athlete of the Year and voted Jordan's top sports person of 2002 where she told the audience "I stand here tonight, though not on my feet, but by sheer determination, which has been the story of my life".
Disabled athletes have usually made up for the failure to achieve better results on the Olympic scene, where even qualifying to the world's premier sports gathering has been a daunting task, and since first participating in 1980, the Kingdom was yet to earn an Olympic medal up until 2016.
Apart from the qualifiers, non-qualifying athletes have taken part based on the "quota" or wild card system which aims at making sure countries from all corners of the globe are present. Until 2000, table tennis was the only game in the Kingdom whose athletes qualified through competition, through players Tatiana Najjar in Sydney 2000, Nadia Rashad in Barcelona 1992 and Jacqueline Duqum in Seoul 1988. Taekwondo and boxing followed soon after. In 2004, table tennis' Zeina Sha'ban, equestrian's Ibrahim Bisharat and taekwondo's Nadine Dawani and Ibrahim Aqil qualified to the Athens Olympics. At the 2008 Beijing Olympics, Dawani, Bisharat and Sha'ban again qualified. In 2012, Jordan had Mohammad Abu Libbeh, Nadine Dawani and Raya Hatahet qualifying in Taekwondo, equestrian Bisharat and Ihab Al Matbouli in boxing. In 2016, it was Abu Ghaush in taekwondo and Hussein Ishaish in boxing.
With the Olympics and Paralympics now over, a reshuffle in sports federations is expected soon as they near their four-year terms, with sports observers calling the right members of federations to lead a better planning and assessment role to put Jordan on the competitive sporting map.
Jordan's Paralympics Record
Atlanta 1996
Imad Gharbawisilver (discus)
Sydney 2000
Maha Barghouti gold (table tennis)
Athens 2004
Jamil Shibli silver (shot put)
Khitam Abu Awad
Fatima Azzambronze (women's table tennis team)
Beijing 2008
Mohammad Qaradehsilver (power lifting)
Jamil Shiblisilver(shot put)
Mutaz Juneidi bronze(powerlifting)
Khitam Abu Awad
Fatima Azzambronze(women's table tennis team)
London 2012
No medals
Rio de Janeiro 2016
Tharwat Hajjaj silver(power lifting)
Omar Karadeh silver(power lifting)
Jamil Shibli bronze(power lifting)
Related Articles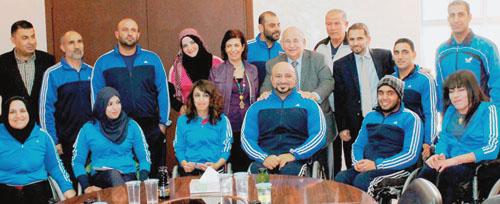 Dec 13,2014
The Jordan Olympic Committee (JOC) joined the Jordan Paralympic Federation in celebrating the incredible achievements of medal winners at the recent Asian Paralympic Games held in Incheon, South Korea, according to a statement from the JOC Media Centre.
Sep 04,2016
AMMAN — While Jordan continues to celebrate the achievements of Ahmad Abu Ghaush in winning the Kingdom's first ever medal at an Olympic Gam
Mar 06,2016
AMMAN — The stage is set for sport's biggest night of the year — The Black Iris Sports Awards — taking place on Monday night The cream
Newsletter
Get top stories and blog posts emailed to you each day.