You are here
Jazira, Wihdat battle for football league lead
By Aline Bannayan - Mar 01,2017 - Last updated at Mar 01,2017
AMMAN — Competition has heated up at both ends of the standings in the Jordan Professional Football League as Week 15 kicks off on Thursday.
Jazira's lead has been slashed to one point after they were held 1-1 with Wihdat. This week, they have a chance to boost their standing when they play Sarih who are 11th after losing 2-0 to Sahab. Wihdat are second and will next play Ramtha in an important match, as the top three are trailing by a point each.
Ramtha are 6th after they beat Shabab Urdun 1-0. The latter dropped to 7th and next play Manshieh, who are fourth after losing 2-0 to Faisali.
Jordan Cup titleholders Ahli, who lost 2-1 to That Ras, dropped to 8th and next play Faisali. The team seems to have lost momentum after they were eliminated from the Jordan Cup and lost in the opener of the Asian Football Confederation Cup.
Hussein are fifth after a 2-1 win over Baqa'a and next play Sahab who are now 9th. Baqa'a, who are reeling in last spot and close to relegation, play That Ras in a vital match in the bottom half of the standings.
Manshieh who joined the Jordan Professional Football League this season with Sahab have asserted themselves among the leading teams, while former Jordan Cup champ That Ras are going through financial strains and are now in the relegation zone together with Baqa'a who are usually among the upper half of standings. Jazira's Syrian pro Mardig Mardigian maintained his scoring prowess and leads the top scorers list with 11 goals.
Wihdat exited the Asian Champions League, but beat Lebanon's Nijmeh 1-0 in the AFC Cup opener. They are looking to win their fourth consecutive and 16th overall title, while Faisali have not won the league in the past four years eyeing their 33rd record title.
In the Jordan Cup, four teams had made it to the semis in which Wihdat will face Faisali while Ramtha play Jazira on May 12 and 16 before playing the final on May 20.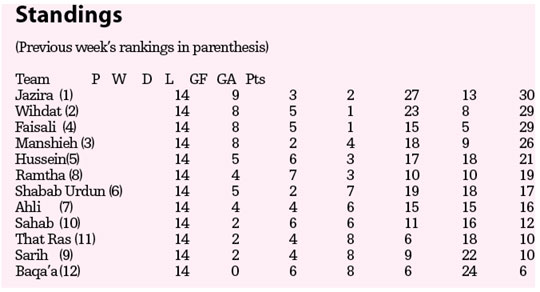 Related Articles
Mar 08,2017
AMMAN — Teams hope that the upcoming Week 16 will help shape standings in the Jordan Professional Football League kicking off on Thurs
Jan 12,2017
AMMAN — Wihdat and Faisali have narrowed Jazira's lead in the Jordan Professional Football League as teams head into the final week of Leg 1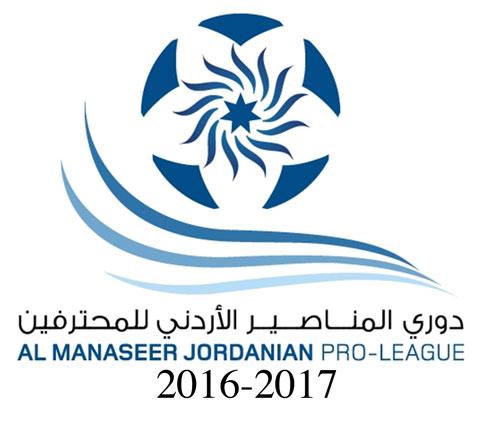 Feb 16,2017
AMMAN — The Jordan Professional Football League resumed on Thursday as Week 13 kicked off with teams making big changes on position midway t
Newsletter
Get top stories and blog posts emailed to you each day.