You are here
US targets Al Shabab leader in Somalia air strike
By AFP - Sep 02,2014 - Last updated at Sep 02,2014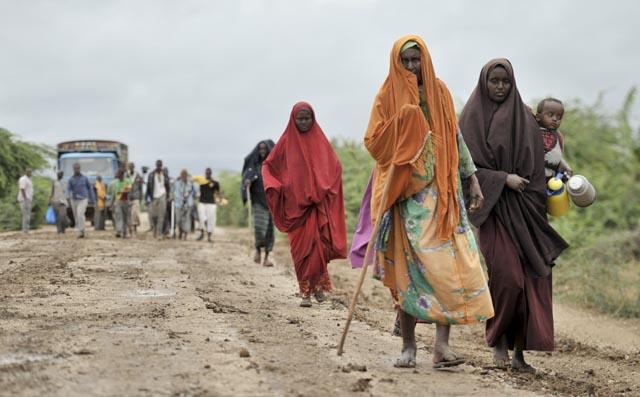 MOGADISHU — US forces have carried out air strikes against the leader of Somalia's Al Qaeda-linked Shabab rebels, with casualties reported but uncertainty hanging over the fate of the main target, officials said Tuesday.
The Pentagon confirmed an "operation" was carried out on Monday against the hardline militia, and that it was "assessing the results".
"The Americans carried out a major air strike targeting a gathering by senior Al Shabab officials, including their leader Abu-Zubayr," said Abdukadir Mohamed Nur, governor for southern Somalia's Lower Shabelle region.
Abu-Zubayr is the often-used name for Al Shabab supreme commander Ahmed Abdi Godane, listed by the US State Department as one of the world's eight top terror fugitives.
If confirmed, Godane's death would be a major blow for Al Shabab.
Washington has carried out a series of drone missile strikes in the past, including attacks reportedly targeting Godane.
"We are assessing the results of the operation," Pentagon Press Secretary Rear Admiral John Kirby said in a statement.
$7 million reward
The Shabab refused to comment on reports Godane had been killed.
"Let the Americans say that they have killed Shabab's leader," a senior Shabab official told AFP on condition of anonymity. "So far the Americans just gave us rumours."
The air strike comes days after African Union (AU) troops and government forces launched "Operation Indian Ocean", a major offensive aimed at seizing key ports from the Islamist rebels and cutting off one of their key sources of revenue — multimillion-dollar exports of charcoal.
"They were meeting to discuss about the current offensive in the region," Nur said. "There were casualties inflicted on the militants, but we don't have details so far."
Nur said the strike hit a Shabab hideout used as a training camp for suicide bombers a in remote village of the Lower Shabelle region, south of the capital Mogadishu — the seat of Somalia's internationally-backed but fragile government.
Somali Foreign Minister Abdirahman Dualeh Beileh, speaking at an African Union summit meeting on terrorism in Nairobi, said the government was "still waiting for information" on the strike.
On Saturday the AU mission in Somalia, AMISOM, said it had captured the town of Bulomarer, some 160 kilometres southwest of Mogadishu.
The town was the scene of an attempted raid by French commandos in January 2013 to free an intelligence agent being held hostage. The bid failed and resulted in the death of two members of the French special forces as well as the hostage.
AMISOM and Somali government troops were also seen on roads towards Barawe, the last major port held by the hardline Islamists.
US special forces in October launched an attack on a house in Barawe targeting a top Shabab commander, but were fought off with several US Navy SEALS believed to have been wounded.
Godane, 37, who reportedly trained in Afghanistan with the Taliban, took over the leadership of the Shabab in 2008 after then chief Adan Hashi Ayro was killed by a US missile strike.
Al Qaeda chief Ayman Al Zawahiri has recognised Godane as the head of the "mujahedeen" in East Africa, although letters released after Osama Bin Laden's death show the late Saudi Islamist leader had lower regard for the Somali's abilities.
He is included in a third category of men on whom information warrants a $7-million (5.35-million-euro) reward from the US, alongside Nigeria's Boko Haram leader, but under the Taliban's Mullah Omar, for whom a tip is worth up to $10 million and Zawahiri, who fetches $25 million.
'A major blow'
"If confirmed, the death of Ahmed Godane could deal a major blow to Al Shabab and could be the beginning of the end," said Abdi Aynte, who heads the Mogadishu-based Heritage Institute think tank.
"The irony is that Godane killed [his] would-be obvious successor, Ibrahim Al Afghani, in a major internal rift last year," Aynte added, saying Godane had structured the Shabab "to bury the organisation with him".
Clint Watts, fellow of the Homeland Security Policy Institute at George Washington University, said if Godane had been killed it would have a "significant impact" on the Shabab, with the force likely to splinter.
The Shabab are fighting to topple the government and regularly launch attacks against state targets, as well as in neighbouring countries that contribute to the AU force.
The US strike comes as the United Nations and aid workers warned that large areas of Somalia are struggling with dire hunger and drought, three years after famine killed more than a quarter of a million people.
Related Articles
Dec 30,2014
A US air strike killed the intelligence chief of Somali terror group Al Shabab, Somalia's intelligence service said Tuesday.
Sep 06,2014
A commander of Somalia's Islamic extremist rebels, Al Shabab, confirmed Saturday that the leader of the terror group was killed in a US air strike.
Sep 01,2015
MOGADISHU — Al Shabab militants stormed an African Union base in southern Somalia on Tuesday, where they say they killed 50 peacekeepers, in
Newsletter
Get top stories and blog posts emailed to you each day.