You are here
Trump prepares for visit by Saudi prince who has rocked the kingdom
By AFP - Mar 18,2018 - Last updated at Mar 18,2018
This file photo taken on Wednesday shows US President Donald Trump and Saudi Crown Prince and Defence Minister Mohammad Bin Salman shaking hands in the State Dining Room before lunch at the White House in Washington DC (AFP photo)
WASHINGTON — Donald Trump will host Saudi Arabia's crown prince in Washington on Tuesday, giving the president a receptive audience to denounce rival Iran and a chance to take stock of significant changes the prince is engineering in the kingdom.
Ten months after the last face-to-face meeting between Trump and Crown Prince Mohammed Bin Salman, in Riyadh, the 71-year-old president and the 32-year-old prince are expected to deepen an already warm and congenial relationship.
But they are also expected to take up major developments for Saudi Arabia, both internally and externally: the end of a ban on Saudi women driving, the unprecedented detention of dozens of people that was billed as a high-level anti-corruption purge, Saudi involvement in the war in Yemen, and the crisis with the Gulf state of Qatar.
"It's jaw-dropping how many policy changes the Saudis have pursued at home and in the region since that last meeting," said Lori Plotkin Boghardt, a former CIA analyst now with the Washington Institute for Near East Policy. "Many of these changes have touched US security interests."
One example is the summit that the administration had hoped to host this year with the six countries of the Gulf Cooperation Council, which could be difficult to arrange given the continuing crisis with Qatar.
In June, Saudi Arabia and the United Arab Emirates (UAE) began an air and sea boycott against Qatar, which they accuse of financing terrorism and being overly friendly with Iran.
Prince Mohammed, known by his initials MBS, was named crown prince that month by his father, King Salman.
Early on, the prince announced an ambitious "Vision 2030" initiative to build an economy that is less dependent on oil, while luring more foreign investment.
Toward that end, Riyadh wants to greatly accelerate the pace of its civilian nuclear energy programme. The goal: to build 16 reactors over the next 20 years, at a cost of some 80 billion euros ($98 billion), according to officials and analysts.
As the Saudis pursue the technology needed to undertake the ambitious project, they are expected to play potential rivals against one another, reminding their American counterparts that China, Russia and France are also capable of filling their needs.
"It would be virtually impossible for the Saudi government to accept terms that are less than what Obama gave the Iranians — the possibility of future enrichment," a source close to the Saudi government told AFP, referring to the nuclear deal between Tehran and world powers that was completed when Barack Obama was still president.
Bloody war in Yemen
The United States and Saudi Arabia are historic allies. Ever since Franklin Delano Roosevelt met with King Abdul Aziz Ibn Saud on a US naval ship in the Suez Canal in 1945, every American president has carefully nurtured relations with the Saudi royal family.
But the unstinting support Trump offered when he chose Riyadh as the destination of his first overseas trip as president brought the relationship to a new level.
While Barack Obama said in 2015 that it was important "not to perpetuate any long-term confrontation with Iran, or to even marginalise Iran", Trump, who has repeatedly threatened to withdraw from the nuclear deal reached that year with Tehran, has chosen a very different path.
"Everywhere we go in the Middle East it's Iran, Iran, Iran," he said a few days ago. "Every problem is Iran."
Even before setting foot on American soil, Prince Mohammed struck a scathing tone toward Iran in an interview with CBS, comparing the territorial ambitions of that country's Supreme Leader Ayatollah Ali Khamenei to those of "Adolf Hitler in Nazi Germany".
And he warned that if Iran were to develop a nuclear bomb, Saudi Arabia would do the same "as soon as possible".
But critics are cautioning the White House not to blindly embrace every stance taken by the Saudi prince, particularly as concerns its role in the bloody civil war in Yemen.
Fighting between the Houthi movement, supported by Iran, and Yemeni government forces, backed by the Saudis and the UAE, has claimed nearly 10,000 lives and left the country on the verge of a disastrous famine.
In an opinion column early this month in The New York Times, Thomas Friedman, writing in the form of an open letter to Trump, urged the president not to give in to Prince Mohammed's "bad impulses" as he seeks to modernise Saudi Arabia's "economy and religious/social structure".
He then adds: "If you think you can just applaud his anti-Iran stance and religious reforms and all will work out fine, you're wrong."
Related Articles
Mar 15,2018
WASHINGTON — Saudi Crown Prince Mohammed Bin Salman has said if Iran develops a nuclear weapon, Riyadh will follow suit — just days before h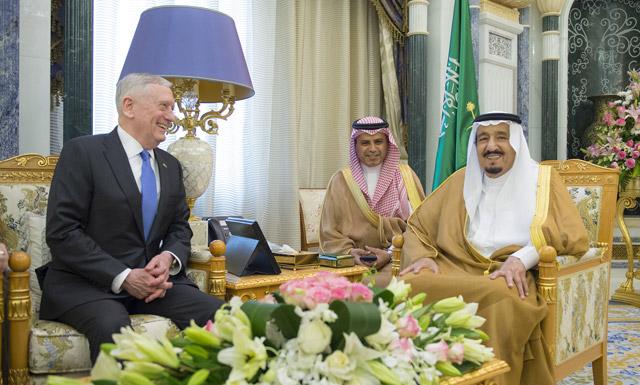 Apr 19,2017
RIYADH — The United States wants to see a strong Saudi Arabia, Defence Secretary Jim Mattis said during talks Wednesday aimed at reinvigorat
Mar 20,2018
WASHINGTON — President Donald Trump on Tuesday praised US defence sales to Saudi Arabia as a boost to American jobs, even as lawmakers criti
Newsletter
Get top stories and blog posts emailed to you each day.