You are here
Syria peace talks stumble over meeting format
By AFP - Feb 23,2017 - Last updated at Feb 23,2017
Members of the Free Syrian Army are seen in the Syrian town of Al Bab after the town centre has been entirely freed from Daesh extremists as part of the operation 'Euphrates Shield', in Aleppo, Syria, on Thursday (Anadolu Agency photo)
GENEVA — The UN's Syria envoy met rival negotiators gathered for peace talks in Geneva on Thursday, but even getting them into the same room appeared uncertain as hopes remained slim for a breakthrough.
Persistent violence and deadlock over Syria's political future are clouding the start of "Geneva 4", the fourth round of UN-sponsored talks on the conflict which has killed more than 310,000 people since 2011.
The latest diplomatic push comes as Turkish-backed Syrian rebels announced they had taken full control of Al Bab from the Daesh terror group, marking a key defeat for the militants after weeks of heavy fighting.
But progress on the battlefield means little for the opposition delegation in Geneva, where the talks are not about the fight against Daesh, which is excluded from the latest ceasefire.
UN envoy Staffan de Mistura had already warned that he was not expecting a breakthrough in the first peace talks since April 2016.
On Thursday, he held separate meetings with the regime and opposition delegates, notably to discuss the agenda and the format for negotiations proper.
Delayed start
Mistura said he hoped to bring them together later in the day, but a tentatively-planned fternoon event was delayed amid disagreement over arrangements.
After the initial bilateral talks with de Mistura Thursday, an opposition source said the UN envoy was understood to want a "round-table" with all the parties.
But the opposition is divided between the main umbrella High Negotiations Committee (HNC) — which wants direct negotiations with the regime — and delegations from Cairo and Moscow.
"This is not accepted at all since it means all parties are equal and will turn to be exchanging points of view and not negotiating," the opposition source told AFP.
Neither regime delegation chief Bashar Al Jaafari nor opposition team chief negotiator Nasr Al Hariri spoke as they arrived at UN offices in the Swiss city.
On the eve of the talks, Russia called on Syrian President Bashar Assad to stop bombing during the discussions — but de Mistura downplayed hopes for the negotiations.
"I am not expecting a breakthrough," the veteran diplomat said, noting that "momentum" towards further talks was likely the best that can be hoped for.
The ground — both in territory and diplomatically — has shifted since the last UN-sponsored talks broke up in April 2016, and the rebels are in a significantly weaker position.
The army has recaptured the rebel bastion of eastern Aleppo and the United States, once staunchly opposed to Assad, has said it is reassessing every aspect of its Syria policy under President Donald Trump.
'Bloody message'
The latest truce was brokered in late December by opposition supporter Turkey and regime-backer Russia ahead of separate negotiations in Kazakhstan that also involved Iran.
The deal has reduced violence but fighting flared again this week including a government bombing campaign on rebel territory around Damascus.
A bitter dispute over Assad's fate also continues to divide the camps.
The HNC has insisted he must leave office as part of any deal, while Damascus has said the president's future is not open for negotiation.
De Mistura's office has said that the talks remain focused on "political transition".
For the UN, that term can include a broad range of scenarios but the opposition sees it as implying Assad's removal.
Forcing the Syrian president from power had been the stated goal of Barack Obama's administration but Trump's election has muddied the US stance.
Trump has said that Washington's top priority in the region was defeating Daesh and that the US would be narrowly focused on American interests.
For the Syrian opposition there is urgency.
'End it right now'
"We hope to see something achieved here in Geneva 4 because there is no way Syrians will be moving to Geneva 5 with this cost they are paying in Syria," said the HNC spokesman.
"We hope to end it right now here."
Between meetings de Mistura took time Thursday to talk to a group of Syrian women with family members detained in Syria.
"I am here as a sister of two prisoners, we as Syrian families we want to know the fate of our people." Bayan Sharbaji told AFP after meeting the UN envoy.
"Where are they, are they dead or alive? Our aim is to know the fate of the detainees, this issue is humanitarian first."
Related Articles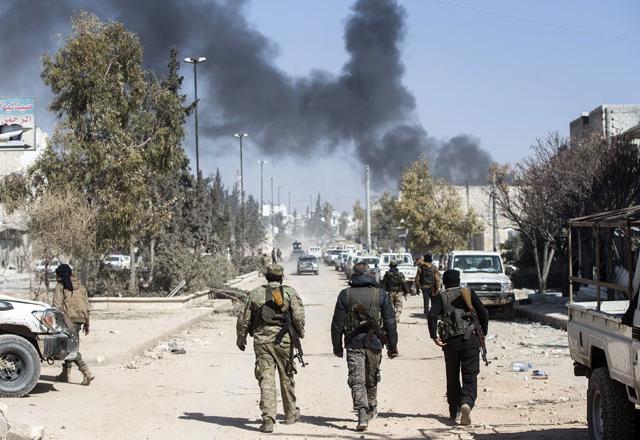 Feb 22,2017
GENEVA — Russia has called on Syrian President Bashar Al Assad to stop his bombing campaign while peace talks take place this week, but a po
Aug 23,2017
RIYADH — A meeting between Syrian opposition groups in Riyadh has ended in stalemate, a member said Tuesday, with the fate of President Bash
Jul 16,2017
GENEVA — The UN Syria envoy closed the latest round of sputtering peace talks Friday insisting "incremental progress" was made, driving hope
Newsletter
Get top stories and blog posts emailed to you each day.