You are here
Russia asks Syria to halt bombing during UN peace talks
By AFP - Feb 22,2017 - Last updated at Feb 22,2017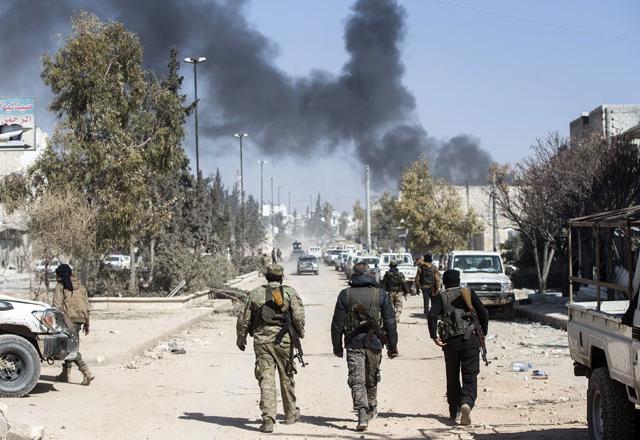 Free Syrian Army fighters, supported by the Turkish army, are seen in Al Bab town of Aleppo during the 183rd day of the operation 'Euphrates Shield' in Aleppo, Syria, on Wednesday (Anadolu Agency photo)
GENEVA — Russia has called on Syrian President Bashar Al Assad to stop his bombing campaign while peace talks take place this week, but a political breakthrough on the six-year war remains unlikely, the UN's envoy said Wednesday.
Staffan de Mistura's comments came on the eve of a new round of talks in Geneva between negotiators from Syria's regime and the opposition after a 10-month hiatus.
Persistent violence and deadlock over the country's political future, notably that of Assad, remain major hurdles.
"Russia announced to everyone... and to myself that they have formally asked the Syrian government to silence their own skies during the talks," de Mistura told reporters.
But just hours after rival delegations arrived for the resumption of the UN-brokered negotiations, there seemed limited ground for progress on making peace.
"Am I expecting a breakthrough? No, I am not expecting a breakthrough," de Mistura said, noting that "momentum" towards further talks was likely the best that can be hoped for.
The government delegation is headed by Syria's UN ambassador Bashar Al Jaafari and the main opposition High Negotiations Committee (HNC) is led by cardiologist Nasr Al Hariri and lawyer Mohammad Sabra.
The ground — both in territory and diplomatically — has shifted since the last UN-sponsored talks broke up in April 2016, and the rebels are in a significantly weaker position.
The army has recaptured the rebel bastion of eastern Aleppo and the United States, once staunchly opposed to Assad, has said it is reassessing every aspect of its Syria policy under President Donald Trump.
But the toughest issues remain similar to a year ago.
'Bloody message'
The opposition quit the last round in protest at escalating bloodshed and on Wednesday warned that ceasefire violations were once again a problem.
"The obstacles are clear and one of them is that there is no advance in consolidating the ceasefire," said HNC adviser Yehya Aridi.
The latest truce on December 30 was brokered by opposition supporter Turkey and regime-backer Russia ahead of separate negotiations that also involved Iran in Kazakhstan.
The deal has reduced violence but fighting flared again this week including a government bombing campaign on rebel territory around Damascus.
The HNC charged that Assad was trying to send "a bloody message" before the talks resume.
Focus on 'political transition'
A bitter dispute over Assad's fate also continues to divide the camps.
The HNC has insisted he must leave office as part of any deal, while Damascus has said the president's future is not open for negotiation.
"This rule saying 'everything or nothing' hampers any chance or opportunity for a political solution," Aridi said.
HNC spokesman Ahmed Ramadan insisted the opposition were not the only ones eager to see Assad go.
"The Assad issue is already decided, not only for us but also for many international actors," he told reporters.
Even Damascus' main ally Moscow had told opposition members it was "not concerned by Bashar Assad and his future, but by the destiny of Syria and the future of the Syrian state", he said.
De Mistura's office earlier said that the talks remain focused on "political transition".
For the UN, that term can include a broad range of scenarios but the opposition sees it as implying Assad's removal.
Forcing the Syrian president from power had been the stated goal of Barack Obama's administration but Trump's election has muddied the US stance and the opposition's negotiating position.
Trump has said that defeating the Daesh group is Washington's top priority in the region and that the US would be narrowly focused on American interests.
But in a sign that Washington still stands behind the opposition, US Syria envoy Michael Ratney met with HNC advisers on Wednesday.
A US diplomatic source told AFP that Ratney aimed to "remain in close contact" with the opposition delegation during the talks, insisting "the United States remains committed to a political resolution to the Syrian conflict".
But the HNC's Ramadan warned that the shift in Washington would compound difficulties in striking a deal.
"President Trump's position on Syria and the Middle East is not yet clear, and therefore the position of the international community seems unclear regarding how eager the regional parties are to find a fair political solution for Syria," he told AFP.
up
64 users have voted, including you.
Related Articles
Feb 23,2017
GENEVA — The UN's Syria envoy met rival negotiators gathered for peace talks in Geneva on Thursday, but even getting them into the same room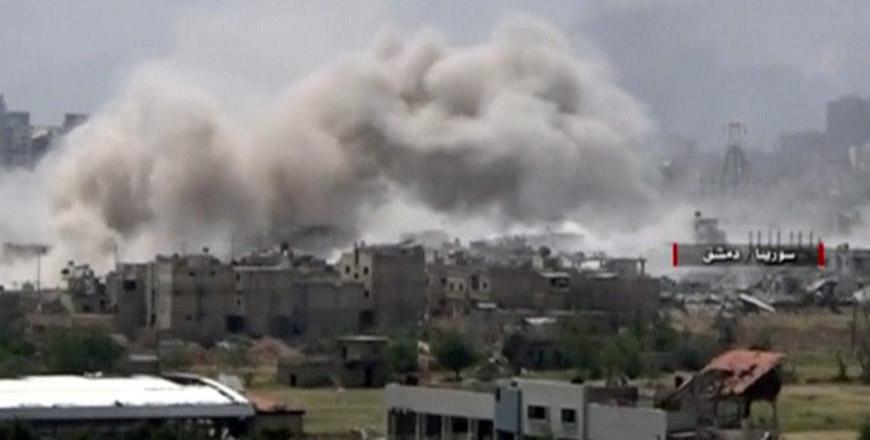 May 16,2017
GENEVA — A new round of Syria peace talks opened Tuesday in Geneva as the Damascus regime fiercely denied it used a prison crematorium to hi
May 17,2017
GENEVA — Rival Syrian delegations on Wednesday weighed a UN proposal on developing a new constitution for the war-ravaged country, as a new
Newsletter
Get top stories and blog posts emailed to you each day.