You are here
Syria's Assad vows to retake key area near Damascus
By AFP - Jan 11,2017 - Last updated at Jan 11,2017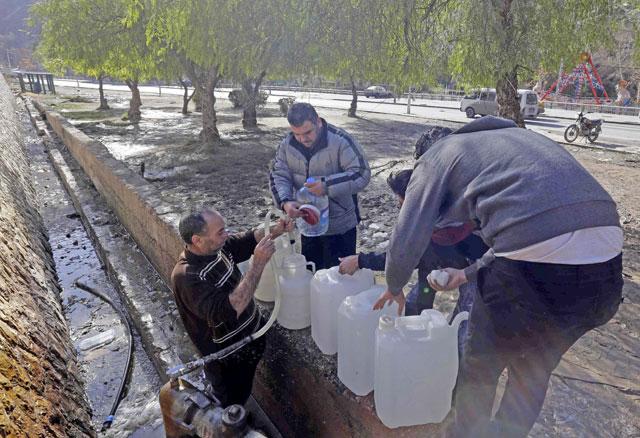 Syrians fill plastic containers with water in the capital Damascus on Tuesday. Millions of people have been without water for weeks after fighting damaged key infrastructure in the Wadi Barada region outside Damascus that is the main water source for the capital (AFP photo)
Damascus — Syrian President Bashar Assad has vowed to retake an area that supplies Damascus with water and rejected any negotiations on his departure at upcoming talks in Kazakhstan.
Millions of people have been without water for weeks after fighting damaged key infrastructure in the Wadi Barada region outside Damascus that is the main water source for the capital.
The government says former Al Qaeda affiliate Fateh Al Sham Front, known previously as Al-Nusra Front, is present in Wadi Barada, and blames rebels there for cutting water to Damascus since December 22.
"The role of the Syrian army is to liberate that area in order to prevent those terrorists from using that water in order to suffocate the capital," Assad told French media in an interview aired Monday.
Assad's forces have been battling rebels in Wadi Barada for weeks and the fighting has continued despite the start on December 30 of a nationwide ceasefire brokered by Russia and Turkey.
Assad said the ceasefire was being "breached on a daily basis" and mainly around Damascus "because the terrorists occupy the main source of water" in Wadi Barada.
He said "more than five million civilians have been deprived of water for the last three weeks" as a result of the fighting.
The United Nations says 5.5 million people in and around Damascus are without water.
Assad said that Fateh Al Sham is "occupying" the Wadi Barada region, 15 kilometres northwest of the capital.
But rebels deny that the jihadists are in the area and say the water supply was severed after government strikes hit pumping facilities.
Assad also insisted that the ceasefire does not include Fateh Al Sham or its formidable rival, the Daesh group.
Regime forces and fighters from Lebanon's Shiite movement Hizbollah on Monday clashed with rebels and some Fateh Al Sham jihadists in the Wadi Barada area, the Syrian Observatory for Human Rights said.
Also on Monday, the observatory said Daesh had blown up a natural gas plant that supplied one-third of Syria's electricity.
"In the past 48 hours, IS [Daesh] blew up the Hayyan gas plant in eastern Homs province, putting it totally out of order," said the Britain-based group that tracks the country's civil war using sources on the ground.
A source at the Syrian oil ministry confirmed the explosion to AFP.
The plant had already ceased to operate one month ago, after the advance of the jihadists in the central region of Palmyra.
Russia 'serious' about talks
Assad meanwhile rejected any negotiations towards his departure from power at talks set to be held in late January in Kazakhstan's capital Astana.
"My position is related to the constitution, and the constitution is very clear about the mechanism in which you can bring a president or get rid of a president," he said.
"So, if they [the opposition] want to discuss this point, they have to discuss the constitution, and the constitution is not owned by the government or the president or by the opposition.
"It should be owned by the Syrian people, so you need a referendum," he said.
The Astana talks, organised by regime allies Russia and Iran and rebel backer Turkey, aim to pave the way towards an end to a nearly six-year war that has killed 310,000 people and displaced millions.
Assad has said Syrian forces are on their way to victory after they recaptured the northern city of Aleppo on December 22 with support from Moscow and Tehran.
Opposition negotiator Basma Khodmani said: "This time the Russians are serious and determined. They want to get out of the conflict. They have gone as far as it was in their interest to go on the military front."
"They can't obtain a total victory as it would take years. They now want a political solution and this Astana meeting to be credible."
Related Articles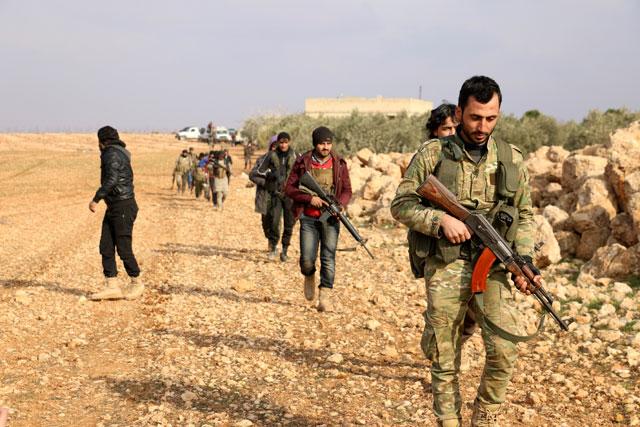 Jan 18,2017
BEIRUT — Key rebel group Ahrar Al Sham said on Wednesday it will not take part in peace talks in the Kazakh capital next week aimed at endin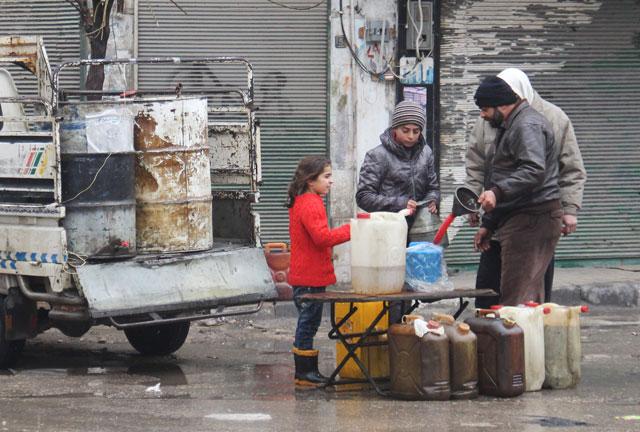 Jan 02,2017
BEIRUT — Syria's army advanced on Monday as it battles to capture a rebel region that is key to the capital's water supply, launching strike
Jan 03,2017
BEIRUT — A dozen Syrian rebel factions have suspended talks on new peace negotiations, accusing President Bashar Al Assad's regime of violat
Newsletter
Get top stories and blog posts emailed to you each day.