You are here
Syria army presses fight near Damascus despite truce
By AFP - Jan 02,2017 - Last updated at Jan 02,2017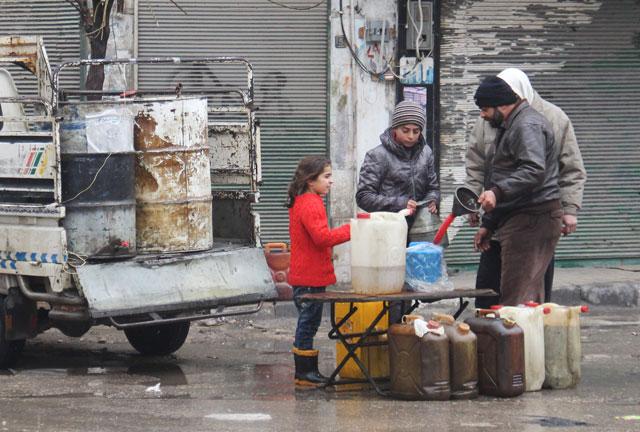 Syrians buy petrol on a street in the northwestern city of Idlib on Friday (AFP photo)
BEIRUT — Syria's army advanced on Monday as it battles to capture a rebel region that is key to the capital's water supply, launching strikes and artillery fire threatening a fragile nationwide truce.
The ceasefire brokered by regime ally Russia and Turkey, which backs the opposition, is now in its fourth day, despite sporadic violence and continued fighting in the Wadi Barada area near Damascus.
"Regime forces and fighters from Lebanon's Hizbollah group are advancing in the region and are now on the outskirts of Ain Al Fijeh, the primary water source in the area," said Rami Abdel Rahman, director of the Syrian Observatory for Human Rights monitor.
He said government troops and allied fighters were engaged in fierce clashes with rebels, including from the former Al Qaeda affiliate now known as Fateh Al Sham Front.
The monitor said government forces were carrying out air strikes and artillery fire on the area, northwest of the capital, but reported no casualties.
Wadi Barada has been surrounded by government forces since mid-2015, but the siege was tightened in late December as the army piled on pressure seeking to secure a "reconciliation" deal.
It has won several of these deals in opposition areas around the capital, offering safe passage to surrendering rebels in return for retaking territory.
The opposition criticises them as a "starve or surrender" tactic.
4 million without water
As the fighting stepped up in the area, Syria's government says rebels targeted key water infrastructure, causing leaking fuel to poison the water supply and then cutting it off altogether.
The United Nations says at least 4 million people in Damascus have been without water since December 22.
The observatory said around 1,000 civilians — all of them women and children — fled the fighting in Wadi Barada over the weekend, moving to other parts of the province.
The violence threatens the delicate truce that came into force last week and is intended to pave the way to new peace talks in Kazakhstan later this month.
Four civilians and nine rebels have been killed since the truce began, but officially it is still holding.
In a statement, rebels fighting under the Free Syrian Army banner in Wadi Barada warned that the truce was in danger of collapse.
"We call on the sponsors of the ceasefire agreement to assume their responsibility and pressure the regime and its allied militias to stop their clear violation of the agreement," the statement said.
Otherwise, they warned, "we will call on all the free military factions operating inside Syria to overturn the agreement and ignite the fronts in defence of the people of Wadi Barada".
The statement said that Wadi Barada was included in the deal brokered by Moscow and Ankara and accused the regime of violating the agreement.
Talks due in Astana
The ceasefire deal, and the plan for new talks, received the unanimous backing of the UN Security Council on Saturday, despite offering a competing track to UN-sponsored negotiations.
Turkey and Russia are organising the talks in Astana along with regime ally Iran, and say they are intended to supplement, not replace, UN-backed negotiations scheduled to resume in February.
Despite backing opposite sides in Syria's conflict, Ankara and Moscow have worked closely in recent months on the war, brokering a deal to evacuate civilians and surrendering rebels from Aleppo last month before the regime recaptured the northern city in full.
Both countries are also waging their own military interventions in Syria, with Russian forces fighting to bolster President Bashar Assad's government since September 2015.
Turkey launched a military campaign in northern Syria in August 2016, targeting the Daesh terror group but also Kurdish militants.
The Syrian conflict has also spilled over into Turkey, with several attacks blamed on Kurdish or Daesh militants.
On Monday, Daesh claimed responsibility for a New Year's Eve attack on an Istanbul nightclub that killed 39 people.
A string of efforts to find a political solution to Syria's war have failed since it began with anti-government protests in March 2011.
The conflict has killed more than 310,000 people, and displaced over half the population, including millions who have fled abroad becoming refugees.
Related Articles
Jan 12,2017
BEIRUT — Syria's government has reached a deal for the army to enter a rebel-held area near Damascus and restore the capital's water supply,
Jan 19,2017
DAMASCUS — Syrian President Bashar Assad has said he hopes rebels attending peace talks next week in Kazakhstan will agree to lay down their
Jan 04,2017
BEIRUT — Turkey warned Wednesday that a new round of Syria peace talks was at risk, accusing President Bashar Al Assad's government of viola
Newsletter
Get top stories and blog posts emailed to you each day.