You are here
Special forces stage helicopter raid on Somalia's Al Shabab
By AFP - Mar 09,2016 - Last updated at Mar 09,2016
In this October 30, 2009 file photo, Al Shabab militants sit on a truck as they patrol in Mogadishu, Somalia (AP photo)
MOGADISHU — Special forces operatives in two helicopters staged an overnight raid on Somalia's Al Shabab insurgents, government officials and Al Qaeda-linked gunmen said on Wednesday.
The raid, reportedly by foreign troops, targeted Al Shabab-controlled town of Awdhegele, some 50 kilometres west of Somalia's capital Mogadishu.
"There was an operation by special forces late last night around Awdhegele town. We have reports Al Shabab militants suffered casualties," local district commissioner Mohamed Aweys told reporters.
There were no details on who carried out the attack, which came after US air strikes on an Al Shabab training camp on Saturday which killed more than 150 fighters.
While the US military regularly conducts operations targeting Al Qaeda-linked fighters in Somalia, Saturday's raid had a higher toll than all previous US strikes combined.
Warplanes and unmanned drones were used in Saturday's strike, which struck an area 195 kilometres north of Mogadishu.
Al Shabab group confirmed the overnight raid, saying they had fought off the troops.
Ground fighting
"Armed forces on two military helicopters raided Awdhegele town last night, but they have lost and returned without achieving their objective," Al Shabab spokesman Sheik Abduasiz Abu Musab said in a speech broadcast on the group's Radio Andalus.
"The helicopters landed outside town and the ground forces entered, there was heavy fighting and they were forced to flee."
Al Shabab said they did not know what country the troops were from, but said they were not Somali and spoke a foreign language. It was not clear what they were targeting.
Witnesses reported hearing loud blasts during the night, saying Al Shabab had boosted security during the morning.
"There were several load explosions near Al Shabab base in Awdhegele late last night," local resident Abdikarim Nure said.
"The fighters were patrolling the area this morning, and people are not allowed to go close to the area."
Foreign special forces have periodically launched raids to rescue their captured nationals, including one in 2012 by US elite commandos who swooped in by helicopter to free two aid workers held for three months.
French special forces also staged a raid in January 2013 in an unsuccessful bid to free intelligence agent Denis Allex.
Al Shabab was chased out of Mogadishu in 2011 but remains a dangerous threat in both Somalia and neighbouring Kenya where it carries out regular attacks.
In a separate incident, a car bomb detonated outside a tea shop in Mogadishu on Wednesday morning, killing at least three police officers.
The three were drinking tea when the blast occurred and the driver of the car was "seriously wounded", Mogadishu police commissioner Ali Hersi Barre said. The driver was taken into custody.
And on Monday, six people were wounded when a laptop bomb exploded at an airport in Beledweyne, a town 325 kilometres north of Mogadishu, where last month Al Shabab insurgents claimed a bomb attack which ripped a hole in a passenger plane shortly after takeoff.
up
63 users have voted, including you.
Related Articles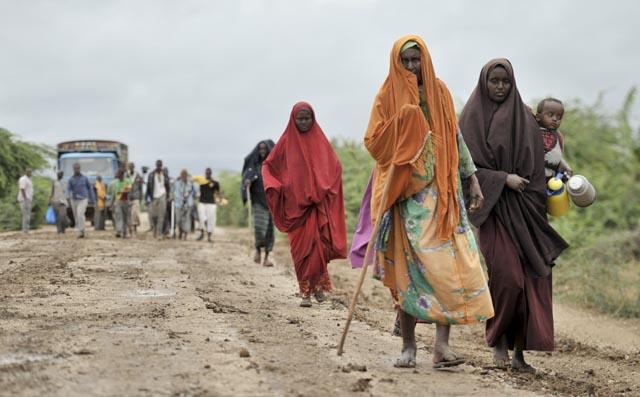 Sep 02,2014
US forces have carried out air strikes against the leader of Somalia's Al Qaeda-linked Shabab rebels, with casualties reported but uncertainty hanging over the fate of the main target, officials said Tuesday.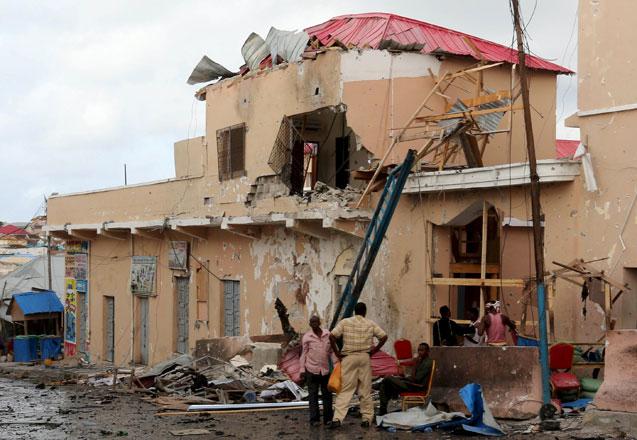 Jul 12,2015
MOGADISHU — Somalia's government said Saturday that 12 Al Shabab militants were killed in Friday evening's raids on two heavily fortified Mo
Feb 28,2016
MOGADISHU — Somalia's Al Shabab militant group bombed a busy junction and a nearby restaurant on Sunday in the town of Baidoa, killing at le
Newsletter
Get top stories and blog posts emailed to you each day.