You are here
Netanyahu to meet France's Macron on Lebanon crisis
By AFP - Nov 19,2017 - Last updated at Nov 19,2017
French President Emmanuel Macron and Saad Al Hariri, who announced his resignation as Lebanon's prime minister while on a visit to Saudi Arabia, walk together in the courtyard of the Elysee Palace in Paris, France, on Saturday (Reuters photo)
OCCUPIED JERUSALEM — Israeli Prime Minister Benjamin Netanyahu will meet French President Emmanuel Macron in Paris in early December for talks expected to include developments in Lebanon, Netanyahu's office said on Sunday.
In a phone call on Sunday, "President Macron updated Prime Minister Netanyahu with the measures he is taking in the crisis in Lebanon," it said in a Hebrew-language statement.
"The two leaders decided to speak again in the coming days and to meet in Paris at the beginning of next month."
Netanyahu last visited the Elysee in July.
On November 4, Lebanese Prime Minister Saad Hariri announced his shock resignation while in Saudi Arabia, citing Iran's "grip" on his country and threats to his life.
In a speech broadcast by the Al Arabiya news network, he accused Tehran of "creating a state within the state" and blasted its Lebanese Shiite ally Hizbollah.
He said Hizbollah was "Iran's arm not just in Lebanon but in other Arab countries too".
Iran rejected what it said were "unfounded accusations".
On Sunday, Netanyahu and Macron also spoke about the nuclear deal with Iran, its "attempts to set up bases in Syria and its activities in the region", the statement said.
It said Macron instigated the 30-minute phone call.
The French president has also telephoned his counterparts in the United States and Egypt, Donald Trump and Abdel Fattah Al Sisi, as well as Saudi Crown Prince Mohammed Bin Salman and UN Secretary General Antonio Guterres to discuss "the situation in the Middle East".
Hariri flew from Riyadh to Paris on Friday for talks with Macron, who is attempting to help broker a solution to a political crisis that has raised fears over Lebanon's fragile democracy.
France, which held mandate power over Lebanon for the first half of the 20th century, plans to bring together international support for Lebanon, depending on how the situation develops.
Netanyahu has described Harari's resignation and his comments on Hizbollah as an "alarm call" to the world about Iran's ambitions.
Israel, which shares a border with Lebanon, accuses Hizbollah of having long held the reins of power in Lebanon and of seeking to strengthen its role in neighbouring Syria, where it is allied to President Bashar Assad in the country's civil war.
Related Articles
Nov 05,2017
OCCUPIED JERUSALEM — Israeli Prime Minister Benjamin Netanyahu said on Saturday that the resignation of Lebanon's premier, and his stated re
Nov 16,2017
RIYADH — Lebanese Prime Minister Saad Al Hariri said Thursday he would travel to France "very soon" from Saudi Arabia, which rejected accusa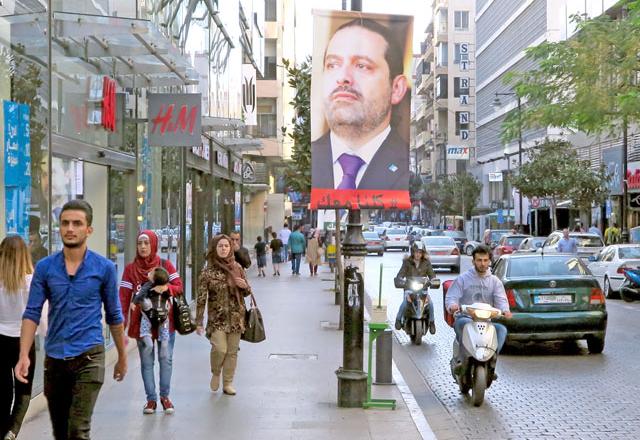 Nov 15,2017
BEIRUT — Lebanon's president on Wednesday accused Saudi Arabia of holding hostage Prime Minister Saad Al Hariri along with his family — the
Newsletter
Get top stories and blog posts emailed to you each day.