You are here
Morocco mourns quake victims as death toll passes 2,000
By AFP - Sep 10,2023 - Last updated at Sep 10,2023
A woman is helped as she reacts to the death of relatives in an earthquake in the mountain village of Tafeghaghte, southwest of Marrakesh, on Sunday (AFP photo)
TAFEGHAGHTE, Morocco — Moroccans on Sunday mourned the victims of a devastating earthquake that killed more than 2,000 people as rescue teams raced to find survivors trapped under the rubble of flattened villages.
The strongest-ever quake recorded in the North African country has killed at least 2,012 people and injured over 2,000, many seriously, according to the latest official figures.
Friday's 6.8-magnitude quake struck 72 kilometres southwest of the tourist hub of Marrakesh, wiping out entire villages in the hills of the Atlas mountain range.
"I've lost everything," said Lahcen, a resident of the mountain village of Moulay Brahim, whose wife and four children were among those killed.
Rescue workers recovered the bodies of Lahcen's three daughters from the rubble of their home, but had not yet found the remains of his wife and son.
"I can't do anything about it now, I just want to get away from the world and mourn," he said.
Troops and emergency services have scrambled to reach remote mountain villages where victims were still feared trapped under the rubble of houses, many of which were constructed from mud bricks.
Al Haouz province, site of the epicentre, suffered the most deaths with 1,293, followed by Taroudant province where 452 lives were lost, authorities reported.
Citizens on Sunday rushed to hospitals in Marrakesh to donate blood to help the many injured.
'Everyone lost family'
Bouchra, another resident of Moulay Brahim, dried her tears with her scarf as she watched men wielding pickaxes to dig graves for the victims.
"My cousin's grandchildren are dead," she said. "I saw the devastation of the earthquake live and I'm still shaking. It's like a ball of fire that swallowed up everything in its path.
"Everyone here has lost family, whether in our village or elsewhere in the region."
Many residents of the usually bustling tourist hotspot of Marrakesh spent a second night sleeping out on the streets, huddled together under blankets and among bags filled with their belongings.
Fatema Satir, a Marrakesh resident, said many were sleeping in the street for fear of their houses collapsing.
"Look where all these people are sleeping," said Satir. "There is no help for us. Our houses have been cracked, others destroyed, like my daughter's house which was wiped out. We are in a chaotic state."
In the city's historic Jemaa Al Fna square, about 20 people were huddled on the ground, wrapped in blankets, while others were staying on the lawn of the nearby town hall, with its 12th century ramparts partially collapsed.
"We spent the night outside the old town, in a safe place," said Maria, a Spanish tourist.
The kingdom declared three days of national mourning while countries including France, Israel, Italy, Spain and the United States have offered aid.
US Deputy National Security Advisor Jon Finer said: "We've got search and rescue teams ready to deploy... We are also ready to release funds at the right time."
Spain meanwhile said it would send search and rescue teams and other aid after it received a formal request for help from Rabat.
Algeria, which has long had rocky relations with neighbouring Morocco, opened its airspace, which had been closed for two years, to flights carrying humanitarian aid and evacuating the injured.
Israeli Prime Minister Benjamin Netanyahu, whose country in recent years established ties with Morocco, offered to send search-and-rescue teams, declaring that "Israel stands by Morocco in its difficult time".
'Under the debris'
The Red Cross warned that it could take years to repair the damage.
"It won't be a matter of a week or two... We are counting on a response that will take months, if not years," said Hossam Elsharkawi, its Middle East and North Africa director.
The village of Tafeghaghte, 60 kilometres southwest of Marrakesh, was almost entirely destroyed by the quake, an AFP team reported, with very few buildings still standing.
"Three of my grandchildren and their mother are dead," said 72-year-old Omar Benhanna. "They're still under the debris. It wasn't so long ago that we were playing together."
Residents buried around 70 victims on Saturday, cries and screams punctuating the funeral rites.
In the evening, television channels broadcast aerial images showing entire villages of clay houses in the Al Haouz region completely destroyed.
"The public authorities are still mobilised to speed up rescue operations and evacuate the injured," the interior ministry said.
The tremor was also felt in the coastal cities of Rabat, Casablanca and Agadir, where many panicked residents rushed onto the streets in the middle of the night.
The quake was the deadliest in Morocco since a 1960 tremor destroyed Agadir, a disaster in which more than 12,000 people died.
Related Articles
Sep 09,2023
MOULAY BRAHIM, Morocco — Morocco's deadliest earthquake in decades has killed more than 1,000 people, authorities said Saturday, as troops a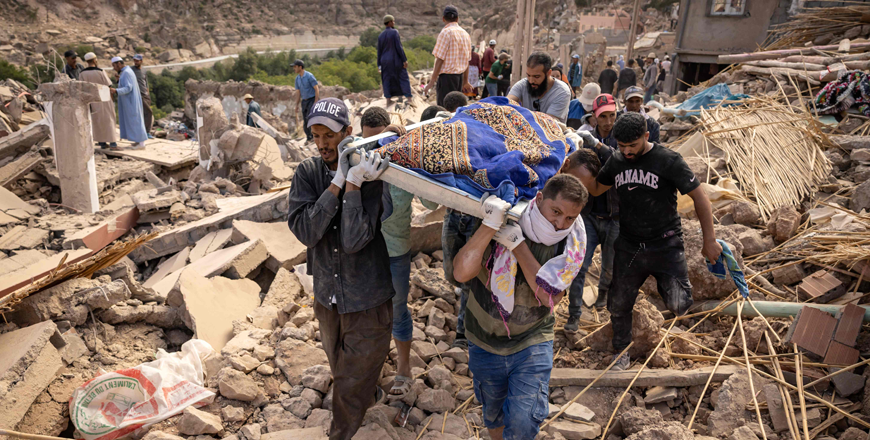 Sep 11,2023
TIKHT, Morocco — Moroccan rescuers supported by newly-arrived foreigners on Monday faced an intensifying race against time to dig out any su
Sep 14,2023
INEGHEDE, Morocco — Rescue teams stepped up a massive effort to bring relief to devastated Moroccan mountain villages Wednesday as the chanc