You are here
Rescue teams comb for survivors as Morocco quake kills over 1,000
Quake 'biggest in more than 120 years'
By AFP - Sep 09,2023 - Last updated at Sep 09,2023
The minaret of a mosque stands behind damaged or destroyed houses following an earthquake in Moulay Brahim, Al Haouz province, on Saturday (AFP photo)
MOULAY BRAHIM, Morocco — Morocco's deadliest earthquake in decades has killed more than 1,000 people, authorities said Saturday, as troops and emergency services scrambled to reach remote mountain villages where casualties are still feared trapped.
The 6.8-magnitude quake struck late Friday in a mountainous area 72 kilometres southwest of tourist hotspot Marrakesh, the US Geological Survey reported.
With strong tremors also felt in the coastal cities of Rabat, Casablanca and Essaouira, the quake caused widespread damage and sent terrified residents and tourists scrambling to safety in the middle of the night.
"I was nearly asleep when I heard the doors and the shutters banging," said Ghannou Najem, a Casablanca resident in her 80s who was visiting Marrakesh when the quake hit.
"I went outside in a panic. I thought I was going to die alone."
In the mountain village of Moulay Brahim near the quake's epicentre, rescue teams searched for survivors in the rubble of collapsed houses while residents began digging graves for the dead on a nearby hill, AFP correspondents reported.
The army set up a field hospital in the village and deployed "significant human and logistical resources" to support the rescue operation, state news agency MAP reported.
It was the strongest-ever quake to hit the North African kingdom, and one expert described it as the region's "biggest in more than 120 years".
"Where destructive earthquakes are rare, buildings are simply not constructed robustly enough... so many collapse, resulting in high casualties," said Bill McGuire, professor emeritus at Britain's University College London.
Updated interior ministry figures on Saturday showed the quake killed at least 1,037 people, the vast majority in Al Haouz, the epicentre, and Taroudant provinces.
Another 1,204 people were injured, including 721 in a critical condition, the ministry said.
Civil defence Colonel Hicham Choukri who is heading relief operations told state television the epicentre and strength of the earthquake have created "an exceptional emergency situation".
'Unbearable' screams
Faisal Badour, an engineer, said he felt the quake three times in his building in Marrakesh.
"There are families who are still sleeping outside because we were so scared of the force of this earthquake," he said. "The screaming and crying was unbearable."
Frenchman Michael Bizet, 43, who owns three traditional riad houses in Marrakesh's old town, told AFP he was in bed when the quake struck.
"I thought my bed was going to fly away. I went out into the street half-naked and immediately went to see my riads. It was total chaos, a real catastrophe, madness," he said.
Footage on social media showed part of a minaret collapsed on Jemaa Al Fna square in the historic city.
An AFP correspondent saw hundreds of people flocking to the square to spend the night for fear of aftershocks, some with blankets while others slept on the ground.
Mimi Theobold, 25, a tourist from England, said she was with friends on a restaurant terrace when the tables began shaking and plates went flying.
Houda Outassaf, a local resident, said she was "still in shock" after feeling the earth shake beneath her feet, and losing relatives.
"I have at least 10 members of my family who died... I can hardly believe it, as I was with them no more than two days ago," she said.
Hotelier Bernard Curi said he had been thrown out of his bed by the force of the shock. "The shaking was so strong I couldn't get back up again right away."
The interior ministry said authorities have "mobilised all the necessary resources to intervene and help the affected areas".
The regional blood transfusion centre in Marrakesh called on residents to donate blood for those injured.
The Royal Moroccan Football Federation announced that a Cup of African Nations qualifier against Liberia, due to have been played on Saturday in the coastal city of Agadir, had been postponed indefinitely.
Significant damage likely
"We heard screams at the time of the tremor," a resident of Essaouira, 200 kilometres west of Marrakesh, told AFP. "Pieces of facades have fallen."
The USGS PAGER system, which provides preliminary assessments on the impact of earthquakes, issued a "red alert" for economic losses, saying extensive damage is probable.
Foreign leaders expressed their condolences and many offered assistance, including Israel with which Morocco normalised relations in 2020.
Neighbour and regional rival Algeria announced it was suspending a two-year-old ban on all Moroccan flights through its airspace to enable aid deliveries and medical evacuations.
US President Joe Biden said he was "deeply saddened by the loss of life and devastation".
Chinese leader Xi Jinping expressed "deep grief for the victims" and hope that "the Moroccan government and people will be able to overcome the impact of this disaster".
Pope Francis expressed "his profound solidarity with those who are touched in the flesh and heart by this tragedy".
In 2004, at least 628 people were killed and 926 injured when a quake hit Al Hoceima in northeastern Morocco, and in 1960 a magnitude 6.7 quake in Agadir killed more than 12,000.
The 7.3-magnitude El Asnam earthquake in Algeria killed 2,500 people and left at least 300,000 homeless in 1980.
Related Articles
Sep 10,2023
TAFEGHAGHTE, Morocco — Moroccans on Sunday mourned the victims of a devastating earthquake that killed more than 2,000 people as rescue team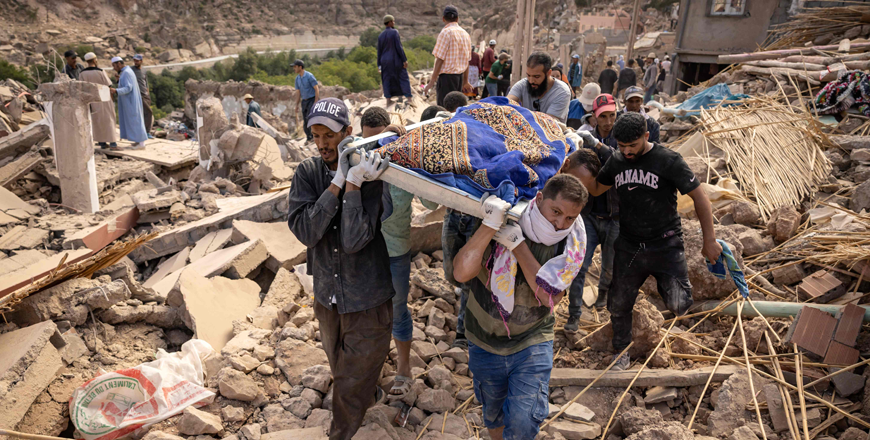 Sep 11,2023
TIKHT, Morocco — Moroccan rescuers supported by newly-arrived foreigners on Monday faced an intensifying race against time to dig out any su
Sep 14,2023
INEGHEDE, Morocco — Rescue teams stepped up a massive effort to bring relief to devastated Moroccan mountain villages Wednesday as the chanc