You are here
Israeli reinforcements outside Gaza as border protests enter 7th month
By Reuters - Oct 04,2018 - Last updated at Oct 04,2018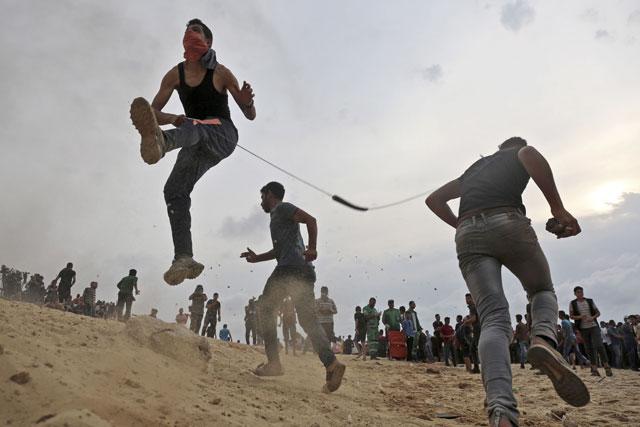 Palestinian protesters throw stones towards Israeli forces during confrontations on the beach near the maritime border with Israel, in the northern Gaza Strip, on October 1 (AFP photo)
OCCUPIED JERUSALEM — Israeli occupation forces said it was reinforcing troops around Gaza on Thursday as a precaution against Palestinian border protests now in their seventh month, and threatened "very harsh response" in the event of attacks.
The Israeli statements did not appear to herald any imminent offensive in Gaza but suggested stronger action at the frontier to foil any further Palestinian attempts to breach the border fence during the demonstrations, which began in March.
Israeli occupation forces killed at least 193 Palestinians since, Gaza medics say.
The Israelis accuse Hamas of orchestrating the mass-mobilisations to provide cover for attacks and distract from Gaza's economic plight, but Hamas denies.
The Islamic resistance group, Hamas, seized control of Gaza from Western-backed Palestinian President Mahmoud Abbas in 2007.
Since then, Israel has launched three onslaughts on the Palestinians in Gaza and Hamas, most recently in 2014.
"Our response will be harsh, very harsh," Prime Minister Benjamin Netanyahu told reporters alongside visiting German Chancellor Angela Merkel.
The Israeli forces said they had "decided on wide-scale reinforcements in the southern command in the coming days".
Israeli media said the new deployment included Iron Dome rocket interceptors. Israeli forces declined to confirm or deny those reports.
According to Italy's la Repubblica newspaper, Hamas' Gaza-based leader Yehya Al Sinwar said on Thursday that "a new war was not in anyone's interest" but "an explosion was unavoidable" unless the "siege" on Gaza was lifted.
Netanyahu accused Abbas, with whom his peace talks stalled in 2014, of "greatly aggravating" the situation in Gaza by withholding funds for its civil servants and infrastructure.
Merkel, whose 24-hour visit does not include the Palestinian territories, said she would seek to discuss Gaza with Abbas.
Gaza protesters demand an end to the Israeli and Egyptian blockade and rights to lands that Palestinian families fled or were driven from on Israel's founding in 1948.
Newsletter
Get top stories and blog posts emailed to you each day.