You are here
Barzani announces resignation as referendum backfires
By Reuters - Oct 29,2017 - Last updated at Oct 29,2017
ERBIL/BAGHDAD Iraq — Iraqi Kurdish leader Masoud Barzani informed the region's parliament on Sunday that he would give up his position as president on November 1, after an independence referendum he championed backfired and triggered a regional crisis.
Barzani, who has campaigned for Kurdish self-determination for nearly four decades, asked parliament in a letter to take measures to fill the resulting power vacuum.
"I refuse to continue in the position of president of the region after November 1," said the letter, which was published by his Kurdistan Democratic Party. "I will continue serving Kurdistan as a peshmerga," or Kurdish fighter.
The region's parliament met in the Kurdish capital Erbil on Sunday to discuss the letter, in which Barzani said his presidential powers should be divided between the government, parliament and judiciary. It was not clear whether lawmakers needed to vote to accept his decision to step down.
A Kurdish official had told Reuters on Saturday that Barzani had decided to hand over the presidency without waiting for elections that had been set for Novermber 1 but which have now been delayed by eight months.
The region, which had enjoyed unprecedented autonomy for years, has been in turmoil since the independence referendum a month ago prompted military and economic retaliation from Iraq's central government in Baghdad.
Barzani has also been criticised by Kurdish opponents for the loss of the oil-rich city of Kirkuk, considered by many Kurds to be their spiritual home.
Barzani's resignation could help facilitate a reconciliation between the Kurdistan Regional Government (KRG) and Iraq's central government, whose retaliatory measures since the referendum have transformed the balance of power in the north.
Barzani has led the KRG since it was established in 2005. His second term expired in 2013 but was extended without elections being held as the Daesh terror group's militants swept across vast swathes of territory in Iraq and Syria.
US-backed Iraqi government forces, Iranian-backed paramilitaries and Kurdish fighters fought alongside each other to defeat Daesh but the alliance has faltered since the militants were largely defeated in the country.
After the Kurdish vote delivered an overwhelming yes for independence, Iraqi troops were ordered by the country's Prime Minister Haider Al Abadi to take control of areas claimed by both Baghdad and the KRG.
Abadi also wants to take control of the border crossings between the Kurdish region and Turkey, Iran and Syria, including one in the Fishkhabur area through which an oil export pipeline crosses into Turkey, carrying Iraqi and Kurdish crude oil.
Violent clashes there and south of Erbil as the peshmerga fought back offensives have left dozens of casualties on both sides.
The fall of Kirkuk — a multiethnic city which lies outside the KRG's official boundaries — to Iraqi forces on October 16 was a major symbolic and financial blow to the Kurds' independence drive because it halved the region's oil export revenue.
Iraqi forces and the peshmerga started a second round of talks on Sunday to resolve a conflict over control of the Kurdistan region's border crossings, Iraqi state TV said.
A first round was held on Friday and Saturday, with Abadi ordering a 24-hour suspension on Friday of military operations against Kurdish forces.
He demanded on Thursday that the Kurds declare their referendum void, rejecting the KRG offer to suspend its independence push to resolve a crisis through talks, saying in a statement: "We won't accept anything but its cancellation and the respect of the constitution."
Related Articles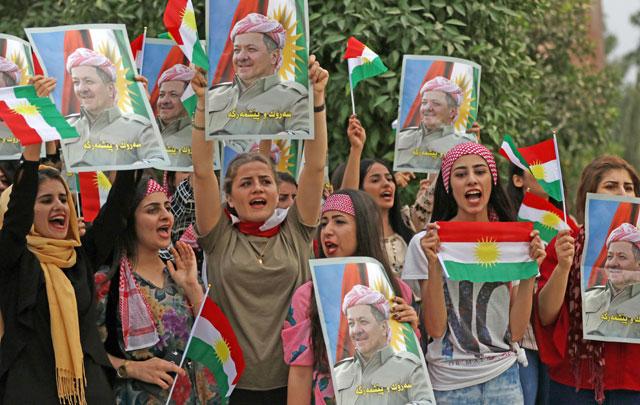 Oct 30,2017
BAGHDAD — Iraqi Kurdish political parties opposed to regional leader Masoud Barzani reported attacks on their offices in several cities over
Jul 03,2014
Iraq's autonomous Kurdish region has hit back at Baghdad over independent oil exports, a letter from the Kurdistan Regional Government (KRG) showed, threatening to counter sue the central government for trying to block its sales.
Jun 07,2017
ERBIL, Iraq — Iraq's autonomous Kurdish region on Wednesday announced it would hold a referendum on independence, in a move the central gove
Newsletter
Get top stories and blog posts emailed to you each day.