You are here
Air raids kill at least 40 in Sudanese capital — group
Nearly 7,500 people have been killed in war that erupted on April 15
By AFP - Sep 10,2023 - Last updated at Sep 10,2023
Sudanese who fled the war in their country gather on the banks of the Nile River in the Egyptian city of Aswan on September 8 (AFP photo)
WAD MADANI, Sudan — At least 40 people were killed and dozens injured Sunday in air strikes in the south of Sudan's capital Khartoum, local activists said, as the war nears the end of its fifth month.
The revised toll means the Sunday morning raid was one of the deadliest single attacks in the war that erupted in April between army chief Abdel Fattah Al-Burhan and his former deputy, Mohamed Hamdan Daglo, who commands the paramilitary Rapid Support Forces.
"At about 7:15 am (0515 GMT), military aircraft bombarded the Qouro market area," said the local resistance committee, one of many groups that used to organise pro-democracy protests and now provides assistance during the war.
"The number of victims of the Quoro market massacre" had risen to 40 by the afternoon, the committee said, revising its previous toll of 30 killed.
The committee said more deaths were expected, as casualties continued to pour into the nearby Bashair hospital.
The hospital had issued an "urgent appeal" for all medical professionals in the area to come and help treat the "increasing number of injured people arriving".
Nearly 7,500 people have been killed in the war that erupted on April 15, according to a conservative estimate from the Armed Conflict Location & Event Data Project.
The real death toll is presumed to be much higher, with many of those wounded and killed never reaching hospitals or morgues.
Access to many areas has been cut off completely and the warring sides have not declared their losses.
Nearly five months in, neither side has been able to seize a decisive advantage.
The armed forces control the skies over Khartoum, while RSF fighters continue to dominate the city's streets.
The army has been accused of repeated indiscriminate shelling of the residential areas where the paramilitaries have embedded themselves, including by evicting families and taking over homes.
Over 2.8 million people have fled the Sudanese capital, whose pre-war population was around five million.
Those who cannot or refuse to leave Khartoum remain trapped by air strikes, artillery fire and street battles, forced to ration precious water and electricity.
In addition to the capital, the fighting has been mainly been concentrated in the western region of Darfur, where violence linked to the RSF and its allies has prompted the International Criminal Court to open a new investigation into alleged war crimes.
A total of over five million people have been forced to flee their homes, according to the United Nations, one million of them across borders.
In the early months of the war, multiple truces brokered by the United States and Saudi Arabia were systematically violated before the two mediators adjourned talks in June.
Recent moves by Burhan, including trips to Egypt, South Sudan and Qatar, signalled a potential return to diplomacy, though both he and Daglo continue to trade hostile statements.
Related Articles
Nov 12,2023
WAD MADANI, Sudan — A strategic Nile bridge in Sudan's capital has collapsed, the army and rival paramilitaries said in separate statements
Apr 17,2023
KHARTOUM — Feared Sudanese paramilitary commander Mohamed Hamdan Daglo went from a militia chief in war-torn Darfur to the country's second-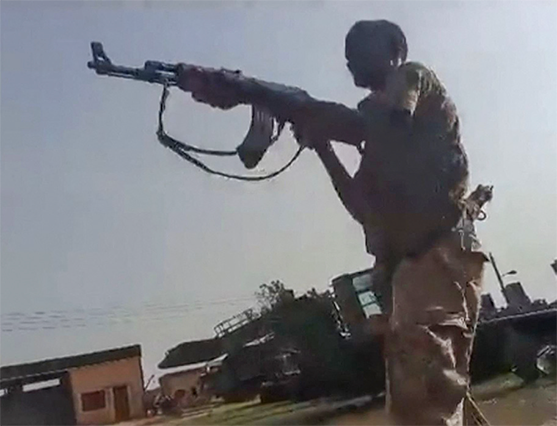 Aug 25,2023
WAD MADANI, Sudan — Sudan's army chief General Abdel Fattah Al Burhan was seen on Thursday outside his headquarters for the first time since