You are here
UN agencies warn of 'worrying under-funding' from int'l community
Regional Refugee and Resilience Plan less than one third funded, with critical gaps in Jordan, Lebanon
By Ana V. Ibáñez Prieto - May 31,2018 - Last updated at May 31,2018
Jordan and Lebanon host the highest number of refugees per capita in the world, yet receive less than 25 per cent of the funding (File photo)
AMMAN — Representatives of the UN agencies operating in Jordan on Thursday warned that the Kingdom has only received $215 million out of the $1.04 billion required for the full implementation of the Regional Refugee and Resilience Plan (3RP), aimed at assisting refugees and host communities with a range of humanitarian, protection and resilience programmes.
The announcement came during a joint press conference held by 3RP co-conveners UNHCR and UNDP, in cooperation with UNICEF and World Food Programme (WFP) representatives, who briefed the media on the "dire humanitarian consequences" of under-funding for the Syria crisis, and the challenges ahead in meeting the needs of refugees and vulnerable host communities.
Launched at the end of 2017, the 3RP plan requires a total of $5.6 billion in donations to respond to the needs of over 9 million Syrian refugees and vulnerable host communities across the Arab region.
"However, despite the generosity of the international community, the 3RP is currently less than one third funded," UN sources said in a statement, noting that "critical gaps in funding exist in each country, including in Jordan and Lebanon, where the number of refugees per capita in both countries are among the highest in the world while funding for these countries is less than 25 per cent".
UNICEF Regional Director Geert Cappelaere warned that the agency may be forced to cut its services in countries such as Jordan, Lebanon and Turkey if the funding remains inadequate, appealing for a total of $100 million in donations in order to continue its activities in host countries impacted by the Syrian crisis.
"Our approach is not to serve one group but all vulnerable children," Cappelaere stressed, expressing UNICEF's aim to "ensure that all public service systems are strengthened in order to continue satisfying the needs of both refugees and the local population".
For his part, WFP Regional Director Muhannad Hadi pointed out that "the lack of funding towards food security not only causes malnutrition. When food stops arriving to the household, families see themselves forced to take their children out of school, boys are sent to work, and girls become victims of child marriage".
"We do not want a lost generation and, in the absence of a political solution, a humanitarian solution is the only chance," Hadi said, adding that "we have already seen the consequences of the lack of funding, and we hope for this to not be repeated again".
"Refugee livelihood is one of the most under-funded sectors but, with only a little bit more support, many people could be living a decent, self-reliant life while the crisis continues," manager of the sub-regional response facility at UNDP, Samuel Rizk, said, noting that the agency is looking forward to supporting "not just individuals, but entire national systems in their own development aspirations".
All partners called for supporting countries in need for urgent and enhanced donor support in order to avoid reductions or closures of key programmes in the coming months, stressing that "early disbursement of pledged funds and flexible earmarking are also important so money is used where and when it is needed the most".
"This is not a simple straightforward crisis and all agencies are in dire need of funds to continue doing their job," UNHCR Regional Director Amin Awad said, concluding that "the reason why we are here today is to convey our message to donors around the world to honour their commitments and pledges, and for host countries to sustain the presence of refugees".
Related Articles
Jun 25,2015
AMMAN — Some 86 per cent of urban Syrian refugees in Jordan live below the poverty line of $3.2 per day, according to a report released Thur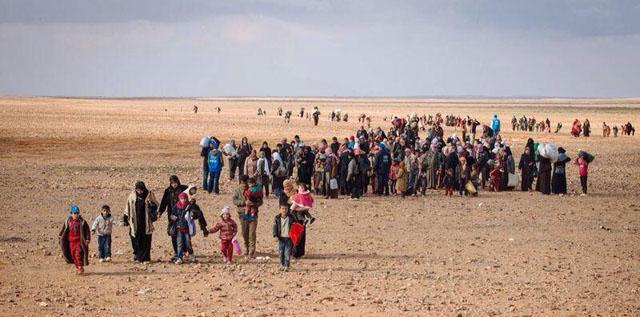 Dec 12,2017
AMMAN — United Nations agencies and NGO partners on Tuesday released the 2018 Regional Refugee and Resilience Plan (3RP), a $4.4 billion pla
Feb 06,2018
AMMAN — Japan last week decided to extend a new assistance package for the projects of international organisations in Jordan, which amounts
Newsletter
Get top stories and blog posts emailed to you each day.