You are here
UN agencies say refugees' situation critical due to lack of funds
By Khetam Malkawi - Jul 15,2015 - Last updated at Jul 16,2015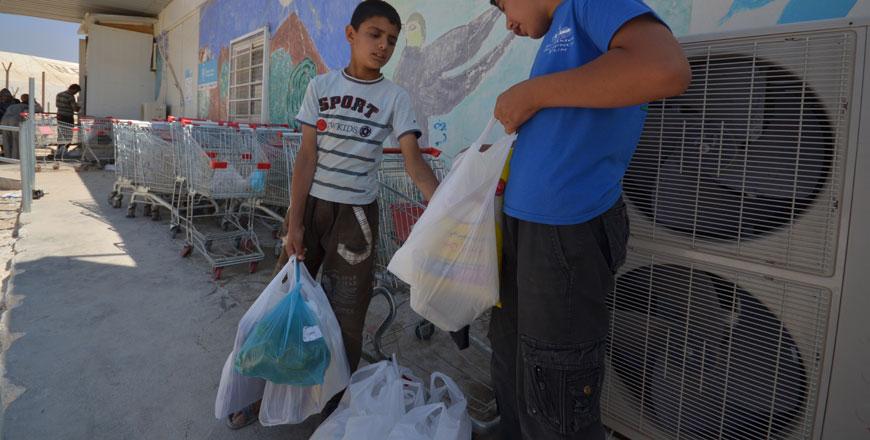 Some 440,000 Syrian refugees in Jordan will be affected by cuts in food assistance due to lack of funds at the disposal of UN agencies (Photo by Muath Freij)
AMMAN — UN agencies expressed concern over the lack of funds they urgently need to continue to provide "basic" services for the Syrian refugees in Jordan, with some "voluntarily" returning home as they cannot afford surviving under the current situation.
Both UNHCR and the World Food Programme (WFP) warned that if the status quo remains unchanged, the situation will be highly critical. Officials from both agencies told The Jordan Times that they had to cut their services to make do with the meagre funds left.
The UNHCR had to reduce staffing by 20 per cent in Jordan, said Andrew Harper, UNHCR country representative.
"We had to… cut back in projects in host community and all non-essential projects," Harper told The Jordan Times, adding that the focus is on providing cash to vulnerable families and to provide medical support for refugees as "there is an increase in the number of those [Syrians] coming with injury".
More than 65 Syrian war-wounded patients — most of whom were injured by barrel bombs — arrived at the emergency room of Al Ramtha Hospital in northern Jordan in the past two weeks, marking a significant spike in the number of cases, according to a statement by Médecins Sans Frontières.
Usually, those living in host communities are the most affected with any cut in assistance.
Harper said those in host communities "can always come to the camps".
However, he warned that there is an increase of returns of those extremely vulnerable refugees because "they can't pay rent and pay for medical care".
"We try to make sure that people who are provided protection are not returning due to lack of support," Harper said, noting the agency has only received 30 per cent of the funds it needs for the current year to provide services for Syrian refugees.
Total funding needs is estimated at $305.4 million, including $273.9 million for the Syrian refugee response and $31.5 million for operations related to Iraqis and refugees of other nationalities.
In Jordan, there are 1.5 million Syrians, only half of them registered as refugees.
Some 86 per cent of urban [Syrian] refugees in Jordan live below the poverty line of $3.2 a day.
But the big concern that Harper underlined is the cuts in food assistance for refugees, even the vulnerable ones.
He said 440,000 Syrian refugees in Jordan will be affected by the cut and this will have an adverse impact on their lives.
This was confirmed by the World Food Programme (WFP) that expressed concerns about the humanitarian situation for Syrian refugees if no further funds are received.
As has been the case for most of 2015, WFP was again forced to reduce the value of food assistance provided to refugees living in the communities in July, said Shaza Moghraby, the programme's spokesperson.
The most vulnerable refugees living in the community, who should have received JD20 per person per month, have received only JD15 this month. The vulnerable category continued to receive JD10, Moghraby noted.
"WFP urgently needs $11 million to feed up to 440,000 refugees living in Jordanian communities in August to prevent them from falling prey to hunger and extreme poverty or even worse, put their lives at risk by going back to Syria," the WFP official said, noting that the agency's ability to feed refugees living in the community completely depends on "our funding levels".
Those in the camps are given priority in terms of funding as they have no means whatsoever to sustain a living in a city, she explained.
The programme conducted the 2015 Comprehensive Food Security Monitoring Exercise (CFSME), which was launched in June 2015, to determine the food security and vulnerability of Syrian refugees living in communities in the current year in comparison with the 2014 CFSME.
The study revealed a dramatic deterioration in the situation of the people WFP supports compared to 2014.
It showed that almost 85 per cent of families are either food insecure or vulnerable to food insecurity in 2015 compared to 44 per cent in 2014.
Around 68 per cent of families live below the poverty line in Jordan, 24 per cent more than 2014.
The study also found that almost 90 per cent of families are resorting to desperate coping measures and 10 per cent of families are sending a child member to work in 2015.
Findings have also shown that refugees have increasingly incurred debt this year to meet their basic needs. The percentage of families holding more than $700 in debt is twice as many in 2015 as last year.
"WFP is concerned about the impact further cuts will have on families in need and is doing all that it possibly can to secure the necessary funds to maintain the level of assistance it provides in the upcoming months," Moghraby said.
Meanwhile, the UNHCR is now running a campaign to encourage individual support for Syrian families, according to Harper.
"We put an emergency appeal for cash assistance," Harper noted, adding that more than $4 million has been collected so far through the "Lifeline" campaign launched in Ramadan.
"All the money will go to refugees…. We are trying now to get the compassion of individuals in Ramadan and Eid to continue," he noted, adding that the UN agency is trying to identify the most vulnerable persons.
On Tuesday, the Cabinet discussed the lack of funds for the Syrian crisis as reported by the Jordan News Agency (Petra).
According to Petra, in its meeting on Tuesday, the government stressed the need to intensify efforts and campaigns to help Jordan to manage this burden.
Related Articles
Jun 03,2015
AMMAN — The World Food Programme (WFP) on Wednesday voiced concern about the impact of a potential cut in food assistance to Syrian refugees
Aug 03,2015
AMMAN — More than 3,000 Syrian refugees have returned to Azraq Refugee Camp from urban areas in the first half of the year, the UNHCR said i
Aug 06,2014
Approximately 56 per cent of Syrian refugee households in Jordan are food secure, according to a report released Wednesday.
Newsletter
Get top stories and blog posts emailed to you each day.