You are here
Funding shortfall forcing WFP to further cut food assistance to Syrian refugees
By Khetam Malkawi - Jun 03,2015 - Last updated at Jun 04,2015
Syrian refugees shop at Tazweed Market in the Zaatari camp using WFP food vouchers (Photo by Muath Freij)
AMMAN — The World Food Programme (WFP) on Wednesday voiced concern about the impact of a potential cut in food assistance to Syrian refugees in Jordan, due to a shortfall in funds needed to feed 450,000 vulnerable Syrians.
"WFP is very concerned about the impact this will have on families in need and is doing its utmost to secure the necessary funds to increase the level of assistance it provides in the upcoming months," WFP Spokesperson Shada Moghraby said.
In January 2015, due to funding shortages, the agency was forced to cut the level of assistance for 450,000 Syrian refugees living in Jordanian host communities, from the planned JD20 to JD13 per person per month, marking the first time since the beginning of the WFP's Syria operations in Jordan in 2012 that it could not provide the full value of its assistance to eligible refugees.
However, in April the UN agency was again forced to reduce the assistance due to funding shortages, focusing the aid on the most vulnerable refugees "to make sure their urgent food needs are met and in an effort to make available resources stretch over a longer period of time", Moghraby explained.
Accordingly, 95,000 refugees in camps received JD20 per person per month; 190,000 extremely vulnerable refugees in communities (those living below the abject poverty line) received JD20 per person per month; and the majority — 240,000 moderately vulnerable refugees in communities (those living between the absolute and abject poverty lines) — received JD10 per person per month.
The agency stopped supporting some 34,000 Syrians who were seen as capable of meeting their food needs without the WFP's support.
In May, WFP was forced to introduce further cuts to the value of assistance it provides to the 190,000 most vulnerable refugees from the planned JD20 to JD15.
Those deemed moderately vulnerable continued to receive JD10 in May as any further reductions in their assistance would automatically risk them falling in the extremely vulnerable category, according to the agency.
Refugee camp residents continued to receive full value assistance (JD20).
"WFP is again forced to make further cuts in June... These cuts come at a critical time as Syrian refugees have to spend another Ramadan coping with the struggles of displacement, uncertainty and hunger," Moghraby told The Jordan Times.
Ramadan, the ninth month of the Islamic lunar calendar, is expected to start in mid-June. During the fasting month, Muslims abstain from food and drink from dawn to sunset.
From July to September 2015, WFP's funding shortfall stands at $41 million and the agency has only received $4 million so far.
"WFP is expecting to receive contributions that would enable it to maintain reduced levels of assistance in communities and the full voucher value in camps in July. However, as it stands, if the funding situation does not improve once Ramadan is over WFP will be forced to implement severe cuts," she added.
The cut in food assistance also has a psychological impact on Syrian refugees and on the education of children, according to the agency, as many families are forced to take their children out of school to join the job market instead.
"Children, who make up over half of the population of registered Syrian refugees in Jordan, were most affected," the WFP spokesperson said, adding that qualitative evidence reports increased child violence against mothers due to frustration with their diet.
In February, when asked what they would do if the voucher value did not increase, one quarter of the Syrian parents said they would consider withdrawing their children from school, according to WFP.
By April, 80 per cent of these parents had removed their children, equivalent to approximately 45,000 students, from school, making the risk of a "lost generation" more imminent.
Related Articles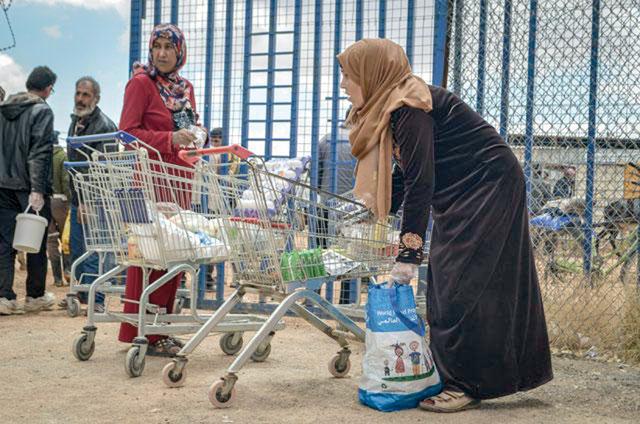 Aug 02,2021
AMMAN — The United Nations World Food Programme (WFP) in Jordan on Monday welcomed a timely contribution from the government of Canada that
May 06,2021
AMMAN — The United Nations World Food Programme (WFP) received a timely allocation of C$5 million (around $4 million) from the Government of
Oct 02,2022
AMMAN — To help address urgent refugee food security needs in Jordan, the United States Agency for International Development (USAID) is prov