You are here
Surgeries supported by goodwill campaign bring hope to patients from underprivileged areas
By Laila Azzeh - Jun 08,2015 - Last updated at Jun 09,2015
HRH Princess Basma visits 10-year-old Rania Kloub at Hayat General Hospital on Sunday (Petra photo)
AMMAN — After a decade of emotional and physical suffering, Rania Kloub will now lead a life free of pain.
Born with a cleft lip and palate deformity, the 10-year old had gone under the knife several times during her life, but with poor results.
"We were very disappointed with the failure of previous surgeries. Rania used to suffer breathing and eating difficulties that prevented her from enjoying a normal life," her mother told The Jordan Times on Sunday evening.
With Kloub's father suffering from a disability that prevents him from providing for his seven-member family, the fourth grader would not have been able to receive the appropriate treatment if it were not for the National Goodwill Campaign.
"We used artificial skin cells to treat the deformation, which is the latest medical technology in the field. Rania will have a normal life from now on," said Doctor Jaafar Hiyari, who operated on her at Hayat General Hospital.
Daunted by pain and poverty, 38-year-old Feras Abu Aysheh from Aqaba underwent a skull graft after suffering a physical disability due to a car accident.
"After the surgery, Feras will no longer suffer headaches and dizziness," noted Nael Odwan, who performed the surgery in the same hospital.
Abu Aysheh is a divorced father of two and receives assistance from the National Aid Fund.
Another two patients have received life-altering surgeries at Hayat General Hospital since last week.
In addition, 17 patients underwent surgeries at Ibn Haytham Hospital and eight at the Jordan Hospital.
HRH Princess Basma, president of the National Goodwill Campaign's higher committee, on Sunday checked on the recuperating patients, who were referred to the private hospitals during the campaign's field visits to governorates.
Signing a memorandum of understanding with Hayat General Hospital to further strengthen cooperation, she underlined the significant role private hospitals play in mitigating the suffering of underprivileged patients as part of their corporate social responsibility towards the local community.
During her tour, the princess listened to briefings from the doctors who volunteered to perform the surgeries, commending their commitment to follow up on the situation of patients until their complete recovery.
The recuperating patients, who used to suffer from serious medical conditions, underwent several procedures, ranging from cardiac catheterisation and eye operations, to orthopaedic and facial reconstruction surgery.
The goodwill campaign, first launched by the Jordanian Hashemite Fund for Human Development in 1991, is signatory to agreements with several private hospitals to provide comprehensive medical care to underprivileged people from across Jordan.
Related Articles
Jun 07,2016
AMMAN — After years of suffering visual impairment, Daifallah Hamad on Sunday said he was "able to see light and shadows" just one day after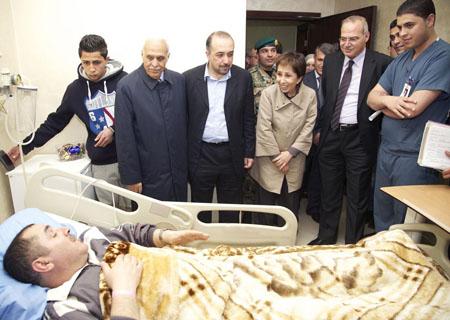 Mar 15,2014
Thirty-two patients recently received life-saving surgeries under the National Goodwill Campaign.
May 15,2018
AMMAN — Om Saud had never thought that her two sons, who suffer from bow legs and knock knees, will be able to walk normally again. Om
Newsletter
Get top stories and blog posts emailed to you each day.