You are here
Families given new hope through life-changing surgeries
By Laila Azzeh - Jun 07,2016 - Last updated at Jun 07,2016
HRH Princess Basma with supporters of the Goodwill Campaign during a visit to the Specialty Hospital in Amman on Sunday (Petra photo)
AMMAN — After years of suffering visual impairment, Daifallah Hamad on Sunday said he was "able to see light and shadows" just one day after his surgery.
"I lost my sight gradually and doctors told me that I have diabetic eye disease. I underwent several surgeries but to no avail," the unemployed 48-year-old man said on Sunday.
Thanks to the Goodwill Campaign, Hamad, who was gradually losing his sight due to diabetes and blood pressure, was one of 32 underprivileged families from across Jordan to be given new hope in their battles against illnesses and disfigurement this week at the Specialty Hospital.
The free-of-charge life-altering surgeries are part of the hospital's cooperation with the campaign over the years.
As the sole provider of her family, Rana Abul Sheikh noted that the surgery she underwent will "save her entire family".
"My husband suffers from mental illness and I am the only one responsible for taking care of him and my four children," she told The Jordan Times.
The 36-year-old underwent cataract surgery after suffering blurred vision due to diabetes.
HRH Princess Basma, the president of the Goodwill Campaign's higher committee, visited the private hospital on Sunday to check on the recuperating patients.
She highlighted the significant humanitarian role private hospitals play in alleviating the suffering of underprivileged patients as part of their social responsibility towards the local community.
During her tour, the princess visited the patients and listened to briefings from the doctors who volunteered to perform the surgeries, commending their commitment to following up on the health of patients until their complete recovery.
Nayef Abdullat, the head of the campaign's medical committee, noted that more than 144,000 patients have so far benefited from the Goodwill Campaign, which was launched by the Jordanian Hashemite Fund for Human Development in 1991.
A total of 1,500 surgeries have been performed under the campaign through its agreements with private hospitals.
During the visit on Sunday, Princess Basma also inaugurated the hospital's new radiology centre.
Related Articles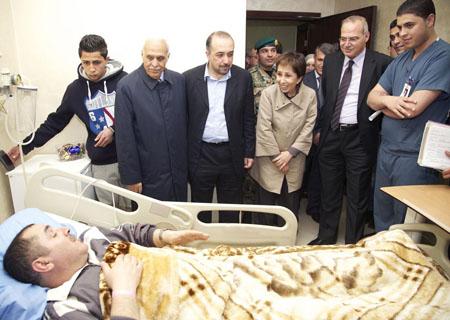 Mar 15,2014
Thirty-two patients recently received life-saving surgeries under the National Goodwill Campaign.
May 15,2018
AMMAN — Om Saud had never thought that her two sons, who suffer from bow legs and knock knees, will be able to walk normally again. Om
Jun 08,2015
AMMAN — After a decade of emotional and physical suffering, Rania Kloub will now lead a life free of pain.Born with a cleft lip and palate d
Newsletter
Get top stories and blog posts emailed to you each day.