You are here
Sahab wins Guinness World Record for image of peace
By Bahaa Al Deen Al Nawas - Oct 08,2016 - Last updated at Oct 08,2016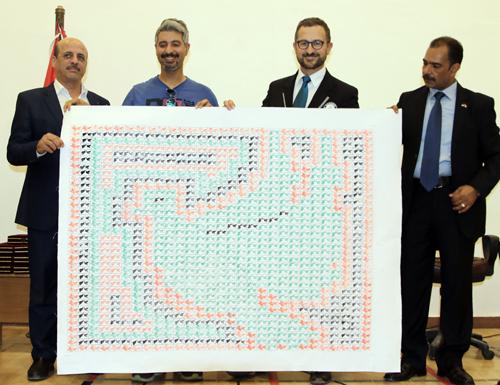 Some 1,015 participants from Sahab used rubber stamps to create a larger image of a dove in the colours of the Jordanian flag (Photo by Osama Aqarbeh)
SAHAB — Jordan on Saturday entered the Guinness World Records for the highest number of contributors to a rubber stamp image at a festival for children in Sahab.
Some 1,015 participants from Sahab, south of Amman, used rubber stamps of a dove with an olive branch next to maps of Jordan, Iraq and Syria to create a larger image of a dove, in the colours of the Jordanian flag.
The record was set at a festival, "Jordan is a land of peace", planned and organised by Fareed Lafta.
An Iraqi pilot and athlete, Lafta has set Guinness World Records for being part of the first team to skydive off Mount Everest and for flying the largest flag whilst skydiving.
During a speech at the Sahab Cultural Centre, addressing the locals, Lafta said Jordan has hosted refugees from many countries including Iraq, Syria and Libya, providing them with an alternative home of "true peacefulness".
The previous record was set in Dubai, according to Marco Frigatti, senior vice president for the records management team at the Guinness World Records, who announced that Sahab and Lafta had officially beaten the record after meeting all requirements.
For his part, Sahab Mayor Abbas Maharmeh thanked Frigatti and Lafta for attending the festival and thanked the members of the free-fall diving, parachuting and air sports association, headed by retired Maj. Gen. Mohammad Daajeh, who were scheduled to perform an aviation show that was cancelled due to a logistical problem.
In a speech, Maharmeh told the audience that municipal work is not limited to services only but extends to other social, cultural and leadership roles "in order to stand out and be unique".
He said the festival embodies how Sahab Municipality works with all locals, from children to adults, in order to accomplish achievements, including the endeavour to make Sahab "the most beautiful city in the world".
The festival included musical performances by the Sahab Band and a "keepie-uppie" performance by Ahmad Diaa, a young resident of Sahab.
up
38 users have voted, including you.
Related Articles
Aug 23,2016
SAHAB/AMMAN — Although "unfortunately" still judged with long-held "misconceptions", Sahab is being transformed into a modern, aesthetically
Nov 22,2015
AMMAN — Police on Sunday said they were searching for unidentified individuals who earlier in the day shot at the vehicles of Sahab Mayor Ab
Mar 29,2018
AMMAN — The embassy of Switzerland in Amman and the Municipality of Sahab on Wednesday signed a Memorandum of Understanding and Project Impl
Newsletter
Get top stories and blog posts emailed to you each day.