You are here
Royal initiative: 35 underprivileged families get new homes in Mafraq
Burgo environment motel, Ruwaished water treatment station, built as part of Royal initiatives, inaugurated
By JT - Feb 20,2021 - Last updated at Feb 20,2021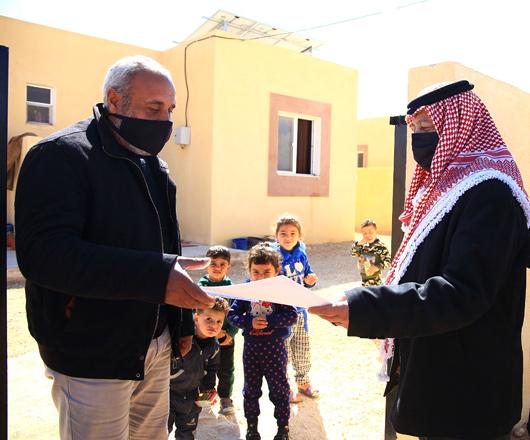 Royal Court Chief Yousef Issawi hands over documents of a new house, built as part of a Royal initiative, to a beneficiary in Ruwaished District in Mafraq on Saturday (Petra photo)
AMMAN — Thirty-five underprivileged families in Ruwaished District in Mafraq on Saturday received their new houses under the Royal initiative to house underprivileged families, which was launched in implementation of His Majesty King Abdullah's directives.
The initiative, which was launched in 2005, and covers all the Kingdom's governorates, aims at providing decent and stable lives for beneficiary families that are chosen according to the Ministry of Social Development's criteria, the Jordan News Agency, Petra, reported.
Royal Court Chief Yousef Issawi handed over the keys of new houses, which were furnished and equipped with home and electrical appliances, to beneficiary families under the third phase of the initiative at the district.
Among the beneficiaries is a head of a family who had a road accident. His Majesty directed stakeholders to offer him necessary medical care at His Majesty's expense and grant him a house under the initiative.
Issawi also inaugurated the Burgo environment motel that was established as part of Royal initiative projects. The motel, which can accommodate 30 people, comprises 10 rooms, two meeting halls, a restaurant, kitchen, public facilities and a traditional bedouin tent.
Issawi and Water Minister Motasem Saidan listened to a briefing by Director General of the Royal Society for the Conservation of Nature Yahya Shehadeh on the services that the motel offers to visitors and the conditions of the Burgo nature reserve, especially that the northeastern badia enjoys "big opportunities" to develop "distinguished" environment tourism products.
Meanwhile, Issawi and Saidan inaugurated the Ruwaished water desalination and treatment station and checked on its operation mechanism.
Issawi told Petra that King Abdullah always directs stakeholders to implement initiatives and projects that contribute to improving the living conditions of citizens and helping households that suffer from difficult living and economic conditions.
He also noted that these housing units, which were established under Royal initiatives, were implemented through financing from the UAE.
up
16 users have voted, including you.
Newsletter
Get top stories and blog posts emailed to you each day.