You are here
Rescued Aleppo lion gives birth after Jordan move
By AFP - Aug 14,2017 - Last updated at Aug 14,2017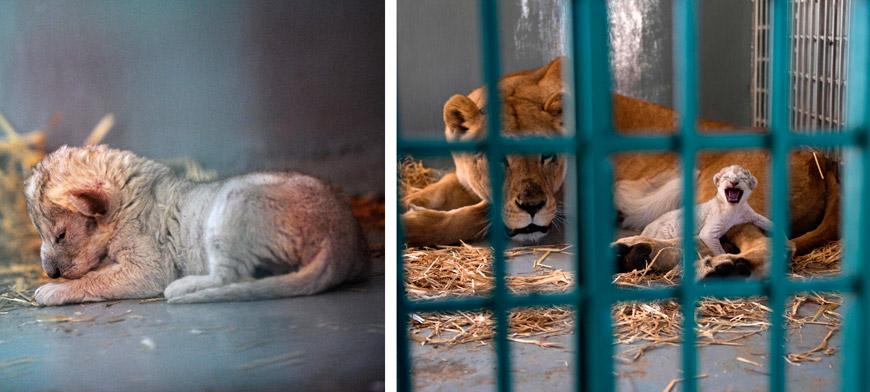 A handout picture released on Monday by Four Paws shows a new-born tiger inside a cage at an animal sanctuary in Amman (AFP photos/Four Paws/Ahu Savan An)
ISTANBUL — A charity has successfully transferred 13 animals to a new home in Jordan via Turkey from a neglected Syrian zoo, including a lioness who gave birth to a healthy cub just hours after arriving, it said on Monday.
The Four Paws group last month moved the animals from the "Magic World" zoo and amusement park in Syria's war-torn Aleppo province to an animal protection centre in northern Turkey.
The 13 creatures — five lions, two tigers, two Asian black bears, two hyenas and two dogs — were then safely transported by air to an animal sanctuary outside Amman, it said in a statement.
Shortly after arriving on Saturday, the pregnant lioness, named Dana, went into labour and gave birth to a healthy cub that was called Hajar.
"The condition of the lioness and her cub is good considering the circumstances," said the charity's veterinarian Amir Khalil.
An ultrasound carried out in Turkey shows the lioness was pregnant with two cubs, raising the prospect of a second birth.
"Chances are little that the second cub will be born alive," said Khalil. "It is important that Dana gets the medical attention and rest that she needs."
After arriving, all thirteen animals were released from their transport cages for the first time since their rescue almost three weeks ago.
Most of the animals will now stay at the Jordanian animal sanctuary, but both tigers will be taken to a specialised rescue centre in the Netherlands.
Meanwhile, the group is looking for a suitable home for the two dogs, who are husky-mix.
"Nothing stands between the animals from Syria and a better future," said Heli Dungler, the founder and president of the Austria-based Four Paws.
Related Articles
Oct 01,2014
Three lions have arrived in Jordan from the Gaza Strip to receive medical attention after the Israeli aggression on the coastal enclave destroyed their zoo and left them in difficult conditions, according to conservationists.
Oct 14,2017
THE HAGUE — Two tigers rescued from an abandoned zoo in the war-torn Syrian town of Aleppo are to be given a new home in a Dutch sanctuary,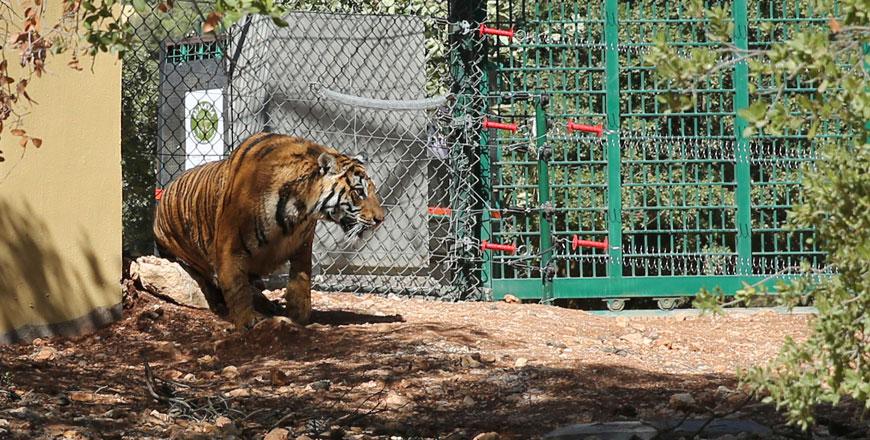 Oct 02,2016
JERASH — Two tigers and a bear named Baloo started a new life in a wildlife reserve in northern Jordan on Sunday.They are among 25 large ani
Newsletter
Get top stories and blog posts emailed to you each day.