You are here
Three lions brought to Jordan from Gaza for medical attention
By Muath Freij - Oct 01,2014 - Last updated at Oct 01,2014
AMMAN — Three lions have arrived in Jordan from the Gaza Strip to receive medical attention after the Israeli aggression on the coastal enclave destroyed their zoo and left them in difficult conditions, according to conservationists.
The three lions —Sultan, Shaker and Sabreen — used to live at Al Bisan Zoo in Beit Lahiya in the north of Gaza, but the zoo was hit three times by Israeli air strikes and severely damaged, according to Amir Khalil, director of project development at FOUR PAWS International, which brought the lions to Jordan on Tuesday.
Khalil said the war has left the three lions more aggressive than usual.
The two male lions are five years old, while the lioness, who is pregnant, is seven years old.
"Around 86 animals died at the zoo in Gaza and around 28 are still alive. These three lions were the most affected by the aggression," the veterinarian told The Jordan Times.
There was one other lion at the zoo, but it was killed in the aggression, he added.
"Their cages were completely damaged and this posed a great threat to both the staff of the zoo and the lions," Khalil said, adding that the three animals hardly ate or drank anything for the past two months.
"After their cages were damaged, they were moved to very small rooms that were not suitable for them at all," he noted.
The zoo lacked hygiene, according to Khalil, who said the facility's 100 employees had not been paid for six months.
"That place does not even qualify as a zoo, because it was poorly built and equipped," he said, adding that its small cages were in bad condition and the war destroyed 90 per cent of the facility. "Some animals were put in the same cage because most of the cages were destroyed," he noted.
Due to these abject conditions, FOUR PAWS International, an animal welfare charity founded in 1988 in Austria, decided to transport the three lions to a safe environment so that they could receive proper care.
"Many people contacted us through e-mail and Facebook asking us to help these lions," Khalil said, adding that the three animals will be vaccinated and given healthy food while staying in "a comfortable place like Jordan far from wars".
Mahdi Quatrameez, the CEO of Al Mawa for Nature and Wildlife (MNW), said the organisation was approached to help the lions by hosting them.
"We will conduct several medical tests to make sure that they do not face any health problems, after which we will rehabilitate them," he told The Jordan Times.
Quatrameez said MNW will move the three lions to bigger cages after receiving feedback from veterinarians and experts.
Founded in 2011, MNW operates as a centre to rescue and host wild animals, according to Quatrameez.
"The three lions will not stay in Jordan for good. Once their zoo is renovated, they will return to Gaza."
Related Articles
Aug 23,2016
KHAN YOUNIS, Gaza — A team of foreign veterinarians began taking measures on Tuesday to evacuate the last surviving animals from a zoo in th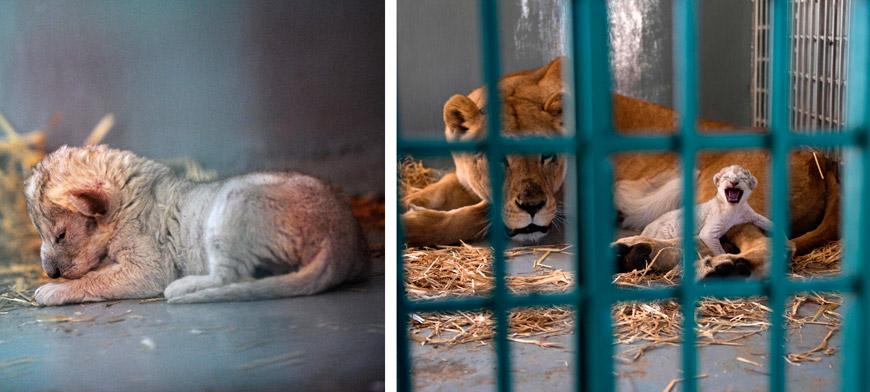 Aug 14,2017
ISTANBUL — A charity has successfully transferred 13 animals to a new home in Jordan via Turkey from a neglected Syrian zoo, including a lio
Aug 13,2017
JERASH — Thirteen animals from a Syrian zoo have found refuge in Jordan, thanks to the efforts of an international animal welfare orga
Newsletter
Get top stories and blog posts emailed to you each day.