You are here
Queen Noor celebrates birthday
By JT - Aug 23,2014 - Last updated at Aug 23,2014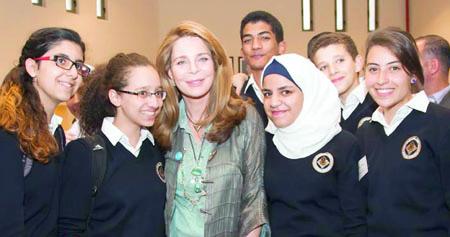 AMMAN — Her Majesty Queen Noor celebrated her birthday on Saturday.
Upon her marriage to His Majesty King Hussein in 1978, Queen Noor embraced her role as a Jordanian public servant, focusing on national and regional human security issues in the areas of education, environment conservation, sustainable development, human rights and cross-cultural understanding.
She is also an outspoken advocate for international exchange and understanding of Arab, Muslim and Western relations, and conflict prevention and recovery, focusing on refugees, missing persons, poverty, climate change and disarmament.
Her peace-building work has concentrated on the Middle East, the Balkans, Central and Southeast Asia, Latin America and Africa.
The initiatives of the Noor Al Hussein Foundation (NHF), have provided development models for Jordan and beyond through pioneering programmes in the fields of poverty eradication and sustainable development, women's empowerment, microfinance, health, and the arts as a medium for social development and cross-cultural exchange.
NHF provides training and assistance in implementing these programmes in the broader Arab and Asian regions through the Institute for Family Health (IFH), WAGE: Women and Girls Empowerment — Securing the Future, the Jordan Micro Credit Company (Tamweelcom), and the Community Development Programme.
In response to regional crises, the IFH is expanding its work in trauma rehabilitation for victims of violence across Jordan and the Middle East.
IFH, which recently celebrated its 25th anniversary, was also recognised as a regional trainer by UNFPA for its comprehensive approach.
In the last six months, around 30,440 beneficiaries received 33,508 services through IFH's work in Syrian refugee camps, two centres in Amman, six static clinics, and a mobile clinic in five governorates across Jordan, including the recent opening of a clinic in Qweismeh in partnership with the Greater Amman Municipality.
As for Tamweelcom, it celebrated its 15th anniversary this past July, with over 423,777 loans disbursed across Jordan through 30 branches and one mobile branch.
In January 2014, Queen Noor was awarded the "Personal Award for Supporting Youth Issues" by the Sheikha Fatima Bint Mubarak International Award for Arab Youth, in recognition of her role in launching the International Arab Youth Congress (IAYC), hosted annually by the National Centre for Culture and Arts (NCCA).
The IAYC, established by Queen Noor in 1980, brings young people together in Jordan from throughout the Arab world and the international community to promote understanding, tolerance and solidarity.
Her Majesty also chairs the King Hussein Foundation (KHF) and the King Hussein Foundation International (KHFI), which, since 2001, has awarded the "King Hussein Leadership Prize" to individuals, groups, or institutions that demonstrate inspiring leadership in their efforts to promote sustainable development, human rights, tolerance, social equity and peace.
The KHF encompasses the NHF, the Jubilee Institute, the NCCA, the National Music Conservatory and the Information and Research Centre.
A long-time advocate for a just Arab-Israeli peace and for Palestinian refugees, Her Majesty is a board member of Refugees International.
Not long after her marriage, Queen Noor became patron of Jordan's Royal Society for the Conservation of Nature.
She is also patron of the International Union for the Conservation of Nature, founding president and Honorary President Emeritus of BirdLife International, trustee emeritus of Conservation International and a member of OceanElders.
Queen Noor is a commissioner of the International Commission on Missing Persons.
She has two published books, "Hussein of Jordan" and "Leap of Faith: Memoirs of an Unexpected Life".
Queen Noor has four children, Their Royal Highnesses Princes Hamzah and Hashem and Princesses Iman and Raiyah.
Related Articles
Aug 22,2015
AMMAN — Her Majesty Queen Noor celebrates her birthday on Sunday.Upon her marriage to His Majesty King Hussein in 1978, Queen Noor embraced
Aug 22,2016
AMMAN — Her Majesty Queen Noor celebrates her birthday on Tuesday.Upon her marriage to His Majesty King Hussein in 1978, Queen Noor embraced
Aug 10,2015
AMMAN — The 34th International Arab Youth Congress (IAYC) concluded in Amman on Sunday with a ceremony attended by Her Majesty Queen Noor, f
Newsletter
Get top stories and blog posts emailed to you each day.