You are here
PM Visits Dubai Knowledge Summit 2017
By JT - Nov 21,2017 - Last updated at Nov 21,2017
Prime Minister Hani Mulki speaks during the Dubai Knowledge Summit 2017 on Tuesday (Petra photo)
AMMAN –– Prime Minister Hani Mulki took part as guest of honour and keynote speaker at the Dubai Knowledge Summit 2017 on Tuesday at the invitation of the UAE Vice President, Prime Minister and Dubai Ruler Sheikh Mohammed Bin Rashid Al Maktoum, the Jordan News Agency, Petra, reported.
In his speech at the summit, which was titled the Fourth Industrial Revolution (4IR), Mulki stressed the deep-rooted relations between Jordan and the UAE and their governments' efforts in providing for their citizens, while keeping up to date with all technological advancements to serve the current and future generations.
The prime minister stressed that the development of science and technology would establish a new approach in the relationship between people and their nations in order to promote peace, prosperity and democracy.
Mulki also shed light on the use of science for preventing war and conflict caused by the race for natural resources, noting that with the advancement of science, there is less pressure on natural resources, which paves the path for technological alternatives that ensure peace and security in the lives of people.
Mulki pointed out that the 4IR will make way for many inventions including flying cars, driverless vehicles and a world free of cancerous tumours, among others.
He said that Jordan acknowledges the concerns about the consequences of this revolution, specifically in terms of information security, and the risk of increased unemployment, and the government's adaptability towards high-tech requirements of modernity.
However, the prime minister ensured that the industrial revolution will bring about great opportunities for countries worldwide, especially in the Middle East.
Related Articles
Jul 01,2016
AMMAN — Jumaa Abbadi on Wednesday presented his credentials to Sheikh Mohammed Bin Rashid Al Maktoum, the UAE vice president and prime minis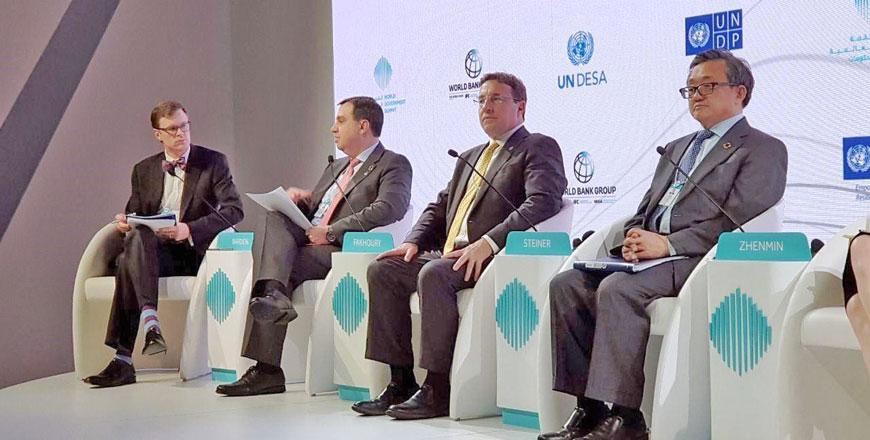 Feb 14,2018
AMMAN — Minister of Planning and International Cooperation Imad Fakhoury participated in the World Summit of Governments where he chaired th
Nov 14,2017
AMMAN — Prime Minister Hani Mulki on Monday presented a written letter from His Majesty King Abdullah to His Highness Sheikh Mohammad Bin Ra
Newsletter
Get top stories and blog posts emailed to you each day.